Need some tips for your next Facebook Live broadcast?
Facebook Live is a great opportunity for musicians to reach and engage with fans in a fun, unique way. If you haven't seen the results you hoped for, don't worry. I put together these tips that will help you make the most out of your next Facebook Live experience.

What is Facebook Live?

For those who are not familiar, Facebook Live is a feature that allows anyone with a Facebook account to broadcast live video to their audience. What makes this type of streaming unique is the ability to broadcast live via your mobile phone or tablet. It's a powerful tool for musicians to strengthen the emotional connection they have with fans and potentially attract new ones.
Right now, Facebook ranks live video higher than pre-recorded / uploaded videos. Facebook Live videos are given preferential treatment in the newsfeed, which automatically increases their reach. Why? Here's what Facebook had to say about it:
"People spend more than 3x more time watching a Facebook Live video on average compared to a video that's no longer live. This is because Facebook Live videos are more interesting in the moment than after the fact."
Now that you know how Facebook Live can help you reach your audience, here are 8 tips that will improve your next Facebook live video:

#1: Decide on a good broadcast idea and plan it out
The most fundamental aspect of creating a successful Facebook Live broadcast is starting with a good idea that you think your fans will actually enjoy watching. Ideally, you want to keep the video topic related to your music and brand, but it's okay to experiment. The main point to keep in mind when picking a topic is that it helps your fans connect with you and possibly see another side of your life outside of music.
The two common ideas for musicians are Q&A sessions and doing a jam session or live performance.
There are definitely other ideas you can experiment with. You can use it to go behind the scenes of creating new music, make a big announcement and even have other musicians as guests. Come up with fun games to play with your fans using the draw on-screen feature during a live broadcast like Pictionary. With 6 reactions (like button), you can use it for polling. You might have new merch ideas you want to run through with your fans to get their reactions.
Once you figure out what you want to broadcast, do a bit of planning and outline how it is going to play out. The last thing you want to do is sit on live video looking confused or lost on what to do next.
Where you film is going to play a big role in your video too. Make sure you limit distractions and have a good internet connection.

#2: Promote the broadcast so people know ahead of time

Most artists I've seen use Facebook Live go live at a random time of the day without promoting it beforehand. It usually does well because Facebook sends a notification out even after the artist is no longer live.
However, if you want maximum impact, let your fans know ahead of time with an email or social media posts. Here's an example from one of my favorite artists: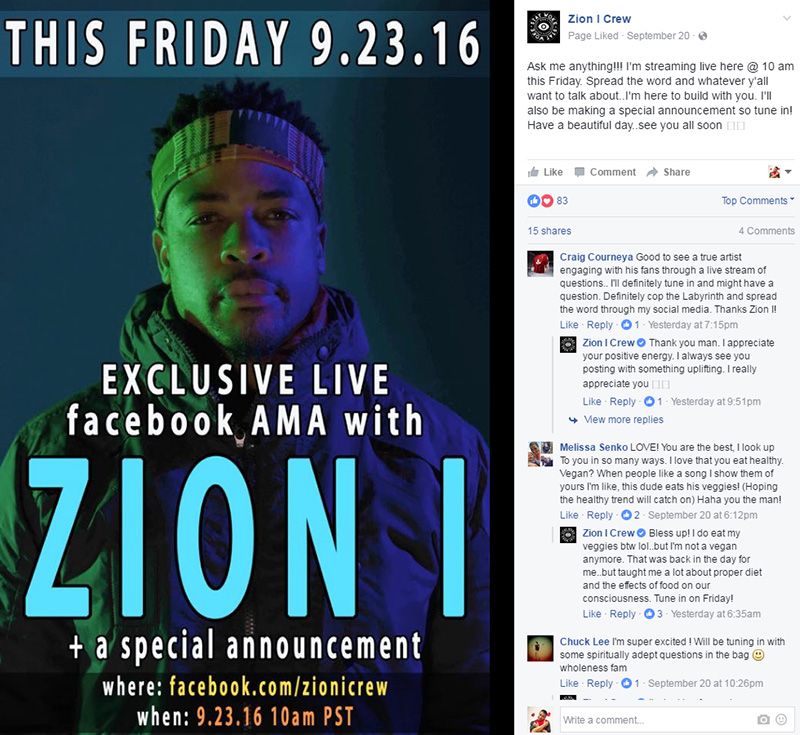 Create some anticipation or even an element of surprise to get people to tune in.

#3: Broadcast for at least 10 minutes

It takes time for Facebook to notify your fans that you are recording live and build an audience. If your live video is too short, your fans won't have the opportunity to join. One of the biggest mistakes I've seen with Facebook Live is artists who only record live for a few minutes. There's nothing truly wrong with a short broadcast, since you're still creating some content, and it may fit with what you want to accomplish. However, you're not getting the most out of the live component, which is what makes the experience special.
Streaming too long can also be a potential problem since not everyone can stick around for the entire length of the video or will want to watch an hour-long replay. But Of course, your audience views will vary depending on what is being broadcasted.
I think the sweet spot is a 15 to 30 minute broadcast. The longer you stream, the potential to get more views will increase, but the average time per viewer will most likely decrease. Again, it's going to come down to testing and seeing what works best with your audience.

#4: Use a captivating title to describe your live video

A great title helps your fans know what your live video is about and what to expect. Use a description that makes them feel like a part of the experience by using action verbs, such as: come with me, make music with us, or join me. The title can be relatively long, but people may not read it if has too much text. Keep it short and sweet when you can.
Keep in mind that other people not in your Facebook fan network can potentially see your broadcast through the Facebook Live map discovery feature. This map allows users to explore videos being broadcasted live anywhere in the world. It can be a good opportunity to attract new fans.

#5: Engage with your audience

The best part of live video is audience engagement and the interaction that happens between you and the fans. During the live broadcast, encourage people to comment, like, share and ask questions. When answering questions, address fans by their names in your response. Treat them as if they are in the room with you. This is the element that makes live video really special, so make sure you take advantage of it.

#6: Review performance data

In order to improve for your next Facebook Live session, it helps to see how well your past broadcast performed by looking at the analytics. To do this, go to your fan page and click on the 'Insights' tab on the top.
You can see the stats for your live video in the 'Video' tab found in the left column. This will show you all the video posts, both live and prerecorded, so find the live video you want to analyze. If it was recent, it should be listed in the 'Overview' screen on the bottom.
Once you click on the live video post, a pop-up window will show you the stats. If you are unsure about what the data is telling you, click on the icon with the lowercase 'i ' in a circle to see what it means.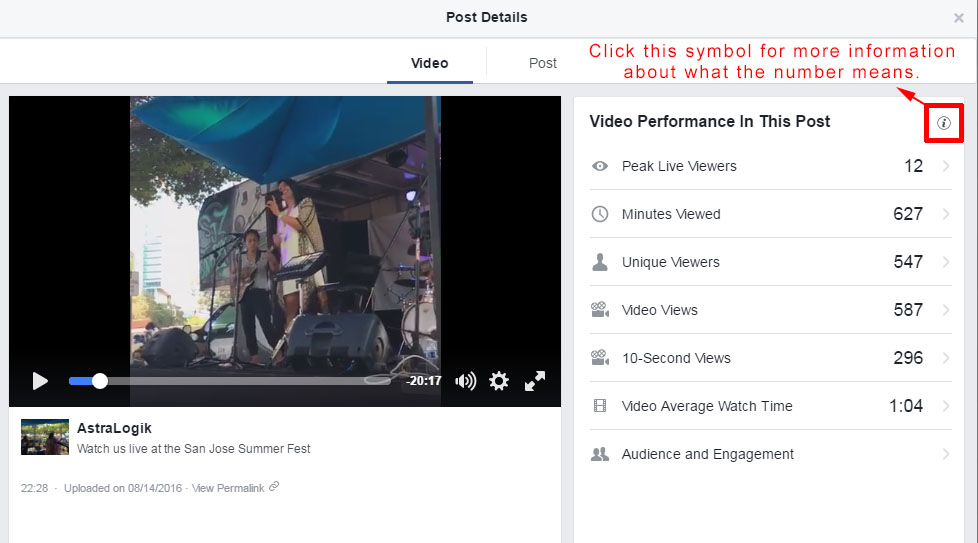 Two important metrics to pay attention to are:
1) Peak Live Viewers: Click on 'Peak Live Viewers' to see the highest number of viewers you had during different parts of the live video. The number itself is not necessarily important, but rather looking at the graph to identify issues based on drop-offs at certain parts of the video. If this is the case, watch your video at that time mark to see if you can figure out what may have cause viewers to stop watching. Reviewing this allows you to get feedback on what you could be doing that cause viewers to stop watching.
2) Video Average Watch Time: Aside from looking at post engagement, the most important metric you want to improve on is 'video average watch time' or audience retention. It takes the total minutes watched divided by the number of views, which tells you how engaged your average viewer was during the live stream. You can track this information to see if the average watch time of your viewers is increasing in each live video you put out. Another way to look at video engagement, click on the stat to see an audience retention graph.

#7: See what it's like on the other side

If you've never been a part of the audience in a Facebook Live video, see what it is like on the other side to get some perspective. Before doing your own live stream, join someone else's as a spectator.
Use the map discovery feature to pick videos to watch and get some ideas for what is interesting and what you think will appeal to your fans.
Maybe some other artists you follow have been using it so check out what they've done. Watch different types of videos to get a feel for what works and what doesn't.

#8: Don't overdo it – keep Facebook Live videos special

Using Facebook Live gives you an extra boost in reach for your broadcasts, but don't abuse it. Do it a couple of times a month max. Depending on your idea and audience response, you may decide to do a regular monthly broadcast.
The main point is you want to keep Facebook Live special by not doing it too much, especially if you're just trying to force it. Your fans get a Facebook notification, which is helpful in getting people to tune in, but if they are constantly bombarded with notifications or the content becomes repetitive, you may disappoint or annoy your fans. Adhere to the golden rule: everything in moderation.

Conclusion

As with everything online, you need to test and experiment to see what works best with your audience. With these 8 tips, you will be in good shape to put on a successful live broadcast and deepen the relationships with your fans.
Need more help? I created the Ultimate Facebook Live Guide for Musicians that will lay out everything you need to know in detail in order to maximize the power of Facebook Live.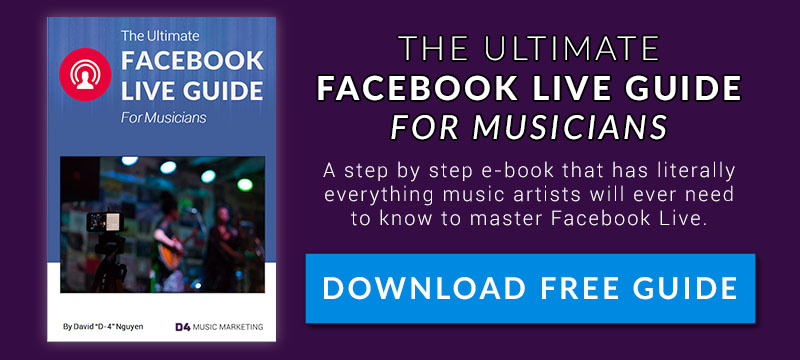 What you will learn in this guide:
• Why musicians need to take advantage now
• Step by step guide of how to get started
• Ideas specific for musicians
• How other artists use Facebook Live
• Tips and strategies to maximize reach and engagement
• How to analyze your video performance to improve your results
• List of tools / equipment to make broadcasting easier

[Download the Ultimate Facebook Live Guide for Musicians]
Last Updated: February 2018


Need Inspiration or Examples for Facebook Live?

Here are examples I've curated from independent artists who have used Facebook Live. I hope they give you some inspiration for filming your own live streams.
I will do my best to keep this list updated. If you come across a cool Facebook Live video from an independent artist, please feel free to share it with me so I can add to the list.

Live Performances

Butterscotch – Jam session with looping:
https://www.facebook.com/butterscotchmusic/videos/10154428932382270/
Eligh – Private live performance:
https://www.facebook.com/therealeligh/videos/1160033840675994/
Living Legends – Live performance view on stage:
https://www.facebook.com/therealgrouch/videos/1333259713361882/
Other Music Related

Butterscotch – Making a big announcement:
https://www.facebook.com/butterscotchmusic/videos/10154130538772270/

Non-Music Related

Eligh – Getting new tattoo:
https://www.facebook.com/therealeligh/videos/1253741184638592/
Lupe Fiasco – Throwing the first pitch at MLB baseball game:
https://www.facebook.com/LupeFiasco/videos/10153699177502282/

Behind the Scenes

Eligh – Shooting a music video:
https://www.facebook.com/therealeligh/videos/1213519841994060/
Eligh – Playing beats to sell:
https://www.facebook.com/therealeligh/videos/1177626975583347/
Amp Live – Making a beat
https://www.facebook.com/amplive/videos/10154540586168470/
https://www.facebook.com/amplive/videos/10154617401068470/

Q&A

RA Rugged Man:
https://www.facebook.com/180800567216/videos/10153708504267217/
https://www.facebook.com/180800567216/videos/10153614204427217/
Kina Grannis:
https://www.facebook.com/kinagrannis/videos/10154418471476505/
Aesop Rock:
https://www.facebook.com/AesopRockWins/videos/1013739072008773/

Zion I:
https://www.facebook.com/zionicrew/videos/10155382200404498/

Want to Contribute?

Let me know if you've come across some very cool live streams from other independent artists and I will link them here.