This is a guest post by Mackenzie Leighton from Groover.
As an independent musician, good media coverage is the key to growing your fanbase and establishing notoriety. It can be overwhelming to find music blogs to submit music to when there are endless options to choose from. Some artists may choose to work with public relations agents that do this work for them, while others prefer to get media coverage on their own. If you want to send your music to blogs with guaranteed feedback, check out Groover: a platform that connects artists directly with influencers in the music industry.
Here are the best strategies to find music blogs so that you can successfully pitch your music to the right people and get media coverage.


Define Your Genre

To find music blogs that are best suited to promote your music, you must first define your genre or genres. If you put in the work ahead of time by carefully selecting which blogs fit your style, you will maximize your chances of getting attention. Avoid sending mass emails to a bunch of music blogs; this technique rarely works and you will most likely end up with an empty inbox.
First, write down the primary genre or genres that your music represents. Let's take an indie pop artist as an example. Numerous subgenres fall under the umbrella of indie pop: indie rock, alternative, bedroom pop, dream pop, lofi and others. It is crucial to define these keywords to then find music blogs that promote artists in your genre already. While many blogs promote a variety of musical styles, there are some that are only focused on certain genres. Use this to your advantage when doing your research.

Make A List of Similar Artists

Once you have defined your genre and subgenres, make a list of similar artists that fall under the same categories. Make a list of at least five artists that are in the same universe, ranging in notoriety from emerging artists to more established bands. If you need help writing your list, try looking at the "Fans also like" section on Spotify either on your own profile or the profile of similar artists.
For example, here are five artists in the indie pop scene: Pi Ja Ma, November Ultra, Alice Phoebe Lou, Benee, and Vampire Weekend. These musicians share certain similarities in genre but are very different in terms of style and notoriety. Pi Ja Ma is an emerging indie pop artist from France whereas Vampire Weekend has been around for over a decade, playing their hits to stadiums around the world. However, it is important to analyze the media coverage for all five artists, no matter their notoriety.
Find Music Blogs That Promote Your Genre

Using your list, you can now start researching which media and music blogs have written about these five artists. You can start your research by looking on their social media accounts and seeing if they have reposted articles that they have been featured in or shared interviews from music blogs. After scanning their socials, go ahead and look them up on your preferred search engine. For the emerging artists on your list, it will be easier to do your research because there will be less content to filter through. If you look up Vampire Weekend, for example, you will most likely find pages and pages of content and some of the biggest blogs in the industry talking about them. Try filtering the search results by date and dig back in time to figure out which music blogs were talking about the big bands before they made it big.
Let's take French indie pop artist Pi Ja Ma for example. She has been profiled by some of the bigger French news outlets such as Liberation and Marianne, but there are also a number of small indie music blogs that have written about her project, including Modzik and MusiK Please. Go through each artist on your list and write down who has been talking about them, no matter how big or small the media is.
By using this technique, you can avoid searching "best indie pop music blogs" on your search engine and really do some real research. Because the music industry is constantly changing and evolving, it's crucial to stay up to date about who is being talked about and more importantly, where.

Start Small: Choose Independent Music Blogs Over Big Media

Every emerging artist would love to land a feature in Pitchfork, but sometimes it's best to start small and focus on music blogs that are more accessible. Many of the bigger music blogs are not open to unsolicited submissions and are curated by journalists and PR agents. Independent music blogs are usually more receptive to pitches and are looking to promote underrepresented and emerging artists. If you manage to get your music featured across multiple small music blogs, your audience will grow as well as your legitimacy in the industry.

Find Music Blogs With a Local Focus

Another technique to narrow down your search for music blogs is to think locally. Are you a band based out of your garage in Brooklyn? Seek out music blogs that promote the Brooklyn indie scene. Did you or do you study at a university that has a music blog or radio show? Reach out and pitch your project. I personally have reached out to the local music blog of my hometown to promote my project even though I moved away a decade ago. By brainstorming with a local focus in mind, you can find music blogs that will take a personal interest in sharing your music and telling your story.
Find Music Blogs That Correspond To Your Identity

Every artist represents an overall image that encapsulates more than just their sound. Ask yourself: what defines me as an artist apart from the genre of music I play? Perhaps you are a woman navigating a male-dominated industry. Reach out to feminist music blogs that promote women in music. Maybe you are passionate about fashion or cinema. Find music blogs and media outlets that talk about these cultural intersections! With a bit of time and well done research, you can find music blogs that make space for your voice. The only thing left to do is pitch your project!

Our Selection of Music Blogs By Genre

Hopefully with these strategies you will be able to personalize and narrow down your list of music blogs to contact. If you want some more tips, here is a list of our top music blogs that you can contact directly on Groover sorted by genre. You can also discover the full list of music influencers categorized by genre and location on the bottom of the Groover homepage!
Pop:
High Clouds – Belgium
Music & Fashion Blog – France
Plastic Magazine – United Kingdom
Longueur d'Ondes – France
Rock:
The Joy of Violent Movement – United States
Indieoclock – Brazil
MOWNO – Italy
Rap, Hip-Hop, and RnB:
Wordplay Magazine – United Kingdom
HipHop Paranoia – United Kingdom
Interlude – France
Backpackerz – France
Dummy Mag – United Kingdom
Folk:
York Calling – France
Berlin On Air – Germany
Tonic Grain – United States
Electro:
Meet & Greet – France
Riptide Mag – France
Guettapen – France
EKM.co – Canada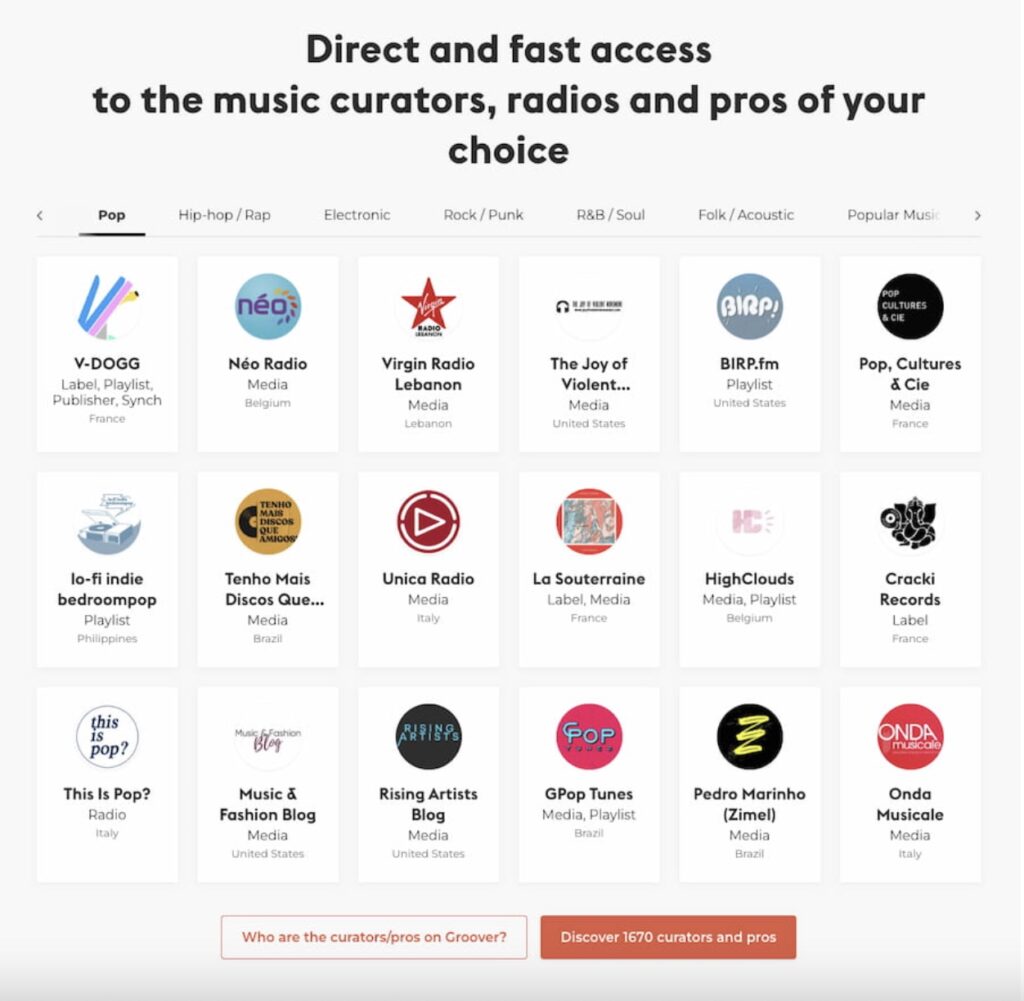 Groover Discount
Here's a code for a 10% discount on a Groover campaign: D4GROOVERVIP
If you have trouble finding where to apply the code, click here.