When it comes to marketing your music online, a tool/service that every artist needs is a smart link for your music releases. For those who are more marketing savvy, you may know it as a landing or pivot page.
Although Spotify is the most popular paid streaming service, not everyone uses it and it's not possible to link to all the different outlets your music is on when promoting it. This is where a smart link or music landing page comes in.
A smart link directs the user to a web page that contains links to all the different places people can buy or listen to your new release. In some cases, you may want to include other relevant links, song snippets and videos in your marketing efforts.
This smart link is what you would use in your call to action to promote your new release in your social media posts, IG URL, newsletter, IG Stories, etc. You can also leave this smart link in the YouTube or Facebook description of your music video so viewers can follow up on what platforms they can stream or download it.
Some of these tools discussed below will allow you to create a smart link page for a Spotify pre-save campaign for an upcoming release as well.
In this blog, I'm going to cover some of the best smart link options out there (free and paid), provide an overview of their features and share my thoughts on them. My main focus is going to be on the value you get for free plans with each tool.

What Do You Need to Get Started?

In most cases, what you'll need in order to create a smart link with one of the following tools is a URL to your music from a music platform or service.
For example, here's how you would get the URL on Spotify: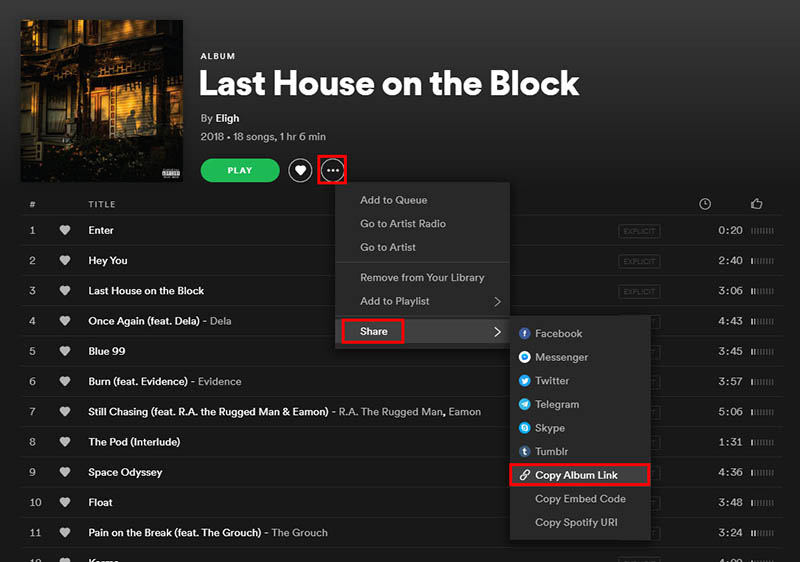 You can also do a Google search of your artist name, song/album title and music platform. Stick to using a URL from Spotify or Apple Music unless the tool specifically requests something different.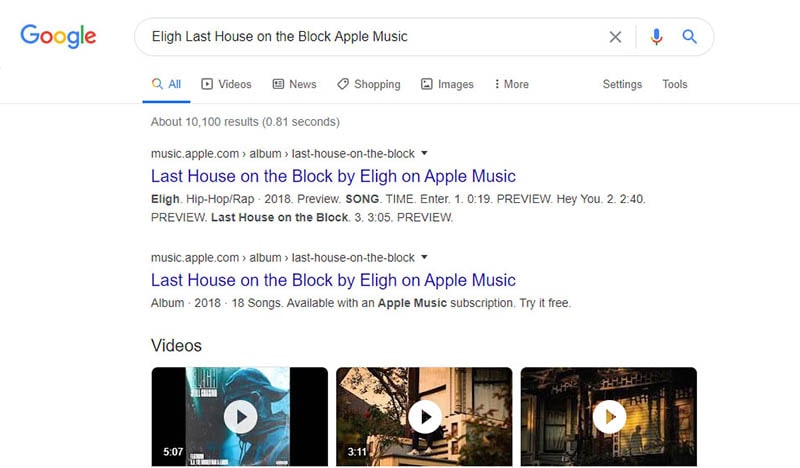 For example, I searched "Eligh Last House on the Block Apple Music" to get this link:
https://music.apple.com/us/album/last-house-on-the-block/1376923851
These smart link tools need a scan source to be able to pull all relevant data it needs to populate your smart link landing page. It's not always 100% accurate so just make sure to double check the links for each service you include on your landing page.
Some will let you use an ISRC code for an individual song/single or UPC for the release instead, which you should be able to get from your music distributor.
For example, here's how you would find this for DistroKid users. From your main dashboard, click on one of your releases and you should find it in the locations below: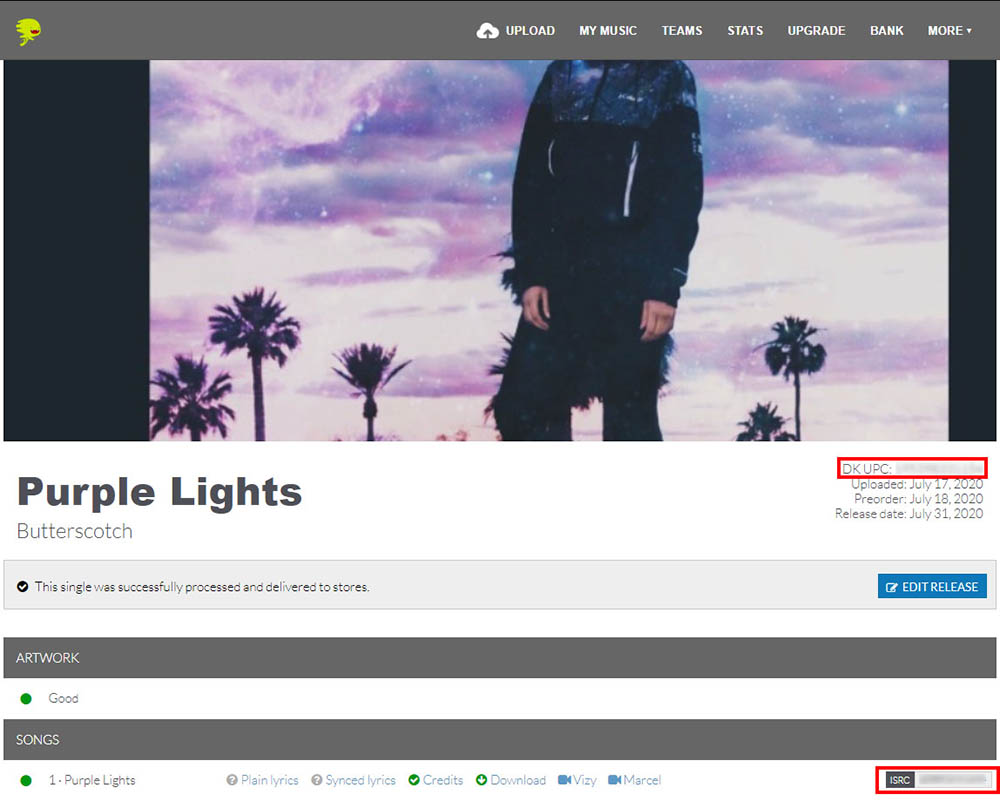 For Pre-Save Campaigns
If your music is scheduled for release and you want to do a pre-save campaign, you may need the Spotify URI (Uniform Resource Indicator).
It's easy to get the URI after the music is already released (the same way you would get the album link on Spotify), but it may not be as accessible before it hits stores. It will depend on your music distributor.
DistroKid says you have to request it by contacting them directly to get the Spotify URI before your music is released. Select 'Managing Music and Profile in Stores' and then 'Request Artist or Album URL/URI' to submit the ticket.
The release date needs to be more than a week or two away to process this request so plan accordingly. You will need to provide the UPC for the release. They can only provide links for iTunes/Apple Music, Google Play, and Spotify before your release goes live.
If you use CD Baby, it'll be easier to get the URI.
The good news is in some cases, you can also use the ISRC or UPC instead, which should be provided to you when you upload your music to your distributor.

HyperFollow from DistroKid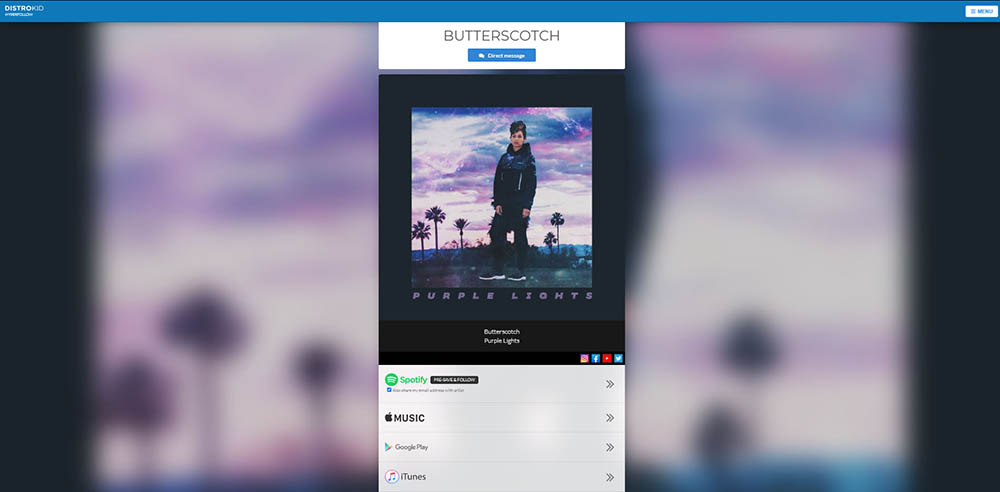 Example: https://distrokid.com/hyperfollow/butterscotch1/purple-lights
For those who use DistroKid as their music distributor, they will automatically generate a smart link called a HyperFollow page after you upload your release. This is probably the easiest and quickest free option if you're a DistroKid subscriber.
Customization Notes: You can edit the HyperFollow page.
Select which services you want to show as options and even reorder them. Ideally, you'll want to put the more popular options that your fan base uses.
Add your social media links and set it so it will do this for every HyperFollow page moving forward.
Insert your Facebook Pixel for retargeting ad campaigns.
Embed a YouTube video below the cover art. This is a great way to share your music video for the release.
Pre-Save Feature: You can use this link to promote the song before its release in a Spotify pre-save campaign. For those who pre-save your release, they will automatically follow you on Spotify and you can get their email address (if the user checks the box to share their email with you).
Performance Data / Analytics: In the HyperFollow dashboard, it shows how many views and saves each of your HyperFollow pages gets.
If you click on the HyperFollow page for each release, it will show you:
How many page visits
Number of new followers generated
Details about the people who pre-saved, including their city/state/country and their favorite artists on Spotify.
However, it does not tell you how many times a service or platform gets clicked on.
Cost: Completely free for DistroKid subscribers only. My recommended music distribution plan is called Musician Plus which is $35.99 a year.
Feature.fm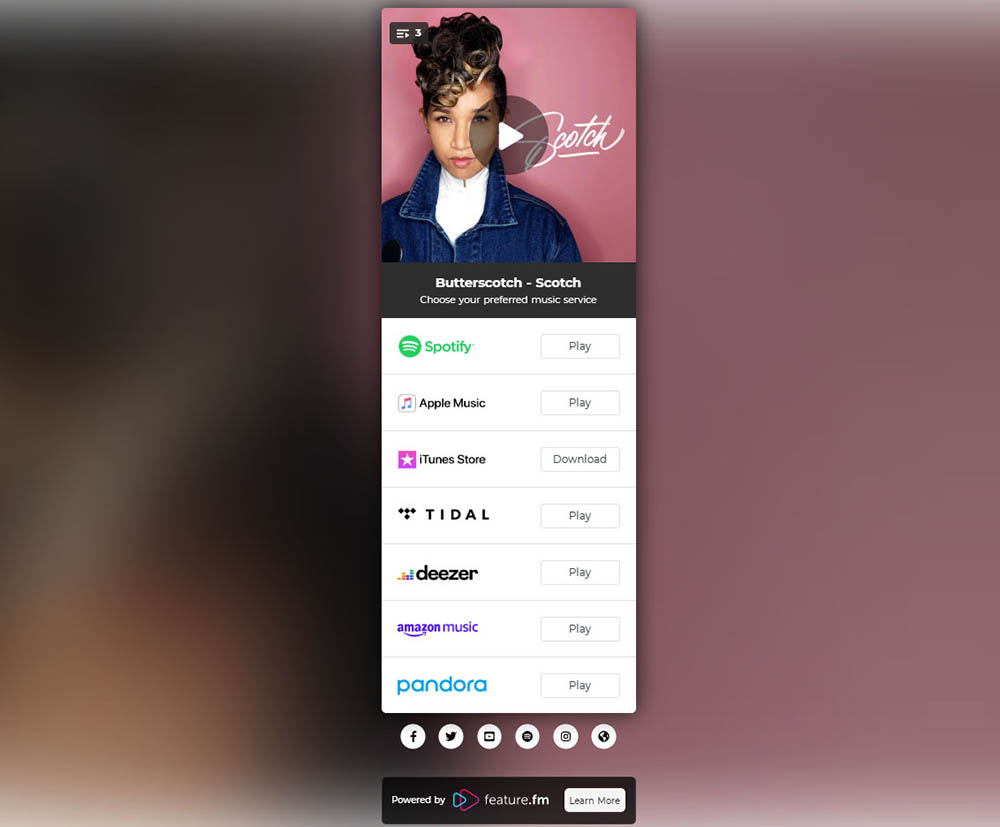 Example: https://ffm.to/bs-scotch-ep
One of the more popular smart link tools I've seen being used is from Feature.fm. It has a clean layout that looks like the other services out there.
The one cool feature is that you can listen to a short snippet of the song directly on the landing page by clicking on the cover. If you're releasing a project with multiple tracks, you can click on the icon on the top left to reveal the tracklist so visitors hear the songs first.
Customization Notes: You can customize almost everything you would need in their free plan.
Change the link URL to something custom to your release.
Add/remove specific digital music services.
Include your social media links.
Insert your Facebook Pixel, Google Analytics and more tracking in a paid plan only.
However, they don't offer the ability to embed a music video in any of the plans.
Pre-Save Feature: Once you log in, you can select 'Create a Pre-Save Link' from the welcome screen. You can use a URL that is created by the major platforms for the pre-release, UPC code or ISRC code in case you don't have the Spotify URI.
There's an option where you can send fans to a specific URL after they pre-save. If you're offering an exclusive download or access to a secret video, this would be a good place to do it.
Performance Data / Analytics: Only the last 7 days of analytics and performance data for your smart links is shared with you in the free plan. Some of the visitor data you get to see is the top services/platforms that are clicked, how many listened to your song preview, where visitors are clicking from (like your IG profile or YouTube for example) and their geographic location.
Cost: There is a free plan that allows you to create as many smart links as you want if you sign up as an artist. Paid plans start at $17/month for artists if paid yearly or $19 paid month to month, which give you access to more features. If you sign up as someone who represents artists, then you'll have to pay to access their smart link tool.
How to Create: Sign up for an account and it starts with filling out your artist profile. Once you get to the welcome screen, click on 'Create a Music Smart Link' to get started. Like some of the other services, input a link to your release from a major platform or the UPC/ISRC code. It will do a scan and pull up all of the other related links from other platforms.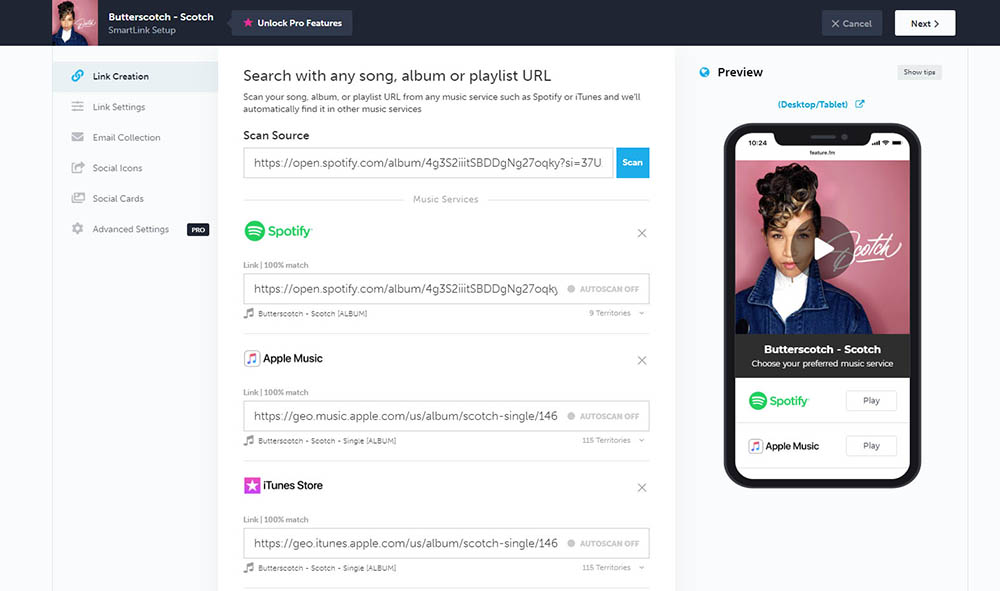 SmartURL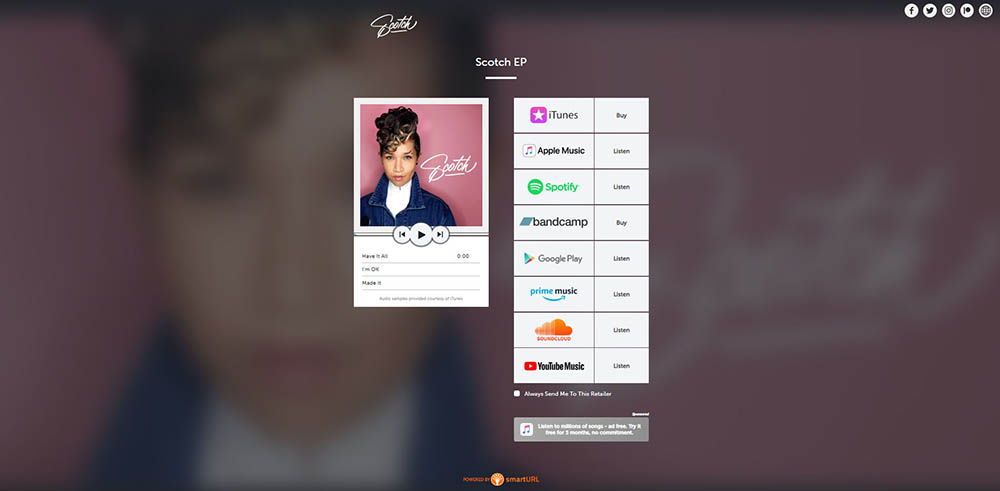 Example: https://smarturl.it/bs-scotch
12/9/21 UPDATE: SmartURL was acquired by Linkfire. Here's what it means if you have a SmartURL account:
Your smartURLs will continue to exist and will ultimately be powered by Linkfire
You will continue to have free access to smartURL until April 1st 2022
We are committed to ensuring that we provide you with free access to a Linkfire plan once access to smartURL is terminated
SmartURL may look a bit more complex than it really is due to its clunkiness in design. Before creating my own landing pages, I used SmartURL the most.
What differentiates SmartURL from other smart links is the ability to only display music platform options depending on what country the person is viewing from. Sounds neat, but in reality, it's that big of a deal as your main services like Spotify and Apple Music are available in most countries.
When you complete your smart link, it will automatically generate pivot bypass URLs for each music platform. It's basically a trackable link that takes visitors directly to a specific music platform instead of the pivot page. They generate a QR code as well.
Customization Notes: In the free plan, you have a bit more control over the design and colors of the landing/pivot page than the other tools.
Include all your social media and website links.
Add your logo and change the colors of your page to match your branding.
Add/remove/reorder the music platforms/retailers.
Select a song to preview or embed a YouTube video instead.
Advanced retargeting settings (adding Facebook or Google Pixels) are only available for paid plans.
Customize the smartURL link. It's in the 'Organize' section when you're creating the pivot page, which can be confusing because it says "Enterprise Only" next to it. It's referring to creating folders, but typing in your own link name is free.
Performance Data / Analytics: They provide basically the same data as others share like:
Which music platforms are visitors choosing
What websites are they coming from (Facebook, YouTube, Instagram)
What type of device is the person using (iPhone, Android, etc) and what countries visitors are from
Pre-Save Support: Yes, but you need to create a free account and have the Spotify URI. The cool thing is it lets users choose which playlist to add your song to when the song is released. The landing page also includes a 'follow' button for Spotify. You can also add an additional button for your playlist if you're looking for more playlist follows.
There are a few drawbacks though:
The user needs to check the 'I agree to the terms and conditions' box before they can do anything, which is not very clear.
Not the cleanest design, especially desktop.
You can't collect data like user names and email addresses unless you have a privacy policy posted on your website.
Cost: It's free for most of the basic features you would need. Unfortunately, their paid plans start at $49/month! Not worth it for your typical independent artist when you can do everything you need with other smart link tools for free or way cheaper.
How to Create: You actually don't need an account to create a pivot, but probably should so you can access and manage your links anytime. Plus, it's free.
Start by selecting either the 'Pivot' or 'Pre-Save' icon up top. If you created an account first, you may need to click on the 'Create' button up top.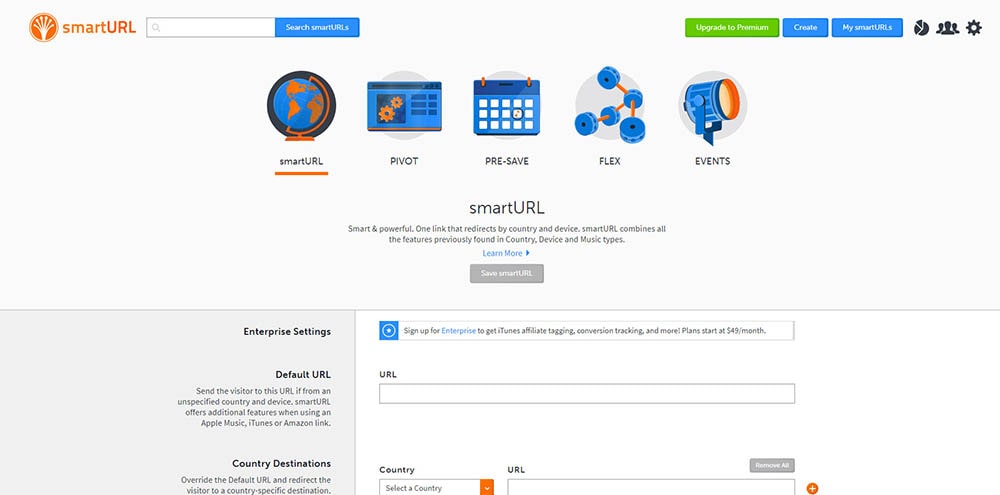 You will need an Apple Music or iTunes URL to your song or album. It will auto-populate some of the music platforms, but you can also add any that they didn't include.

Smart Links from ToneDen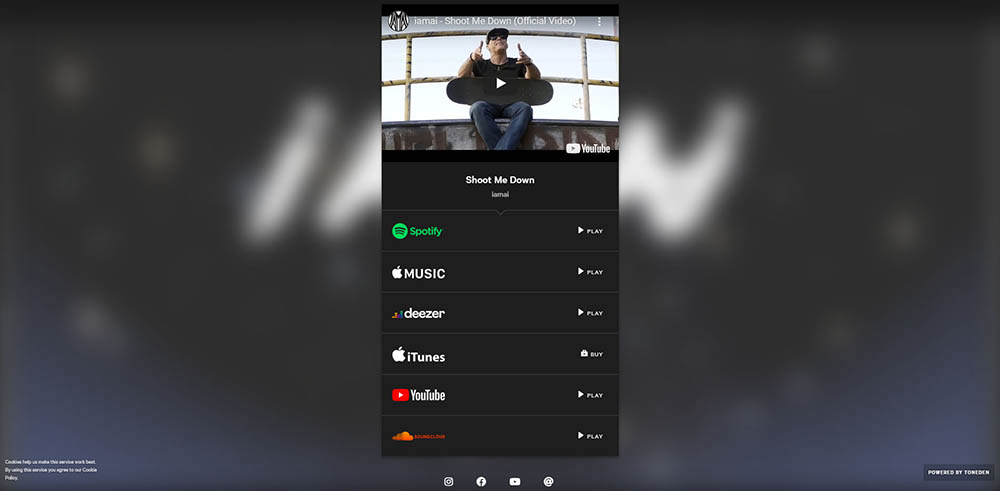 ToneDen offers free smart links if you sign up for an account. Their layout and design are simple like most of the others.
What I like the most is the ability to embed a YouTube video at the very top. If there's no video, you can choose to play a short snippet of one of your songs. The services to play the song preview are YouTube, SoundCloud, Deezer and Spotify.
Unlike Feature.fm, you can only play one song snippet on your landing page. For a multiple song release, it will only play the first one.
Customization Notes: You can basically customize everything you would need in their free plan.
Manually select which digital platforms to include. There's even an option you can select that will automatically sort the music platforms based on how many times it has been clicked on. This makes sure that the most popular option is on the top of the list.
Change your landing page image (where your cover art is) and add a page background.
Include your social media and website links.
Insert a Facebook or Google pixel to track and retarget those who visit your ToneDen landing page.
Customize the link URL.
Embed a video on the top of the landing page.
Performance Data / Analytics: You get plenty of data including landing page views, number of unique visitors, click-throughs to a music platform, the number of clicks each listed service gets, referrers, top countries and top cities.
Pre-Save Support: Only available if you have a premium plan. If you want to create a smart link for a Spotify pre-save campaign, select 'New Release' when asked which music template to use. You will need the Spotify URI of your unreleased single or album. You can leave this field blank and enter the URI once you have it from your distributor, but make sure you've added one before the save date. You can set it up so that your pre-save page becomes a regular pivot/landing page once your music is released.
Cost: Free to create smart links and pre-save campaigns, but you have to pay to collect emails and access their other marketing tools. Their plans start at $50 a month, but you're paying to use their automated social marketing platform and not just smart links. I have yet to try it, but it does look like a promising investment for independent artists.
How to Create: When you first sign up for an artist account, it'll take you to a screen where you can decide to make a 'Spotify Pre-Save Campaign' or 'Create a Landing Page for Your Music'. Enter a stream Source, a URL to your music release, and you can then customize your landing page how you want.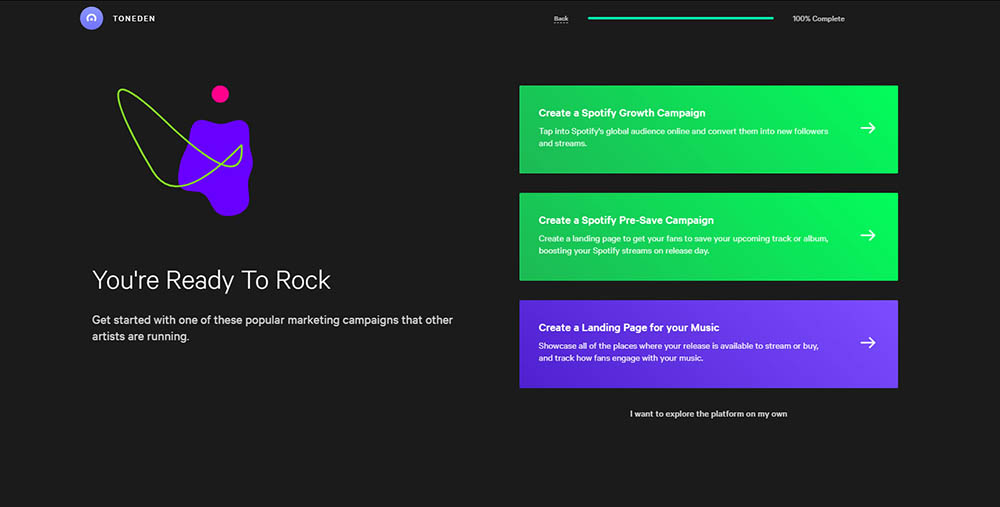 LinkFire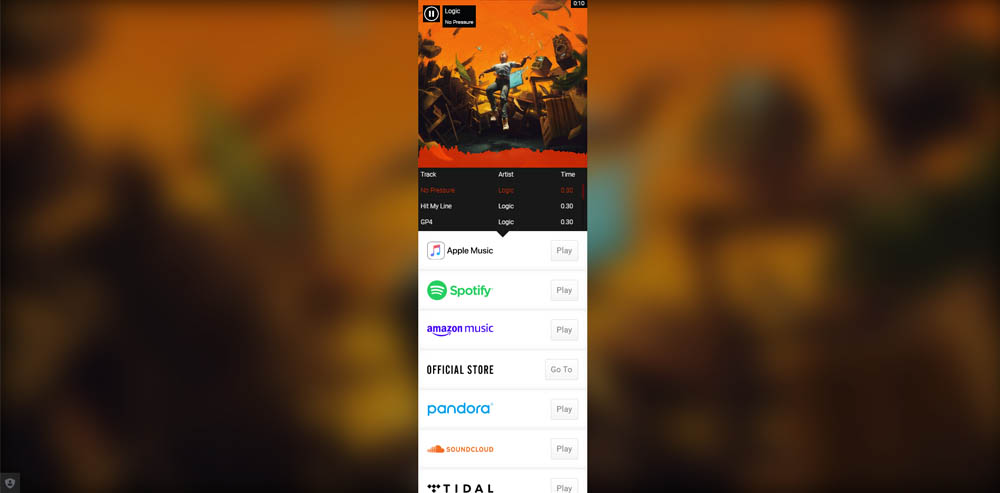 Example: https://logic.lnk.to/NoPressure
LinkFire is the smart link tool used by the major music labels (Universal Music Group, Warner Music and Sony Music) for their artists. It's very easy and straightforward to use, but it's not necessarily catered for your typical independent artist.
The key features that you would want or need from a landing page are only available for higher-priced plans. You can get more out of the free plans from the other tools mentioned in this blog than to pay for LinkFire.
Customization Notes: Once you provide them a URL or code to scan, they will generate the complete page for you then you can make a few changes after.
Customize the link URL.
You can add/remove the service destinations.
You can select a song that visitors can sample on the landing page. You can also choose a YouTube video, but it doesn't show as an embedded video. If you click on the cover art, it will pop up a video with the video playing. It doesn't look good though because when I tried it, the cover art was zoomed in on one corner.
Can't include additional links to your social media or website.
Adding a Facebook Pixel for retargeting is reserved for only premium members, starting at $150/month. Google Analytics tracking is only available in higher paid plans.
Performance Data / Analytics: Very minimal for the ad-supported plan and it's limited to 200 visits a month worth of data. You get more insights if you pay.
Pre-Save Support: Creating a pre-save link is only available for Business plans that start at $50/month.
Cost: There is a free/ad-supported plan. Plans start at $10 a month for artists.
How to Create: Start off by signing up. Once you confirm you email and activate your account, just click on 'create link' to get started.

HearNow from CD Baby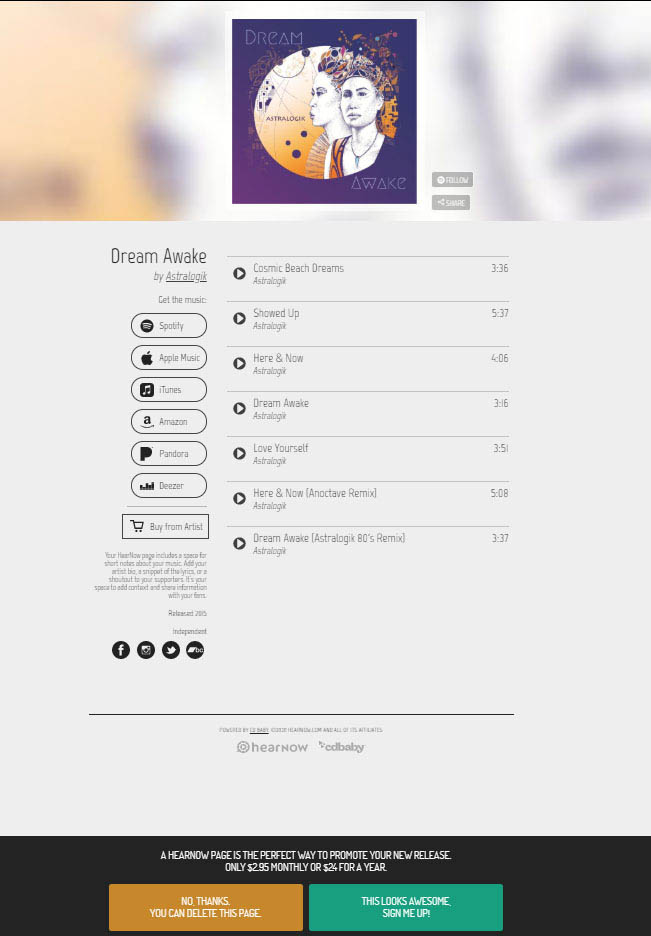 For CD Baby users, you can create your smart link / pivot page with HearNow. Unfortunately, I don't have much information or insight about HearNow since they don't share much on their website. I'm not about to pay to see what they offer either.
I will say that their design looks the most unique out of the other smart link pages. Their layout appears to accommodate bigger releases like EPs and albums where you can list all the tracks. Similarly to Feature.fm, you let visitors listen to multiple short snippets or the full song directly on the landing page.
Customization: Yes, but I don't know any specifics because it's not mentioned on their website.
Performance Data / Analytics: No idea, but I imagine there should be some basic analytics provided.
Pre-Save Support: If you want to create a smart link page for a pre-save campaign, you'll have to do that with CD Baby's Show.co.
Cost: The drawback is you have to distribute your music through CD Baby and you have to pay. It costs $2.95 monthly or you can pay $24 a year ($2/ month), which is reasonable.
How to Create: To create your HearNow page, log into your CD Baby account. Once you're in the account dashboard, click on the 'Release Your One-Page Website' under 'Featured Tools' to get started.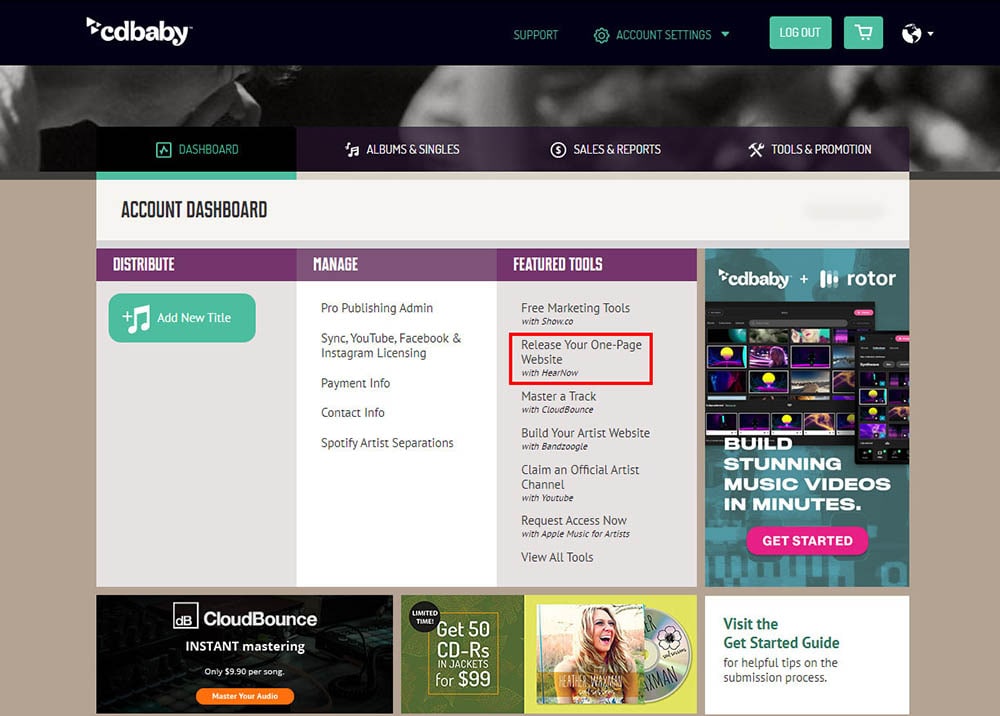 Linktree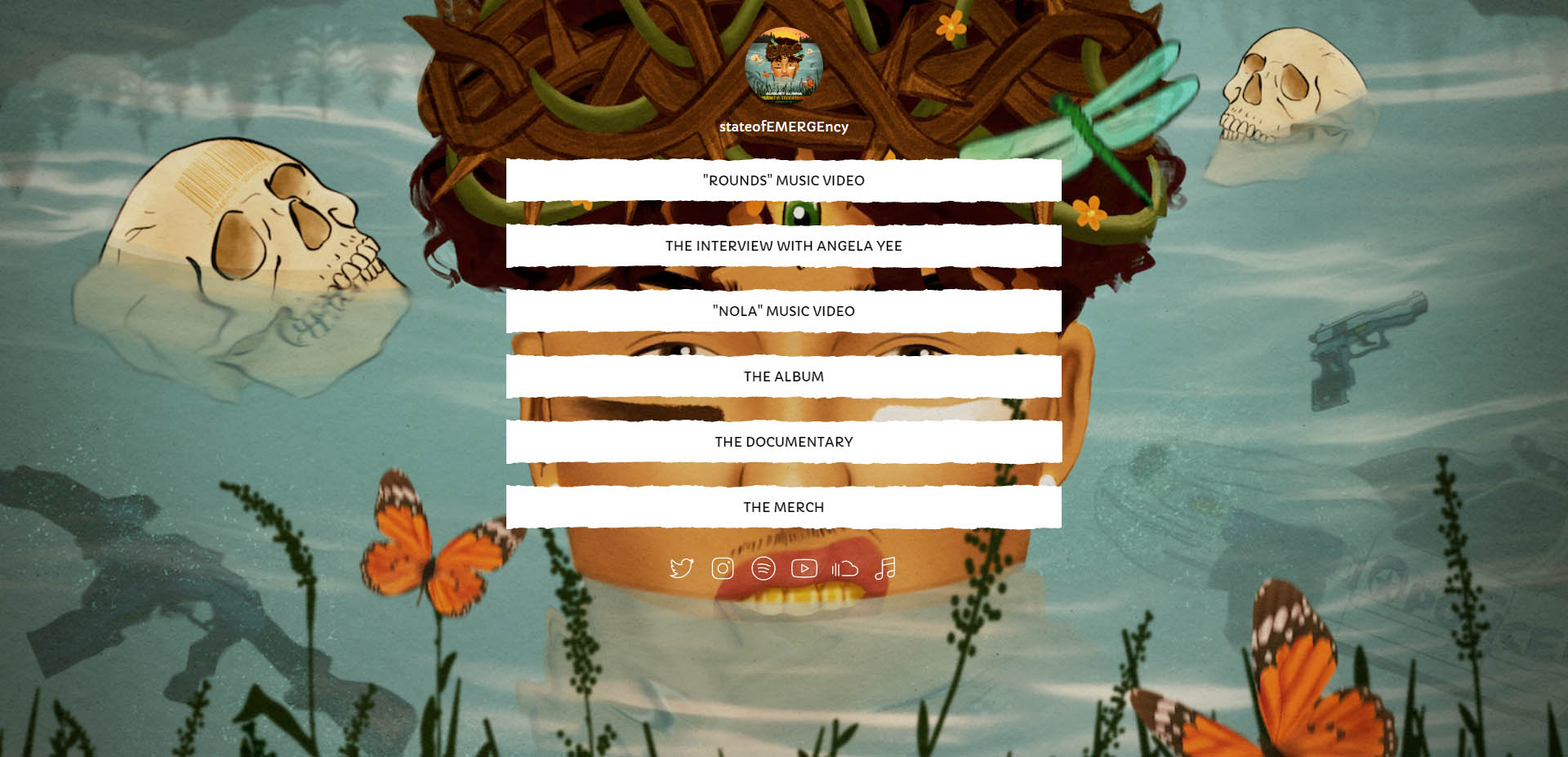 Example: https://linktr.ee/stateofemergency
A lot of musicians already use Linktree in their Instagram profile to compensate for the fact you can only have one URL there. It's not exactly a smart link service like the others I mention. But their tool/service is essentially a fluid pivot page where you can manually add any links you want, like to different streaming platforms and your website. This means you can use another smart link service like DistroKid's HyperFollow page inside Linktree.
Using Linktree can be convenient if you're already using their service for various social media platforms since you can just change the links up for each release.
The drawback is if you only get one URL / page. For me, I like the idea of creating a pivot page for each release and leaving the URL in the music video description. So in case if someone discovers your song on YouTube for the first time, they can still access the pivot page way past the release.
Customization Notes: Yes, you can make some basic color changes, but full customization is only available on the paid plan. You can create unlimited links though in the free plan.
Performance Data / Analytics: It will only tell you how many lifetime views your Linktree page has received, but you need the paid pro version to access more data.
Pre-Save Support: No
Cost: It is free, but they do offer a pro version for $6 a month with a bunch more features and analytics. The most notable ones for promotional purposes are the ability to embed a video and add your social media links. You can also customize it to fit your branding.
How to Create: Sign up for an account here. It's really straight forward once you add your links to your page.
UPDATE: Linktree recently acquired the smart link service Odesli (Songlink), which is discussed below.

Odesli (Formerly Songlink) – Acquired by Linktree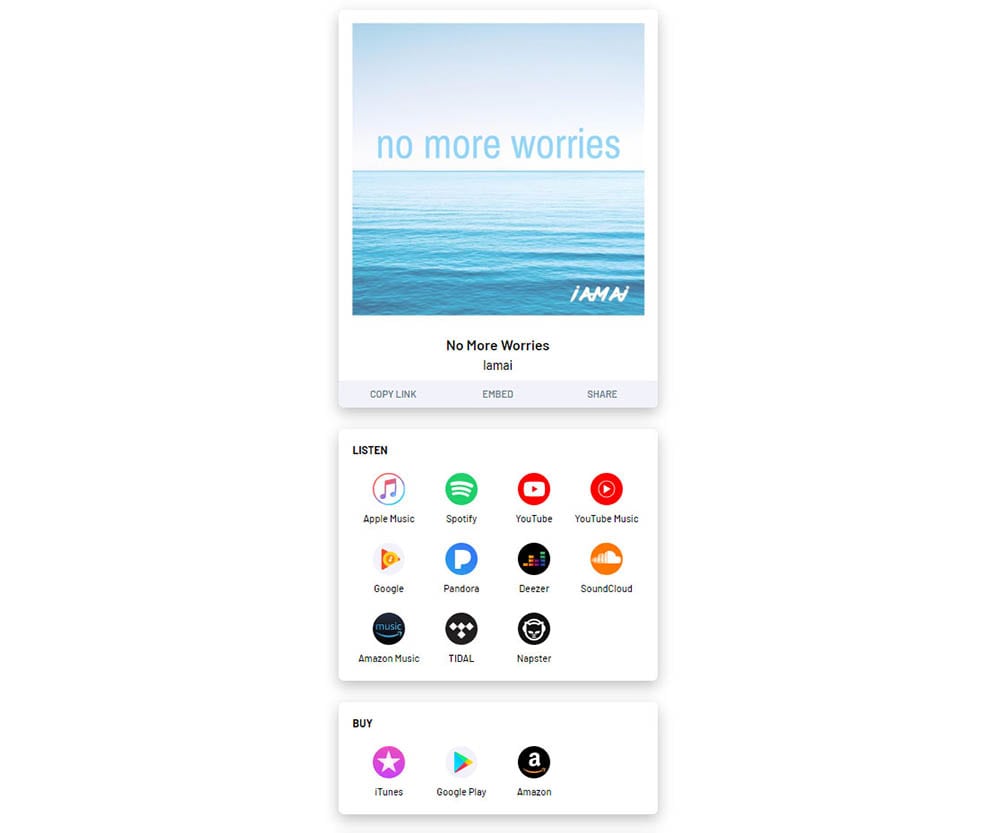 Example: https://song.link/us/i/1519923240
Odesli was what I used briefly earlier on when it was still known as Songlink. Their landing page is not the most visually appealing, but it gets the job done. I only wanted to include those who want something really quick and simple without needing to sign up for an account.
Customization Notes: It is free to create a smart link, but you have to sign up for an account to do basic customization. If you upgrade to their premium plan for $1.99 a month, you get extra features like a custom smart link URL and add a Facebook Pixel.
Performance Data / Analytics: You can access up to the last 30 days of data for your page if you pay for the premium plan.
Pre-Save Support: None
Cost: Free, but their premium plan is $1.99 a month for extra features and customization options. Not worth it though unless they revamp their tool to compete with the others.
How to Create: All you have to do is pop in the URL for the release from one of the major platforms (Spotify, Apple Music, Google Play, Amazon Music) and it'll automatically search and pull all the links into one page. You don't even need an account to do this.

Create Your Own Pivot / Landing Page

Personally, I prefer to create my own pivot/landing page on an artist's website specifically for that release. For those who have some experience with web design, you can just make a new webpage on the website dedicated to your music release and add the necessary elements.
The main benefit of going this route is that everything takes place on your own property where you have full control over what goes on the page. It also doesn't cost anything extra since you're already paying for the hosting of your website.
What you should have on your landing page:
Links to the top music outlets where the single can be streamed or downloaded. If you use a website builder and management service like Squarespace (Use code D4MUSIC10 for 10% off – Affliate Link), you can easily add buttons and link them to each streaming/download platform. I usually go with the big 4 – Spotify, Apple Music, Amazon Music and Google Play. See an example I made using Squarespace.
Embedded music video. If not, display the cover art with an embedded music player below from either Bandcamp or SoundCloud.
Facebook Pixel so you can create a custom audience for Facebook Ad retargeting. I would suggest going this route if you're going to do an ad campaign to cold audiences or people who have never heard of you.
Google Analytics for performance data (which you should already have installed on your website).
Lyrics and song credits
Links to buy merch if you have any.
Here are some custom pivot/landing page examples:
http://flying-lotus.com/more/ (WordPress)
https://grandtapestry.com/walk-with-me (Squarespace)
https://butterscotchmusic.com/scotch-ep/ (WordPress)
Using Bit.ly
Lastly, you may want to make a shortened, custom link with bit.ly for presentation purposes. Insert this link on your social media profiles, posts and video descriptions when the single is officially out.
Here are examples of what I used for previous campaigns:
For my landing page, I also use bit.ly to shorten the URLs to each individual platform where the single is being released. Creating a bit.ly link for Spotify, Apple Music, Amazon Music and Google Play allows me to track which platforms people are clicking on to listen to the release. I use this data to determine the order I put the platforms in for future releases.
Here are the results for one of the campaigns where I used bit.ly to track how many times each platform is clicked: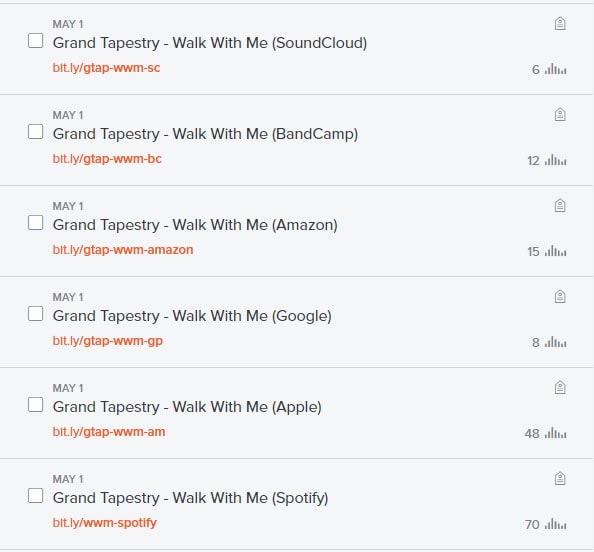 As you can see, Spotify was clicked the most and followed by Apple Music. For this particular audience, I would make sure Spotify is the first option.
Here are the results for another campaign: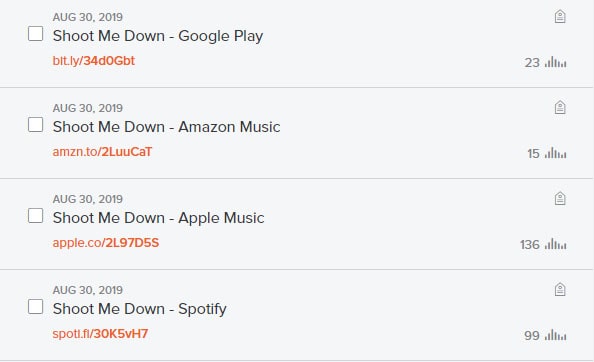 For this artist, I would make sure Apple Music is the top platform on the landing page.

Conclusion

Regardless of where you are in your music career, it would be "smart" to create a smart link for every release. There are tons of these smart link services out there, but they all essentially do the same thing. The ones covered in this blog are generally the more popular options. If you have a music video uploaded to Facebook, YouTube or IGTV, be sure to include this smart link in the description.
Overall, my favorite smart link tool with all things considered (look, cost, features, customization, user friendly) is ToneDen's Smart Links. The two big features I value highly is the ability to embed a video and include your Facebook Pixel, which you can all do in the free plan. The downside is you will have to pay to use their pre-save link.
I also like Feature.fm, but you can't embed a video and the Facebook Pixel feature is only available in a paid plan. If you're trying to keep costs low, one strategy is to use Feature.fm for the pre-save campaign. Once the song is live, use ToneDen's Smart Link for everything else like social ad campaigns.
DistroKid's HyperFollow is great if you already use them to distribute your music, but not a fan of the header design and their branding is a bit much. The huge plus is that you can pre-save, embed video and add a Facebook Pixel at no extra costs.
The big reason why I like having the video on top of the landing page is for Instagram Ads. Since the longest video you can use in an ad is 60 seconds, you want to direct viewers to a landing page where they can watch the full video and easily find the song on their preferred platform/service after they watch. If you're doing Facebook Ads, you can promote the full music video so there's no need to have the video on top. Depending on how and where the smart link is going to be used, you should be able to find the right smart link tool to fit your needs.