You may have been noticing those Facebook Live notifications popping up more frequently. If not, you will soon enough.
The hot new trend in the social media world right now is mobile live video. For indie artists, its use is definitely picking up momentum. You might be thinking, why should I care? Well, let's take a quick step back to see what's been happening with mobile live streaming.
Mobile live video first started with the apps MeerKat and Periscope in 2015. Although Meerkat came out first, it couldn't keep up so it had to move into a different market. Periscope was later purchased by Twitter.
Facebook, the world's largest social media network with over 1.5 billion active users, jumped in with Facebook Live shortly after.
Youtube recently announced it's own live mobile video function to be built into its app. As I write this, only a select few Youtube users will have this feature as they continue to test it before releasing it to the public.
Even Tumblr is getting in on the action with their announcement.
Although Snapchat isn't technically mobile live streaming, its growth has been unbelievable the past few years. This helps to support the increased demand for unpolished, "in the moment" video content. More people are now using Snapchat than Twitter, Pinterest and Linkedin.
When you have all these social media giants getting in on the live mobile video, it's a huge sign that you need to consider incorporating it into your social media strategy. At the very least, experiment with live mobile video. Getting exposure as an independent artist is tough so it's important to take advantage of new trends before everyone else.
Update 12/23/16: Instagram has rolled out their own mobile live video function in their app. Also, Twitter now allows you to broadcast live video directly in their app via Periscope. Yup, looks like mobile live video is the future of social media.

What is Mobile Live Video?

In case you're not familiar with mobile live video, it's the ability to livestream or broadcast video to an online audience through an app on your mobile device.
Live streaming has been around for a while, but it was mainly through a webcam on a desktop or laptop. With nearly 2 out of 3 Americans owning a smartphone, this function has now carried over to mobile devices.
Here's why it's such an attractive tool for independent artists:
Intimate Engagement: It takes engagement and fan interaction to the next level when fans can see and interact with you live.
Convenience and Accessibility: It gives you the ability to easily broadcast in the moment, behind the scenes content for fans.
Unique Appeal: The idea video being streamed live is intriguing and gets people's attention much more than a prerecorded video.
The key to mobile live video is real time engagement. Your online audience has the ability to interact and make comments live while you are streaming. This function helps to create deeper personal connections with your fans. Without this real-time interaction, it's really no different than just uploading a video.
Personally, I know I get juiced when an artist I like and respect interacts with me on social media. To be able to do it live is taking fan engagement to the next level.

Video Content is the Future

It's becoming clearer that video content in general is going to dominate in the future. In 2015, mobile video traffic accounted for 55% of total mobile data traffic. That's a pretty high number, and it's only going to increase. A recent study by Cisco states that three-fourths (75%) of the world's mobile data traffic will be video by 2020.
In the United States alone, we will account for 77% of the total mobile data traffic by 2020. That's increasing from 61% in 2015.
With that being said, it makes sense for the big dogs in social media to dive into mobile live video. Here's what Facebook said about Facebook Live in a blog post:
"Now that more and more people are watching Live videos, we are considering Live Videos as a new content type – different from normal videos – and learning how to rank them for people in News Feed. As a first step, we are making a small update to News Feed so that Facebook Live videos are more likely to appear higher in News Feed when those videos are actually live, compared to after they are no longer live. People spend more than 3x more time watching a Facebook Live video on average compared to a video that's no longer live. This is because Facebook Live videos are more interesting in the moment than after the fact."
For musicians and artists, it offers another medium to catch people's attention and provide more exposure. To me, it makes sense to learn how to live stream and get comfortable with it now. There's obviously a huge potential that Facebook and Google see in this so you should too.
Just remember, don't just live stream any random event. You should have a clear plan and strategy of what you want to film. Use it sparingly, as long as you can provide good engaging content. Using live video for captivating events keeps your video special. Also, you need to give live streams time to build up momentum, so don't stream for only a few minutes and stop. I would say 10 – 15-minute sessions would be ideal.
Hopefully, you've been convinced enough to at least test it out with your own fans. Here's an overview of which platforms to focus your efforts on as an independent artist:

Facebook Live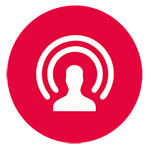 When Facebook first rolled out mobile live streaming, it was exclusively for celebrities and influencers. Now anyone can use it, even though your own personal Facebook profile.
For those who don't know, Facebook is competing with Google / Youtube to grab a chuck of the video market share. In order to get ahead, Facebook gives an additional reach boost for people who use their in-platform features, especially for live video.
Pro Tip: You will get more reach and views on your video if you upload directly to Facebook instead of uploading a video to Youtube and then posting the Youtube link on Facebook. So if you have a music video or a live performance you want to share with your fans, upload it to Facebook in order to maximize your reach to your Facebook fans.
Because Facebook is pushing hard for their mobile live video feature, you will get a huge reach boost when you use it to stream. Here are the analytics for a mobile live video I did on Facebook Live for AstraLogik. It was probably one of their most popular and engaging posts ever, or at least within the past year. Although most people didn't watch the entire 50-minute live stream, it reached 2,700 people organically.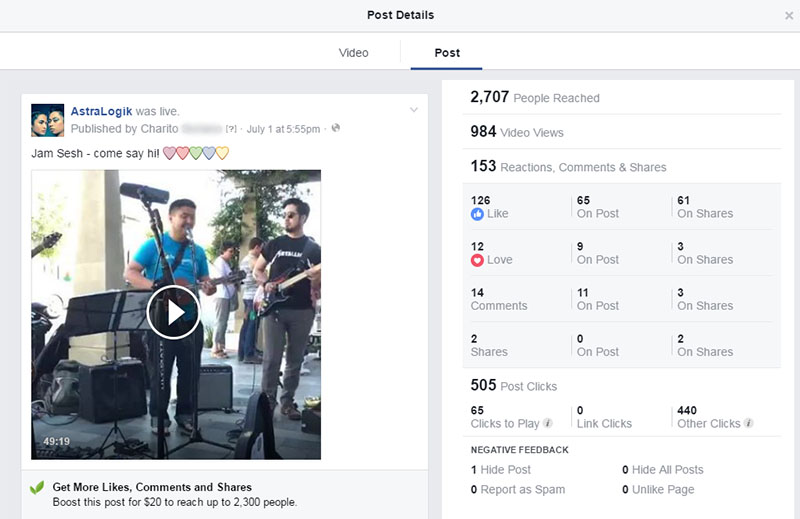 In my opinion, Facebook Live is a top priority for independent artists looking to reach and engage their fans Chances are, you'll be broadcasting to a familiar audience of fans who already like your page, so it's a good way to warm up to live video. It will also offer the best return for investment since Facebook is the largest social media network. Plus, when you go live, your followers get a notification to attract a larger audience.
To add to that, Facebook has announced a ton of new functions and features in the works to compete against Youtube, Periscope and Snapchat.
The Messages icon in the middle of the Facebook mobile app is being replaced with live streaming function.
Similarly to the hearts on Periscope, Facebook Live will show likes and reactions in real time while you live stream video.
Like Snapchat, filters and the ability to doodle or draw on their live video will be added.
A discovery feature, like the map in Periscope, is going to be more accessible.
Users will be able to live stream their video to Facebook Groups and Events.
How to get started:
You will need to download the Facebook app "Pages" if you don't have it already. This is assuming you created a separate business page for yourself.
If you are an admin for multiple pages, click on the top left corner and select your business page.
From there, click on "Publish." You should see a red person icon with circles around it.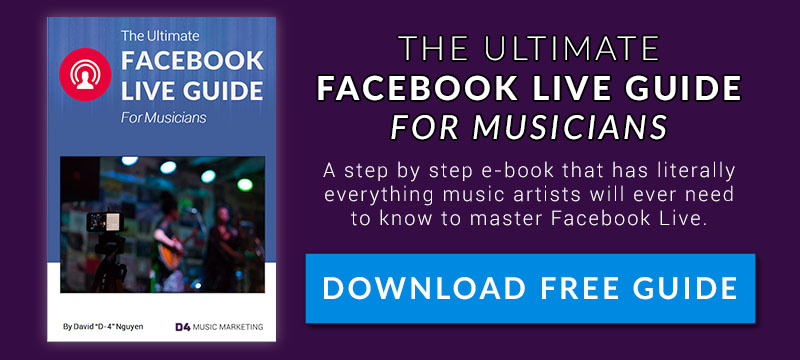 Periscope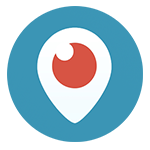 As one of the first to pioneer the mobile live video movement, Periscope is a good platform for finding new fans. Perform some songs or experiment with making new music to see how people respond. With a prominent browse and search feature, your live broadcasts can be easily found by anyone in the world through their map or listing function. Just from the way it is set up, it makes it a good tool to meet new people and potentially attract new fans.
Periscope can be linked to your Twitter account so your Twitter followers can see your live streams even if they don't have Periscope.
How to get started:
Download the Periscope app. You don't need a Twitter account to create a Periscope account but I'd recommend having one.
Once you're in the app, click the bottom right button of the video camera to reach broadcast function.
Enter a good title that people can find you with. Then start the broadcast. By default, you are broadcasting for anyone in the world, but you can make it for a private audience.
You will see comments and hearts (similar to likes on Facebook) Be sure to acknowledge them and interact with people who have posted comments.
Youtube Live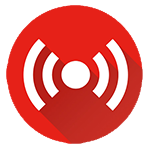 Youtube Live is still currently in beta, but it would be smart to hop on when it's released since Youtube is the king of video content. It is slowly rolling out to big Youtube channels, just like Facebook did, so it should be available soon.

My Question for You

Have you had success with using mobile live video for your music? Let me know in the comments below.