Last Updated 3/5/2023
By now, you should already understand how important it is to have an email list as an independent artist. Getting fans to volunteer their email address is not always easy, but it is worth the effort. Being able to own your fan relationship and communicate to them directly is a valuable asset for those who want to make a living off music.
Where do you start if you want to build your email list? Here are the 5 most practical methods for you to effectively build an email list:

Getting started

Do you already have an email list provider that you are using to collect emails? If yes, you can skip this next part.
If not, you will need one. There is a wide variety of different email marketing services, but some of them only offer a short trial period before you are required to pay. For this reason, I recommend Mailchimp because it is free (up to 500 subscribers) which makes it ideal for new artists or artists on a budget.
Once you choose a provider and set up an account, you will want to figure out what information to collect with your list. Two common fields you want to ask for are email address (obviously!) and first name.
Pro-Tip: Another field that I believe is important in the long term is city and state. Down the line when you have a sizable email list, you will want to have the ability to easily segment or categorize your fans by geographical location. This way you can send emails that are more relevant to them.
For example, if you want to promote your show in San Francisco, you want to be able to select all your fans in that area to email. Your fans in Portland will most likely not be making the trip down to see you perform so it's important not to clutter their inbox with irrelevant emails, risking they unsubscribe or marking your emails as spam.

1. Offering free music in exchange for email address

Although this has been one of the more common strategies to grow your email list, I feel it is slowly becoming less effective due to the popularity of on-demand music streaming. Digital downloads are in decline, which could be a sign that people find it troublesome to manage mp3s and find music streaming so much more convenient. However, this shouldn't discourage you from offering free music to your fans.
As for what to offer, try a new single, mixtape or an older EP. If you really want this to be effective, offer exclusive tracks that you can't get anywhere else like special covers or different versions of your songs. You can also extend it to other things outside of music like a coupon code for your online merch store.
2. Put a signup form on your website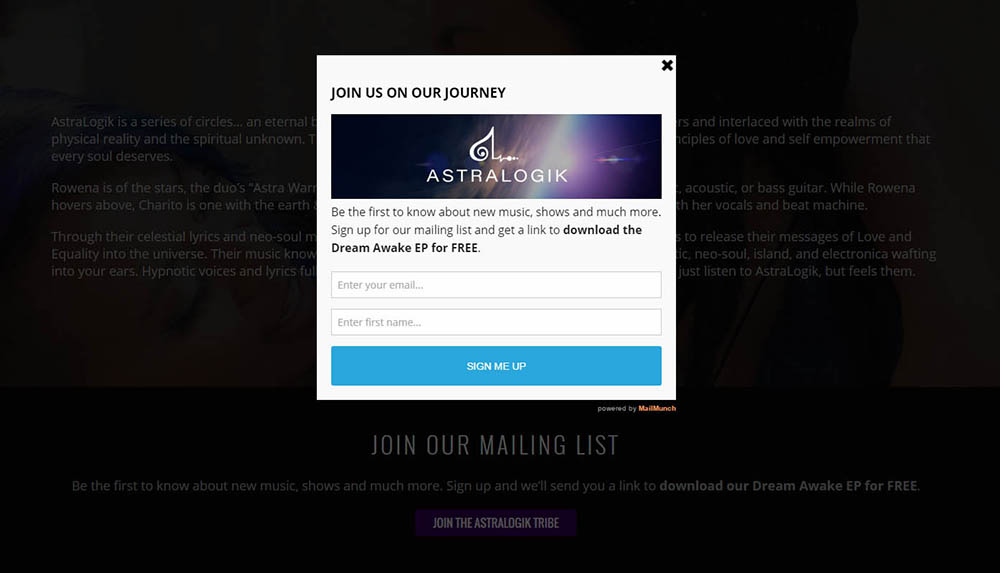 Having a visible way for website visitors to sign up for your mailing list is a great way to collect emails. A common place is in the header or footer of your website.
How to add a signup form to your website will vary depending on your email list provider and what website platform you use. Check with your email list provider but usually it requires that you copy and paste some HTML code onto your website. If you use Mailchimp, here's the link on how to do it.
If you want some more options on how to display a signup form on your website, you can also try MailMunch. Similar to Mailchimp, it has a free pricing tier that allows you to collect emails in different layouts. It links to popular email list providers like Mailchimp so you can build your email list using Mailmunch signup forms.
MailMunch – https://www.mailmunch.com

Consider using email automation

If you have a free offer like music downloads, you can also promote that as an incentive to sign up through your website. However, the easiest way to do this is to set up an automated welcome email for new subscribers to your list. Once they subscribe, they will automatically get an email with the download link for the free music. Most email marketing services should allow you to do this.
Please note: If you use Mailchimp, you can actually use their automation feature now for free (included in their free plan).

Where to send new subscribers to download their music?

You can use a link to your music on Bandcamp in the welcome email that new subscribers receive.
Another option is to just upload the free tracks on your web hosting and link it to them directly so that they can access it quickly without having to input their email address again. Note that this method will require some technical understanding.
You can also redirect fans to a "thank you" page after they subscribe that provides a link to download your songs. This way they can just download it right away without having to wait for the welcome email. If this is something you want to do, here are the two options:
Most email list providers should allow you to edit the confirmation thank you page, which is just the page new subscribers see. Just edit it to include the link to your download music.
If you want to create a separate thank you page on your website, you can redirect new subscribers to that page right after they confirm their subscription. For Mailchimp users, here's how you do it.

3. Collect emails at your shows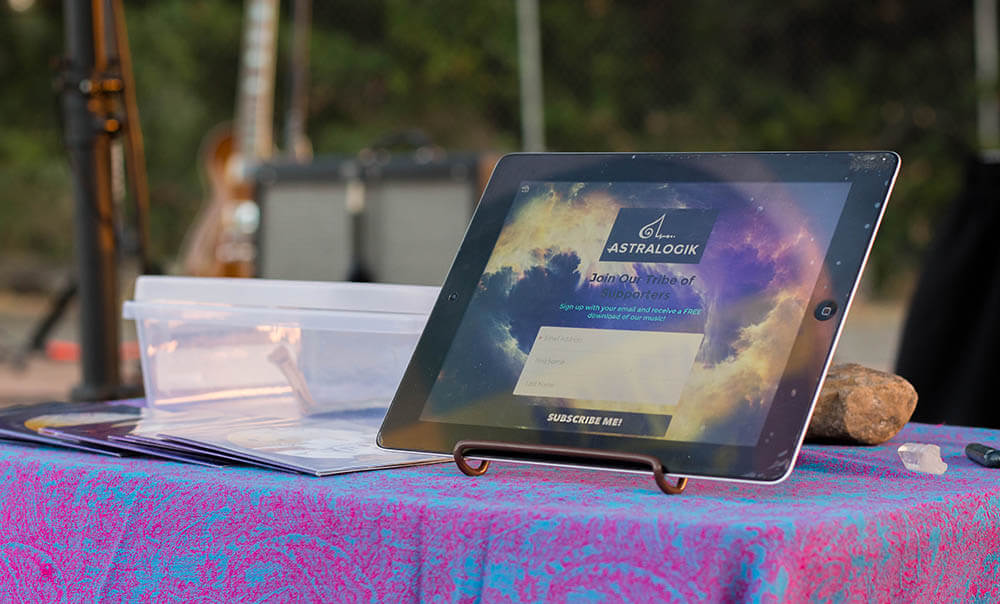 One of the most effective ways I've seen emails get collected is at live shows. A group I work with, AstraLogik, leaves an iPad by the merch table to allow people to sign up. If leaving an expensive device makes you uncomfortable, printing out sign-up sheets should work fine as long as people print legibly.
Be sure to announce during and after your set what you are offering for being on the mailing list. If you offering a free download of your EP, mixtape or single, direct them to your merch table or where the signup sheet can be found. You can also offer other small physical items, like stickers, pins or even posters, in exchange for an email address.

4. Host a giveaway: sweepstakes or contest

This is probably the least practical strategy out of the 5 listed here, but it has the most potential to spread on its own and accelerate the growth of your email list. I have not seen this take place in music for a while, but I know it can be a powerful promotional tool from my experience doing it for small businesses. After all, people love free stuff. If done right, I believe it's an effective way to grow an email list or even increase your social media followers. The way it works is fans exchange their email address for an entry into your giveaway.
The one downside is that giveaways do require a bit more planning. Not only do you have to establish rules, set the guidelines and track entries, you have to also make sure the prize is valuable and relevant to your fans. If it's not desirable enough, there's no incentive to go out of the way to enter the sweepstakes or contest.
If you have a new album or some merch, you can offer it to 5 randomly selected winners. Another possibility is to offer free tickets for your upcoming show. If you're about to perform at a large music festival, VIP tickets could be an attractive prize. On the other hand, offering a free iPad, although valuable, is not relevant to you as an artist. Unless you pre-download all your music onto it and make the background your logo and picture, but even that may be too much of a stretch.
Keep in mind that there is a difference between sweepstakes (or giveaways) and contests. Oftentimes these words get used interchangeably but there are differences.
A sweepstake is a type of giveaway that is fully dependent on luck, meaning a winner is selected at random. This is the easier one to host and manage.
On the other hand, a contest is a type of giveaway that is dependent on skill, meaning the winner is chosen based on their abilities rather than luck. This route can work well alongside a new album campaign to generate buzz. But of course, this also requires a lot of work to put together. It would also need to be a highly valuable prize that would make it worth entering like a free live performance at the fan's choice of location.
5. Add a Facebook Tab or CTA button on your page

Last but not least, you can add two ways to subscribe on your Facebook page.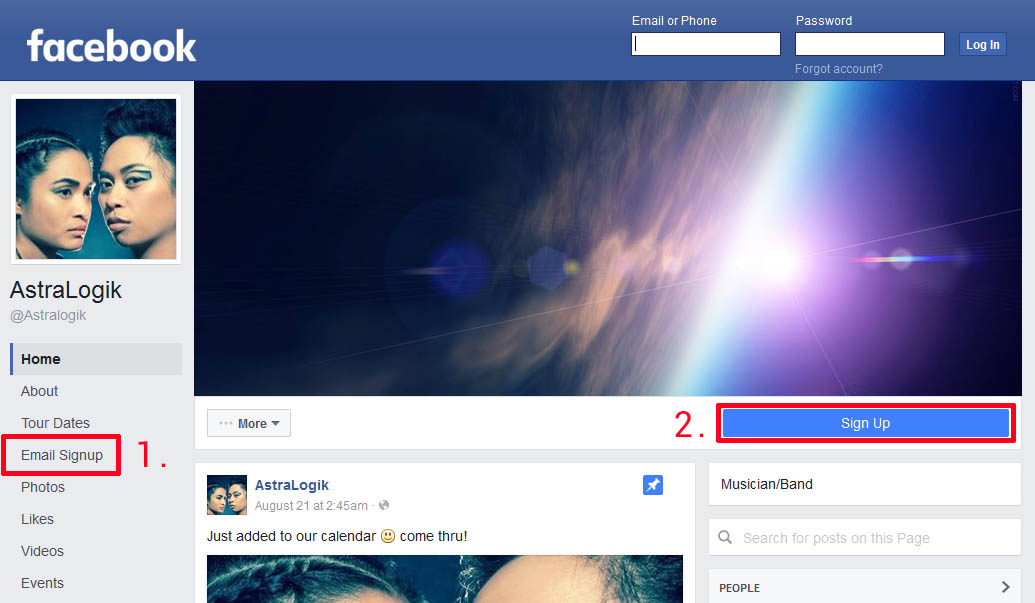 Facebook Tab

Many of the email list services out there should allow you to add a signup form on the left side of your Facebook page area called Tabs.
For Mailchimp users, you will need to integrate your account with Facebook. To do this, go to your Account page from the upper right-hand drop-down menu. You should see a tab in the top middle called Integrations. In this list, you should see Facebook and follow the directions. If you need more help, you can refer to this link.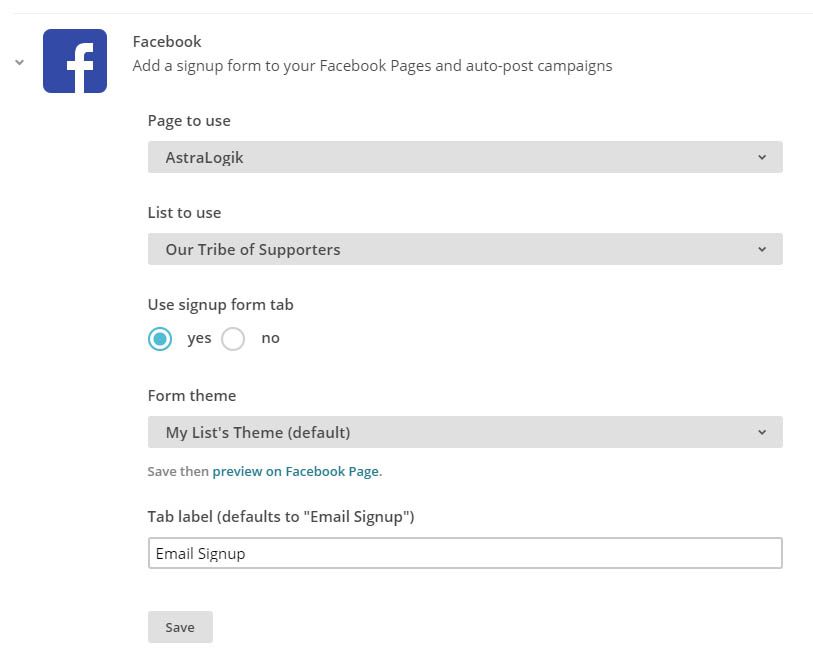 Once you connect your Facebook page and set up the tab, you should see it in the left column of the page. If you click on it, you should see something like this: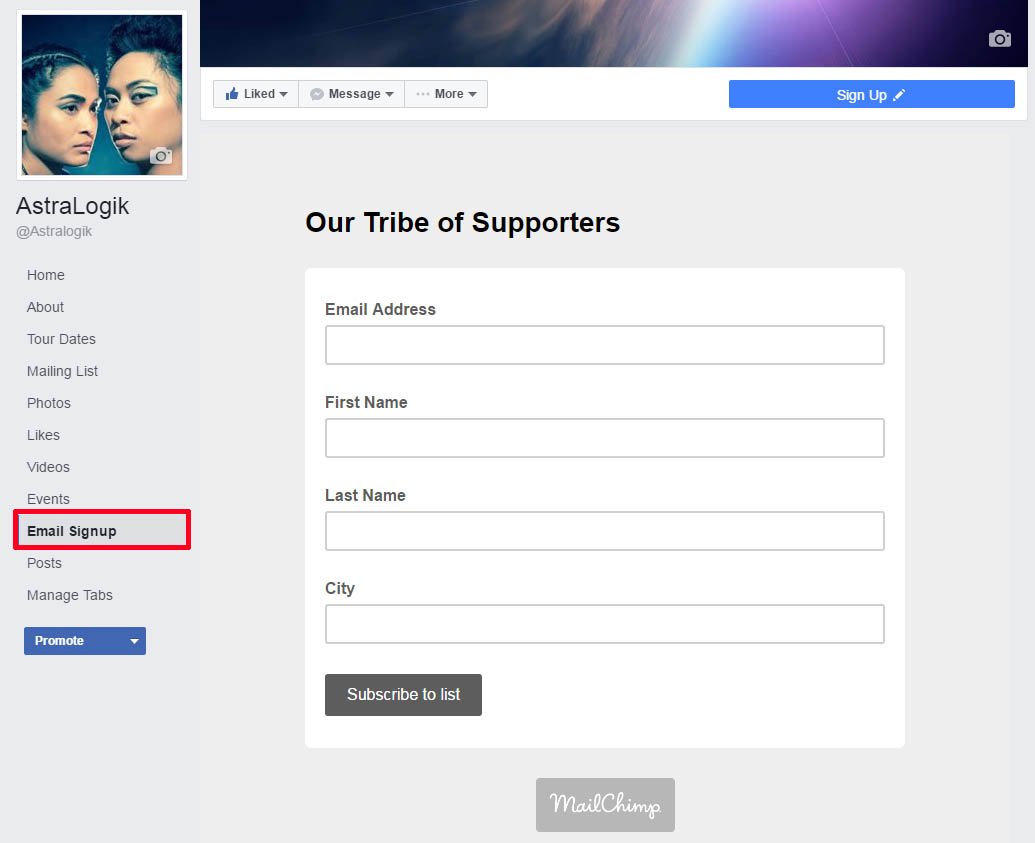 Call to Action Button on Facebook

All Facebook pages have a Call to Action button that you can customize a URL for fans to go to when they click on it. This is a great way to send people to a signup page for your mailing list or get a free download (which would also capture their email).
To activate it, just click on the button on the far right below your Facebook cover image. If you haven't activated it yet, the button will say "+ Add a Button"
If you've already activated it, you can just mouse over it and select "edit button" to make changes.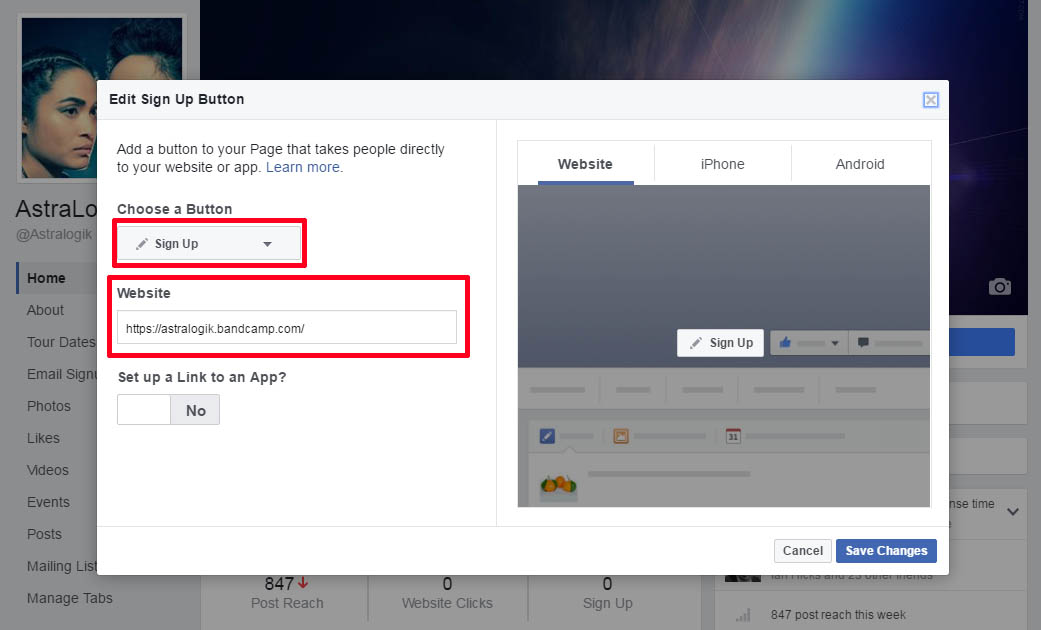 The drop-down menu offers a list of different options of what the button says on the page. Right below it is the URL of where a person goes if they click it. For example, AstraLogik takes people to their Bandcamp page where they can download free music in exchange for an email address.

Bonus Tip: Set Up A Welcome Email

Email marketing services will usually let you set up a welcome email that is automatically sent once someone opts-in to your list. The reason why it's important is to help make sure your future emails will actually end up in their inbox and not their spam folders.
For the welcome email, try offering a free exclusive download to motivate subscribers to find and open that first email from you. Even better, ask a question like "what's your favorite song of mine?" to encourage responses. Having subscribers respond to your emails will increase the chances of being white listed and your email getting past spam filters.