There's a new social media startup that's generating a lot of buzz due to the high profile celebrities currently active on it as well as some controversy. The app is called Clubhouse and it can potentially be the next big social media platform.
Clubhouse launched earlier this year in March, but I was very late to the party as I literally heard about the app for the first time on 12/22/20 and got an invite the day after. Impressed and excited by its potential for wider adoption, I wanted to write this blog to give musicians a heads up of what may come and share my observations.
Although the focus of this blog is on Clubhouse, it's really about putting this relatively new concept for a social media platform on your radar. I was literally clueless that a platform concept like this exists so I figure this blog would be useful for musicians to get a headstart in case it does become mainstream. After all, it feels like this could be the next big thing, whether it's Clubhouse or any other competing apps.

What is Clubhouse?

In the app store, Clubhouse is described as a "drop-in audio chat." Think of a virtual chat room where people communicate with their voices instead of text. No comments or DMs. In fact, there's no text communication except what you write on your user profile. The core social nature of the platform is completely audio-driven.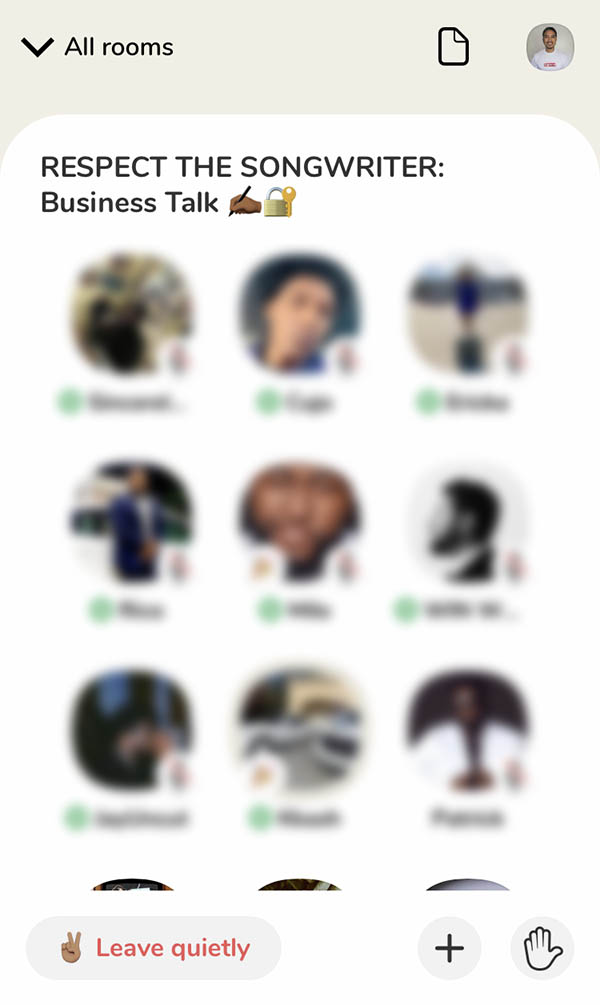 Conversations are in real-time so it feels like people are actually in a room together. Users can pop in and out of rooms just to listen in as an audience member or get called on stage to join the discussion. You can even ping your friends on the app to join a specific room with you.
Users can create or join live virtual chat rooms around any topic. Topics range could literally be about anything from the music industry, relationships, health, real estate investing and sports just to name a few.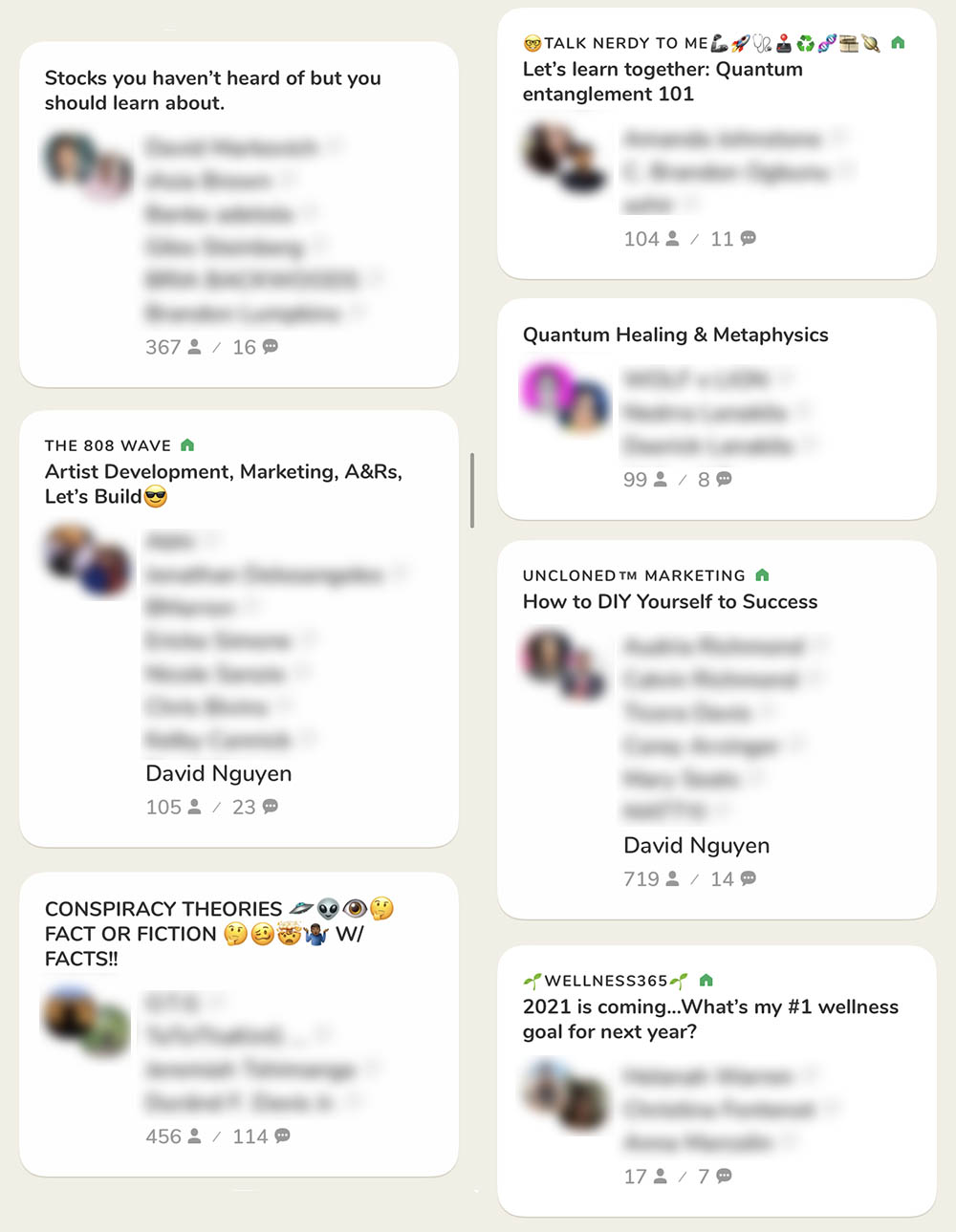 Clubhouse is filled with celebrities, athletes, artists, entrepreneurs, business owners, industry professionals and investors, which provide a more personable way to connect and network to these types of people on the app. Some of the big names spotted on Clubhouse include Drake, 21 Savage, Kevin Hart, Jared Leto, MC Hammer, E40, Virgil Abloh, Meek Mill, The Game, Questlove, D-Nice and Joe Budden.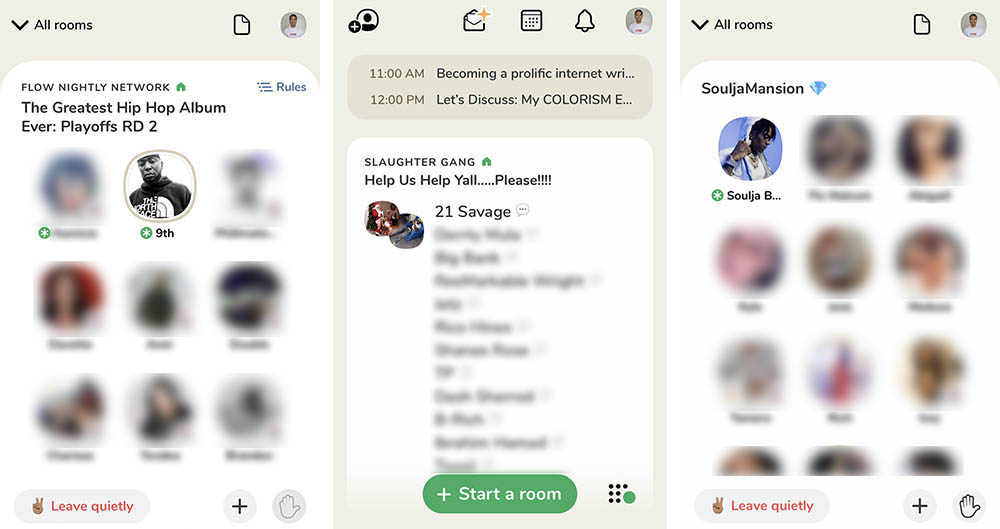 What helps to drive interest is the element of FOMO (fear of missing out) built into the platform. You never know who pops into a room and what can happen.
Similar to how Instagram Stories disappear after a period of time, there's no trace or history of a room on Clubhouse once it ends. Nothing is recorded so you can't go back to listen to the conversation. They also strongly discourage any 3rd party recordings. If you try to do a screen capture, you'll get this reminder: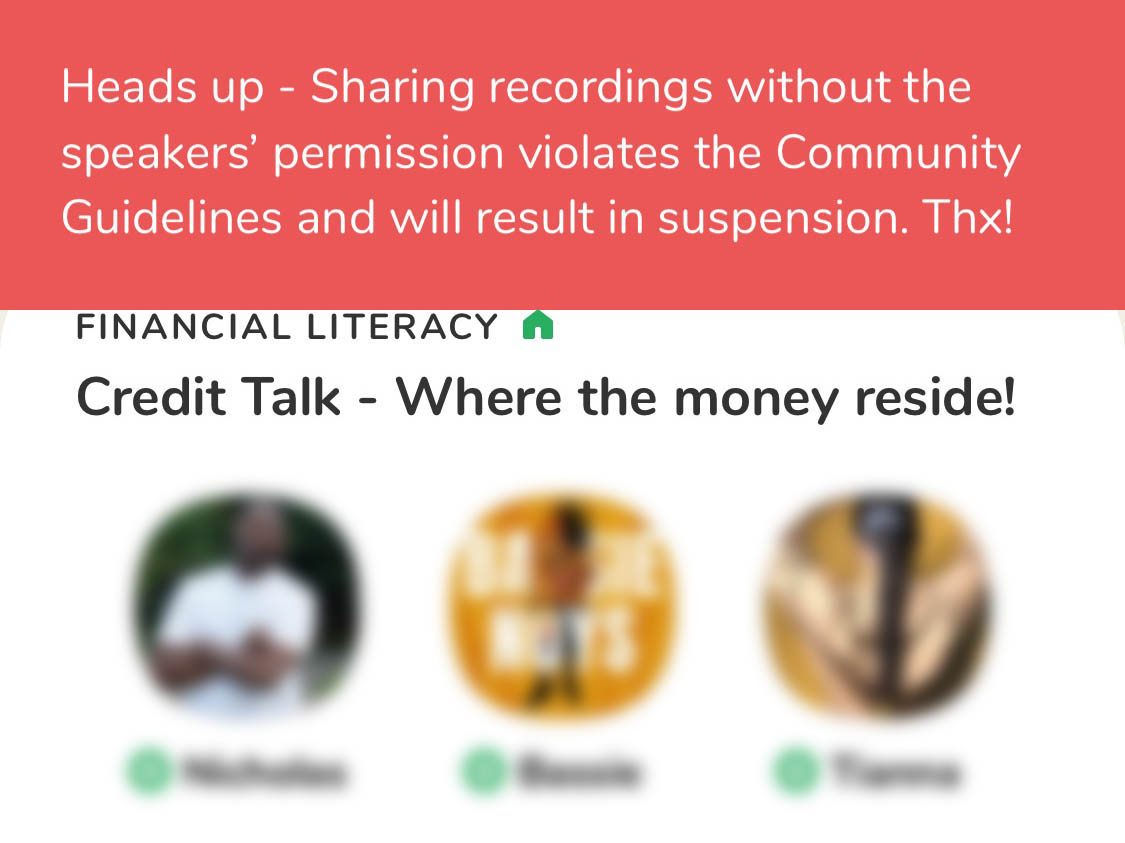 My first initial impression of Clubhouse was like listening to a live podcast of a conference panel or a radio show. In some rooms, it can feel like Twitter conversations converted into audio form. What makes this social experience unique is that you don't have to actively look at your phone and you can have it play in the background while you do other things.
Unfortunately for most people, it's currently in private beta testing. This means the only way you can try this exclusive platform right now is with an invite from someone who's already a member, but even those are very limited. This exclusivity has also fed into the hype.

What does Clubhouse mean for musicians?

Sounds interesting so far right? At this point, you might be thinking:
"Oh no, not another platform I need to be on."
"I'm sure I can get these same benefits on any other social media platform."
Although that may be true, what really separates Clubhouse and other social media platforms are the real-time speed of communication and the authenticity of voice. Hearing someone talk also conveys other cues that you can't from text like emotion and tone.
Live video interaction is great, but it has its limitations. Not everyone wants to actively be in front of a camera and stare at a screen. Although video is always going to be more engaging, an audio-only platform has its advantages in certain situations. There's a reason why people prefer podcasts over watching videos.
On the other hand, audio-only interaction still has a lot of untapped potential, especially in the social realm. The content can be consumed passively like listening to a podcast. Of course, the audio-centric nature of the app works well in favor of musicians and the music they create.
There's a lot of value for artists on this new type of platform. Here are 5 benefits that Clubhouse can potentially offer musicians.
1. Networking / Connections
The biggest value proposition that Clubhouse has is direct networking.
It's not easy to be in the same room and talk to other famous artists and high-profile music industry professionals, but it's now possible to do it virtually. Yes, you can DM or tweet these people, but there's no guarantee they'll see or respond to it. Not to mention, there's no real way to know that the person is actually using the account or they're paying someone else to manage it.
However, in Clubhouse, you know it's them because you can hear them talking.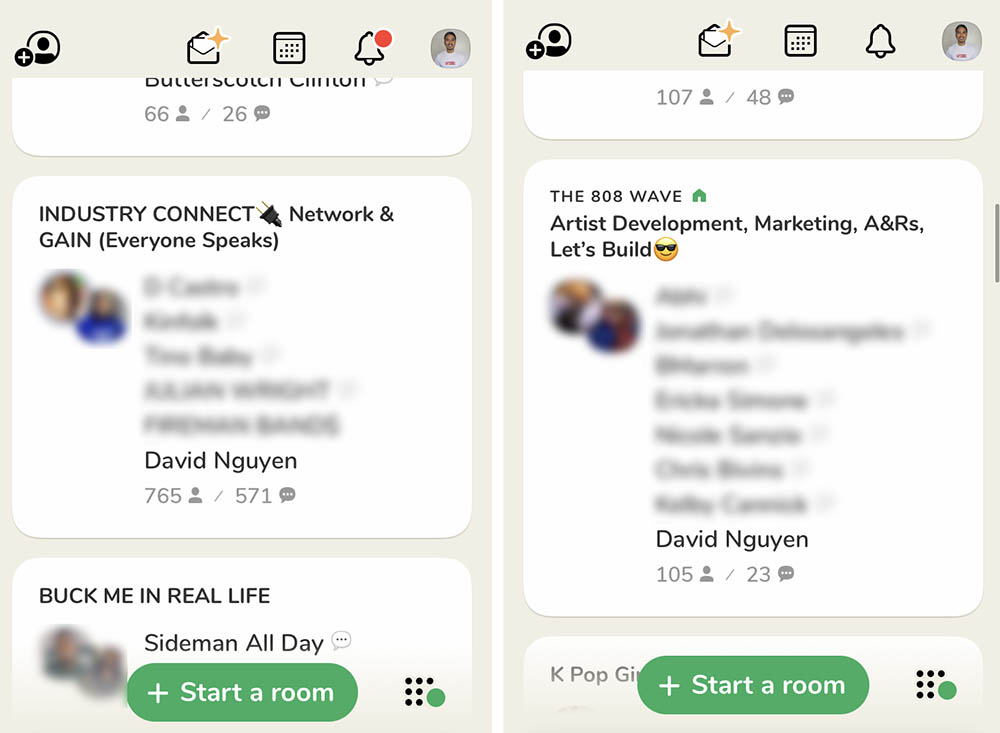 During my time in Clubhouse, the networking and the connections made are what most people say is the best part. Whether you're looking for managers, photographers, marketers, producers, videographers or promotion, it's all there. There are networking rooms being hosted daily where you can connect and meet new people.

2. Exposure

There are opportunities to get your music in front of new potential fans and industry people who may want to work with you. I've seen rooms hosting events like open mics and artist battles on Clubhouse.
In one room, they had an artist tournament where they pulled different independent artists from the audience and pitted them against each other. Each artist took turns playing their best songs for judges who were music industry executives.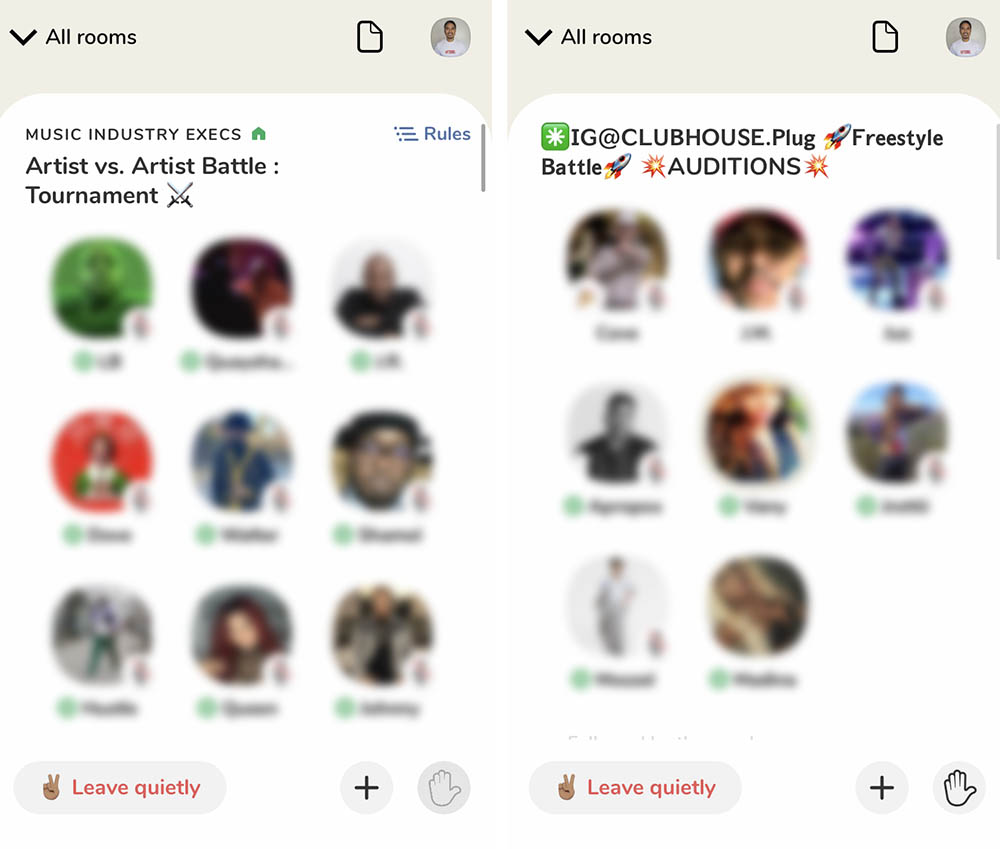 One woman really impressed the judges who wanted to connect with her offline because of her music. Others offered free services including a photographer who offered to do a free photoshoot for her.
In another room, Grammy Award Winning DJ/Producer Kid Capri hopped on stage and asked the artists in the room to submit songs to his email address that he would consider playing on his radio shows.

3. Advice / Help

Clubhouse is great for getting advice and help from experienced artists and music professionals. Doesn't matter what area of music, it's been covered and talked about on the app.
Here are some rooms that I managed to sit in:
"Why Do You Need a Manger"
"How to Build Your Brand, Network and Networth"
"The Art of Mixing and Mastering: How to Process Your Vocals"
Often these types of rooms are run like a panel or Q&A. You raise your hand and a moderator brings you on stage to ask a question. Everyone discusses it and you get real-time responses.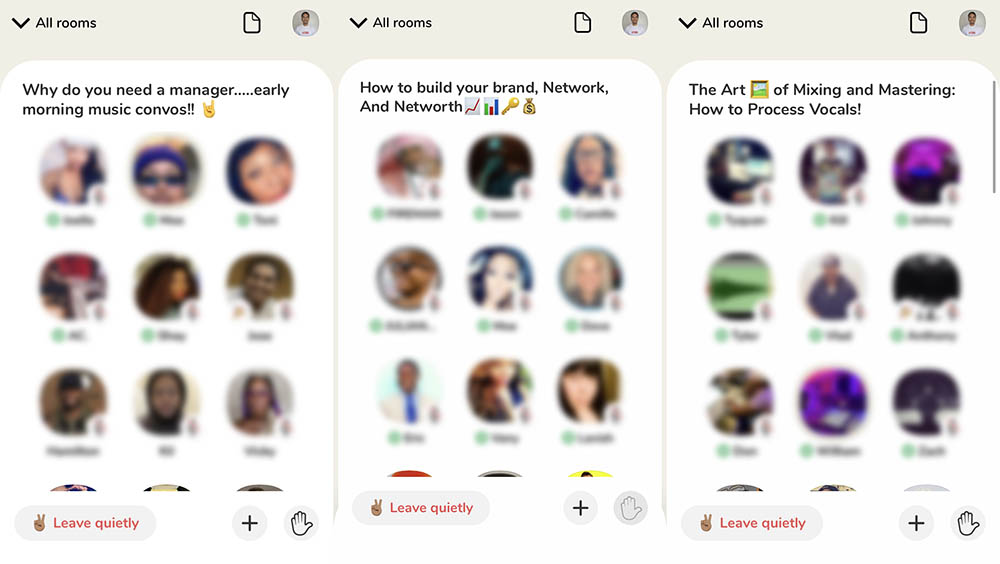 You'll have established artists share advice and personal experiences as well.
In the brand building room that I was in, the moderators asked Lil Mama to share her story and some advice. She spoke about how she grinded and broke into the industry with her breakthrough single Lip Gloss. Although it seemed like an overnight success, she was on the verge of quitting the industry because she wasn't getting plays.

4. Community

Clubhouse is very topic-driven so it's easy to gather like-minded people around similar passions, hobbies or interests. As an artist, you can find your community to connect with or build your own.
On the app, you can join virtual clubs around specific topics that host their own rooms and events for their members. As of this writing, there's no way to search for topics or clubs so they are working on it.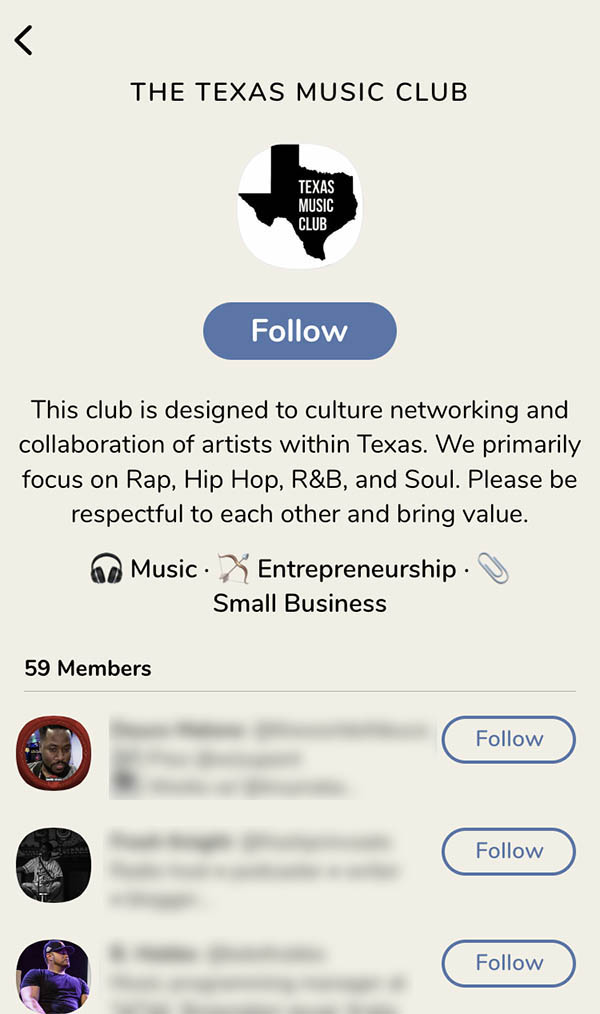 As you can imagine, clubs are the backbone of the app so it's something they are continuing to build out. In one of the town hall meetings, the creators of Clubhouse talked about adding a paid membership feature in the future.

5. Live Audio Content / Performance

One of the big events that happened on Clubhouse was the audio adaptation of the Lion King Musical. It was performed live on the app with a 40-member cast, narrators, band and choir in 20 different cities. They even had PTR ("pull to refresh") imagery where they had specific users switch out their profile pictures to build imagery to match every scene of the show.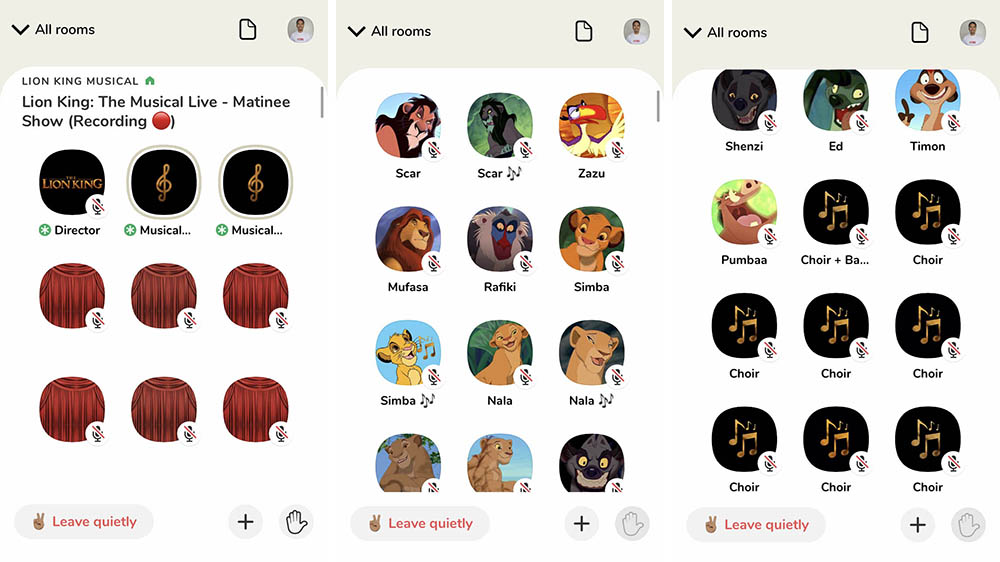 Surprisingly, there were no latency or lag issues, which can open up new possibilities for musicians.
Imagine being able to perform as a band or host jam sessions remotely on Clubhouse while fans can tune in like a live radio station. I have not personally come across this on the app yet, but the fact that a full-scale musical was executed well gives me hope.
The one downside was the audio quality on Clubhouse isn't the greatest at the moment, but it should improve over time. They've already introduced a feature called "Music Mode," which offers your room improved better sound when it detects your phone is connected to something like an iRig.
I've seen some people tinkering around with audio setups using iRigs to produce the best sound on the platform so you can look for tutorials on that. Here's one from Butterscotch:
How Does It Work – Tour of Clubhouse

In case you have never seen it before, I wanted to share a general overview of Clubhouse and what the experience is like.
When you first log in, the default home screen displays a list of rooms for you to join. It's unofficially dubbed the "hallway" where you can pop in and out of these virtual rooms. What you see is curated based on who you follow. Currently, there's no easy way to search for rooms or clubs to join based on the topic. It's a bit restrictive, but their algorithms and search/browse features will continue to evolve in time.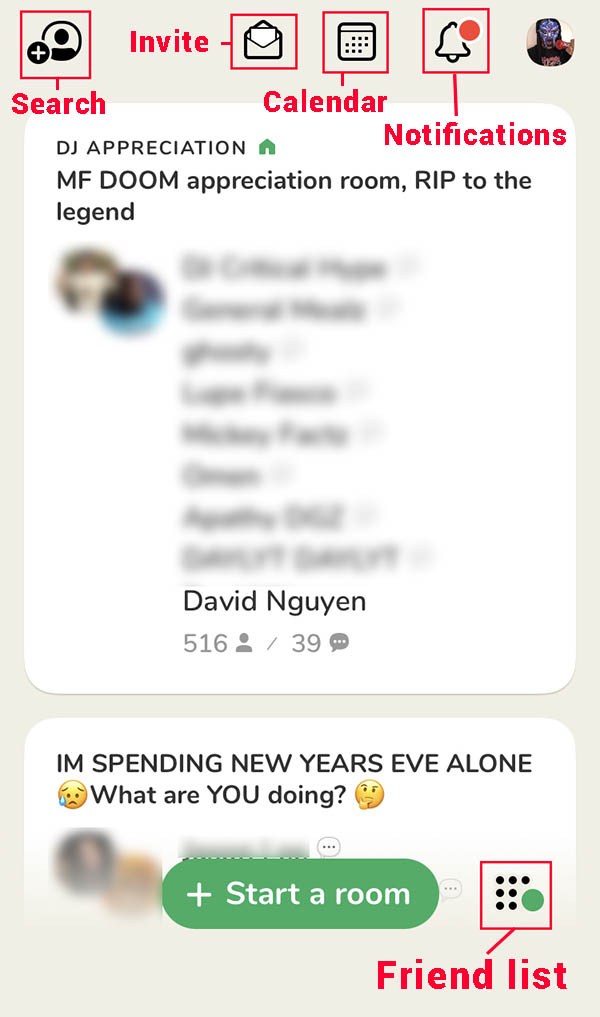 In the upper-left icon allows you to search for people. The envelope icon is where you can send invites to join. The calendar icon shows you upcoming room/events that have been scheduled by people you follow. The bell icon shows your activity and notifications. The bottom right-hand corner icon with the 9 dots is essentially your friend list – users you follow and have followed you back.
Once you join a room, you'll be presented with avatars that represent each person inside. Click on someone's photo to see their profile.
The structure is like a live conference panel or Q&A with users acting as moderators and speakers shown at the top. Everyone below is the audience.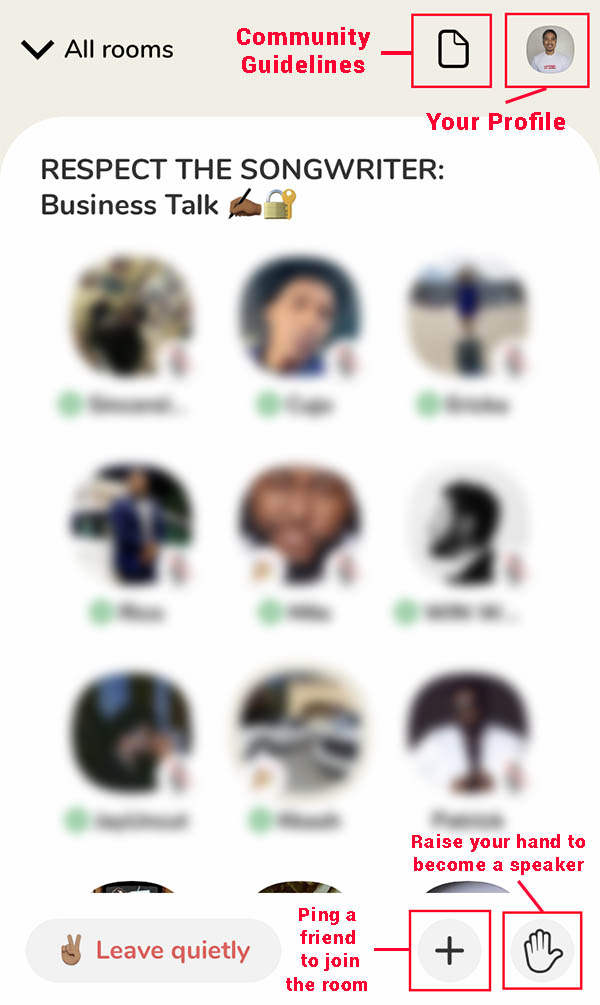 If you want to speak and be a part of the conversation, you raise your hand by clicking the hand icon so a moderator can send you an invite to get talking privileges on stage.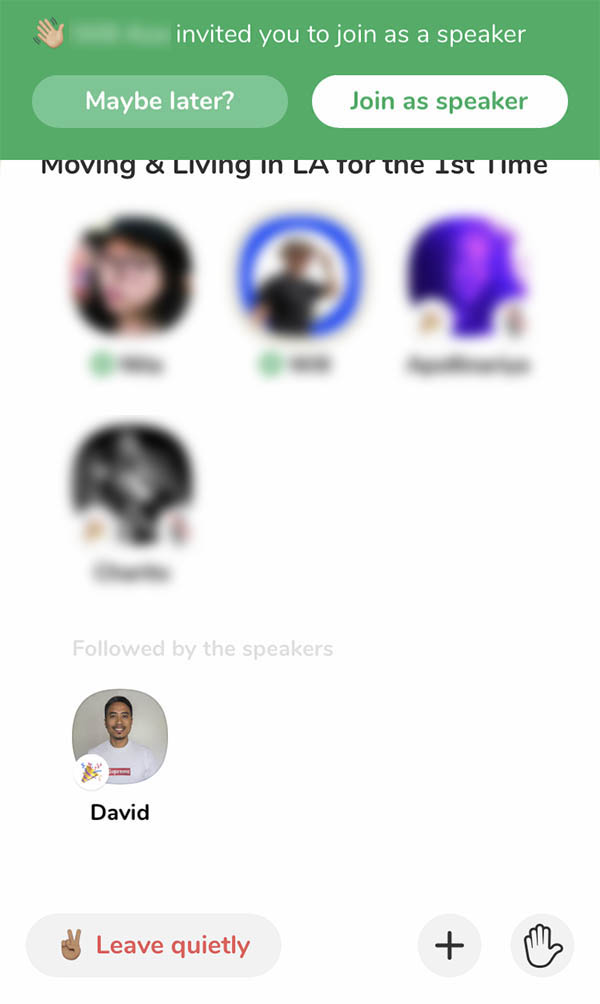 How to Join Clubhouse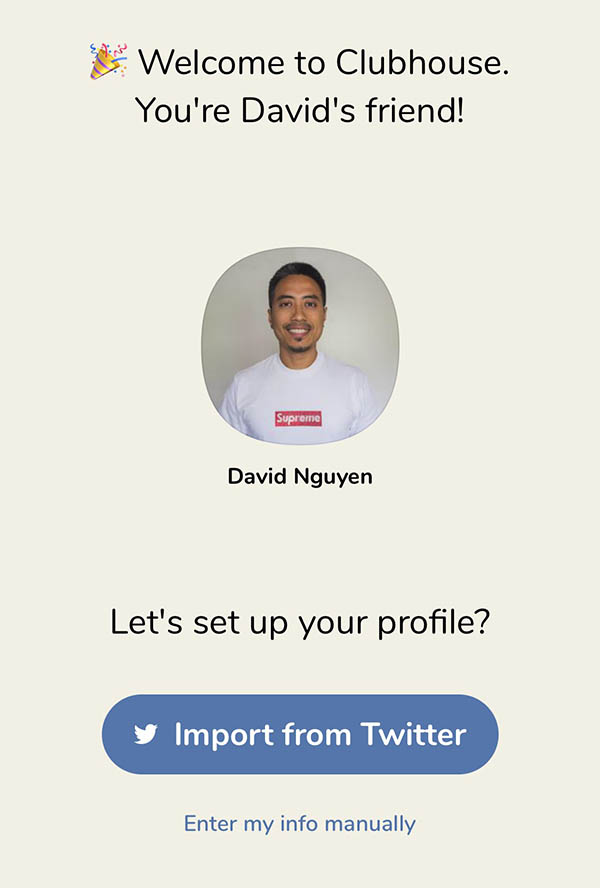 As mentioned earlier, Clubhouse is still in the testing phase so it's invite-only at the moment. You need to have someone who is already a member who has an invite to spare. New users get one invite and can earn more over time.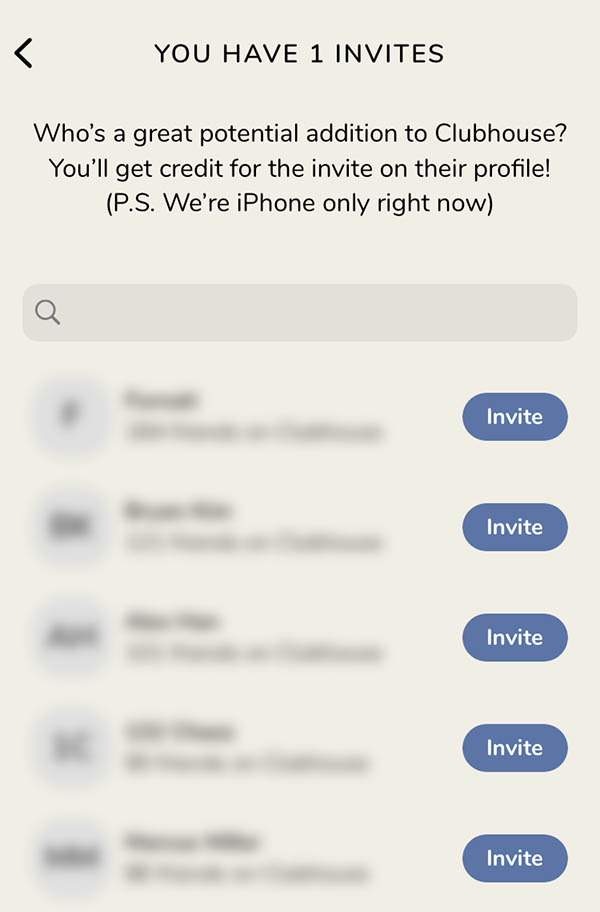 If you want to get on the virtual waitlist and secure your username ahead of time, download the app and sign up there. As of this writing, Clubhouse is only available for Apple iOs.
Clubhouse isn't the only company spearheading audio-driven social. Twitter has launched Spaces and it is in beta testing and invite-only as well.

Conclusion

With the popularity of audio content (podcasts) and the integration of voice control in everyday products over the years, it was only a matter of time that an audio-based social platform would pop up on the scene. Whether it's Clubhouse or another audio-based social media network, I wanted to give you a heads up on what's to come so you can prepare yourself as an artist.
Who knows if Clubhouse will reach mainstream status when it is ready to go public. They do have some obstacles to overcome as the app has its issues with moderation, audio quality, harassment, trolls and scams. It's currently run by a couple of people so it may take some time for them to get things ready to open up. However, I do hear they've been improving features and functions pretty regularly so maybe it'll be ready in 2021.
At the moment, there aren't any popular audio-centric social media platforms that allow users to interact and engage in real-time like Clubhouse. Twitter started heading in that direction with their "tweet with your voice" feature in June of 2020.
It'll be interesting to see what happens since we're in uncharted territory with a concept like this. It's entirely possible that the allure of Clubhouse can dissipate once it's opened up to the public. After all, what has created so much hype and intrigue for this has been the exclusivity and intimate rooms that celebrities are in.