Last Updated 3/5/23: It was announced in 2022 that TuneCore was shifting their pricing structure to a subscription model, similar to DistroKid's flat annual fee to released unlimited music. I'm currently in the process of updating and adding new information to be accurate as of 2023. Be aware that parts may be outdated like the comparison graphic.

Looking to get your songs in places like Apple Music, Spotify, Google Play and Amazon Music? You should, because as of 2020, music streaming now makes up 83 percent of the U.S. music industry's revenue.
The good news is, getting your music into digital music stores and streaming services as an independent artist couldn't be any easier. Finding the right company that makes sense for you can be a challenge. There are a bunch of music distribution companies you can go with to make your music accessible all around the world, but there are pros and cons with each of them.
In this blog, I will go into detail of 3 popular options to help you decide which one may be best for you as an independent artist.
We'll look at the following points:
Distribution / Release Fees
Additional Costs
Commissions
Distribution Networks
Publishing Admin Services
Sync Licensing Services
Cover Song Licensing
Payouts
YouTube Monetization
Payment Splitting
Marketing Tools
Physical Music Support
Customer Service Response Time
Before Diving In…

I just want to address a couple of quick points.
Disclaimer:
This blog contains affiliate links. This means I receive a small commission if you sign up for a paid service using my links, but at no extra cost to you. I only include affiliate links for services I personally use and support. Read my
full disclosure
to learn more.
None of these companies are record labels, so they don't take ownership of any of your releases. Music distribution companies work directly with these various digital outlets so they can get your music into stores and streaming services. Some of them will take a commission from your revenues, but you still retain 100% ownership of your music.
The amount of time it takes for your release to be received by these digital outlets and register into their system should vary the same, regardless of which distribution company you go with.
I do talk about music royalties in this blog so if you're not sure what mechanical licenses or songwriter royalties are, you can read my music royalties simplified blog. Understanding the contents of this post should help you make a more informed choice in which digital distribution company to use.

CD Baby

Founded in 1998, CD Baby originally started as an online CD store. The founder, Derek Sivers was a musician himself who created the website to sell his own CDs and later the music of local bands and friends. In 2008, Sivers sold CD Baby to Disc Makers because he wanted to focus on new ventures to benefit musicians. As of 2019, CD Baby is under the ownership of AVL Digital Group.
CD Baby is considered pioneers of the independent music revolution and has become the largest global digital distributor of independent music. Because they have been around for so long, they've become a very reputable and trusted company that is committed to helping independent musicians thrive.
One of the great things about CD Baby is, they offer a wide range of services that musicians would need all in one place. They really try to streamline everything to become a one-stop shop. The bad news is that this is what makes them also somewhat pricier upfront compared to their competitors. (It'll make more sense once you see the side by side cost comparisons below.)
– Fees: A big selling point for them is no annual fees, unlike TuneCore and DistroKid. You pay a one-time fee (varies for type of release and distribution package) for each release, and your music stays in digital outlets forever. A single costs $9.95 US for Standard, or $29.95 US for Pro. An album costs $29 US Standard or $69 US for Pro. Occasionally, they'll have deals too for less.
You can find more on their fees here.
The Standard release option means they will only collect mechanical royalties for downloads and streams as the performing artist of a master recording. So if you wrote or composed the music being released, they will not collect the publishing royalties for it with this option.
The Pro option means they will collect mechanical and performance royalties worldwide for you including those related to publishing and songwriting through SongTrust. They are also partnered with SoundExchange to collect digital performance royalties from sound recordings if you choose to opt-in during the upload process.
Otherwise, you need to register with SongTrust and SoundExchange separately to help collect those royalties. CD Baby makes this process more seamless and convenient for you.
Pro makes more sense if you're a songwriter who owns rights to the songs you release because you get all the publishing royalties worldwide. PROs like ASCAP and BMI only collect publishing from performance royalties. Note that CD Baby will take a 15% commission if you have them collect publishing royalties on your behalf.
– Digital Distribution Commission: CD Baby keeps 9% of your digital distribution revenue that you earn from download sales and streams. Their reason for taking this much is to "incentivize them to keep finding opportunities for ALL your music, not just your newest single." TuneCore and DistroKid don't do this, but they charge annual fees.
– Additional Costs: You also need to have a UPC (Universal Product Code) barcode for your digital release so add another $5 for each single and $20 for each album. Read more about what the UPC is for and why it is required.
Other than the fees, UPC and commissions discussed already, there are no other add-on feature costs like TuneCore and DistroKid has.
– Distribution Network: 150+ digital outlets like Spotify, Apple Music, iTunes, Google Play, Amazon. They will also distribute to YouTube, Facebook, Instagram and TikTok. No extra charges for adding your music into new digital outlets.
– Publishing Admin Service: They are partnered with SongTrust and SoundExchange to make it easier for you to collect all your royalties from your music. They take 15% commission from the publishing royalties you earn, which is the same percentage SongTrust charges.
However, if you are both the performer and rights owner of the release, you will still need to register with SoundExchange as a Performer separately. This is because they only sign you up as a rights owner of the sound recording.
– Schedule Release: Yes, you can schedule a release for a future date at no extra cost. However, to ensure that your release is available in all outlets on time, it's best practice to schedule the release at least 4 weeks in advance.
– Payouts: Payouts are weekly (every Monday), but understand the schedules that different digital outlets operate under can range from weeks to months. This means it can take some time for your money to get to CD Baby before it is distributed to you. You also required to set a minimum threshold that needs to be met before funds are automatically distributed to you. The amount ranges from $10 to $10,000.
– Sync Licensing Service: Yes. One of the free perks with releasing music through CD Baby is that they help to promote your releases to music supervisors and licensing professionals for things like TV, films, commercials and games. The drawback is that it will take 40% commission if they do get a placement for your song.
– Cover Song Licensing: They no longer secure the mechanical licensing needed for you to distribute cover songs you are releasing. You will have to do it separately.
– YouTube Monetization: Yes, this service is included for all releases at no extra cost. They help to collect ad revenue generated from any video that contains your music, but they take a 30% commission.
– Payment Splitting: No, they don't split the royalties and payout revenues for songs when you collaborate with other artists. However, they did say they are working on adding this in the near future.
– Marketing Tools: Show.co is a marketing tool that is offered to help with things like pre-save campaigns, growing Spotify followers and building an email list.
– Physical Music Support: Yes, they partnered with Alliance Entertainment, Super D and Amazon to help get your physical releases in over 15,000 record stores worldwide. One of the big strengths of CD Baby is the physical music distribution.
– Customer Service Response Time: You can submit a ticket to get a response within 5 business days if you can't find your answer in their Help Center. They do have a live-chat support option for certain hours each day of the week.

TuneCore

TuneCore is a New York-based independent digital music distribution, publishing, and licensing service founded in 2005. The co-founder and former CEO of TuneCore Jeff Price is known as an outspoken, some may say aggressive, advocate for protecting artist rights and helping them get paid. Price was fired from his position and ousted the board in 2012.
In 2016, TuneCore was acquired by a competitor, the France-based digital distribution company for independent artists, Believe Digital. They know tout themselves as the world's leading digital distributor of independent music.
They've distinguished themselves from competitors like CD Baby by not taking any commission from your royalties (you keep 100% that you earn). Additionally, they have a money advance program called Direct Advance where TuneCore advances you money for future releases if you are qualified based on revenue from past releases. This is only relevant for more established artists with a proven track record
– Fees: TuneCore's previous per-release pricing structure was not ideal for new or emerging artists. However in 2022, they finally added an unlimited release option, which is a similar model to DistroKid and Ditto Music. Starting at $14.99 a year (Rising Artist Plan), you can release as much music as you want to all of their digital stores.
It looks like you can still pay per release, but it doesn't make sense why you would so I will leave it out of this blog.
Unlike the other distributors, TuneCore offers a new free plan called the 'New Artist' that allows you to release all the music you want to social platforms (Facebook, Instagram, TikTok, YouTube) but they will take 20% of your earnings you generate. This is their strategy to onboard newer artists into their system.
You can find more on their fees here.
– Digital Distribution Commission: Unlike CD Baby, TuneCore does not take a commission on your download and streaming royalties. You keep 100% of the money you earn from your releases.
– Additional Costs: No
– Distribution Network: 150+ digital outlets like Spotify, Apple Music, iTunes, Google Play, Amazon. They will also distribute to YouTube, Facebook, Instagram and TikTok.
To add your music to new retail partners, TuneCore has a feature called the 'Store Automator' where they charge a flat $10 per release to automatically add to all new distribution outlets going forward. However, any stores missing prior to activating this feature will not be added and you will have to pay to add them.
DistroKid also has a similar fee, but CD Baby does not do this. If you pay for the 'Breakout Artist' plan ($29.99/year) or 'Professional' plan ($49.99/year), 'Store Automator' is included free for all releases.
– Publishing Admin Service: Yes, TuneCore Publishing will collect songwriter royalties on your behalf with a 15% commission just like CD Baby / SongTrust. A one-time setup fee is $75, which covers all current and future single / album releases.
– Schedule Release: Yes, you can schedule a release for a future date with any paid plan. However, you can't schedule releases to go live at a future date with 'New Artist' free plan.
– Payouts: TuneCore deposits royalties 45 days following the end of each calendar quarter. There are no automatic withdrawals, but you can take out any amount of money from your TuneCore account via PayPal only.
– Sync Licensing Service: Yes. They require exclusive synchronization rights over your compositions. This means you can't work with other sync licensing agencies or accept other placement opportunities for your releases through TuneCore. They will take 20% commission from sync placements.
– Cover Song Licensing: They are partnered with Royalty Solutions so you can request the proper mechanical license through TuneCore to properly distribute cover songs. For artists who intend to sell less than 500 digital downloads, a limited license costs $15. For artists who intend to sell more than 500 digital downloads, standard license costs $59.
– YouTube Monetization: Yes. YouTube monetization to collect money from the sound recording is free so no annual fees, but they take a 20% commission from YouTube revenue.
– Payment Splitting: Yes, TuneCore now has the ability for you to set up and accept royalty payment splits. This feature is included free with an unlimited distribution plan starting at $14.99/year.
– Marketing Tools: They offer a set of free social media tools called TuneCore Social, but it is underwhelming. If you want to use their smart link tool linkShare to easily share links to each digital outlet for your releases, you need to be a TuneCore Social Pro subscriber. It costs $7.99 a month or $85.99 a year.
– Physical Music Support: No physical music distribution. They only do CD and DVD pressing.
– Customer Service Response Time: Their guaranteed response times will decrease with the higher plans. At their base paid plan of $14.99, it's within 3 business days and 1 business day for their most expensive plan. They make it easier to contact them and submit a request, but they still want you to go through their Help Center first.
– Other Notes: TuneCore only sends a notification once everything is fully uploaded. Unlike DistroKid, they don't provide updates as your release goes live in various digital outlets.

DistroKid

DistroKid is an independent digital music distribution service founded in 2013 by entrepreneur Philip J. "Pud" Kaplan. They are the newer company of the bunch, but they've managed to make a name for themselves by being the first music distribution company to offer unlimited music releases. Rather than charge per release like CD Baby, you pay an annual subscription fee to upload as much music as you want.
The interesting twist is that the founders of CD Baby and TuneCore (they no longer work for the companies they founded) both recommend DistroKid.
"This is amazing. I'll be sending everyone I know to DistroKid now."
– Derek Sivers, Founder of CD Baby
As the founder of TuneCore I hate to say it but #distrokid is the single best music distribution company in the world. Light years ahead of CD Baby and TuneCore and far less expensive. https://t.co/ShlKxzAY9G

— Jeff Price (@TuneCoreJeff) January 9, 2018
It is interesting to note that Spotify has financially invested in DistroKid so they have a small stake in their company. There is no known advantage of releasing music to Spotify through DistroKid, but it may be a possibility in the future.
– Fees: DistroKid is a subscription model that you pay annually to upload your music and to keep them in stores. The best part is that you can upload as much music as you want without the per-release charge that CD Baby does.
The basic Musician plan costs $22.99 a year for unlimited single and album releases. The major drawback with the basic plan is you can't schedule releases for a future date. This also means there are no pre-save or pre-order features in this plan.
The next plan up is Musician Plus at $39.99 a year, which includes extra features like allowing you to schedule a release on a future date and do pre-save campaigns. This means that if you want to submit your song for Spotify's playlist consideration, you need to subscribe to this plan. Plus, you can release unlimited music for 2 artists / bands.
You can find more on their fees here.
– Digital Distribution Commission: Like TuneCore, DistroKid does not take a commission. You also get to keep 100% of the royalties your music earn through streams and downloads, unlike CD Baby who takes a percentage.
– Additional Costs: No, but there are other optional features that you may want to consider paying for.
Similar to TuneCore, you have to keep paying the annual subscription fee to keep your music up. If you miss an annual payment or are unable to pay, all your music will be taken down until it's paid. DistroKid does have an option when uploading called "Leave a Legacy" that keeps your releases in stores and streaming services forever, regardless if you pay the annual subscription fee. It costs a one-time $29 for a single and $49 for an album.
Another service you can opt-in for is Shazam & iPhone Siri. It costs $0.99 a year for each song to allow your music to be identified on Shazam (owned by Apple now) or with Siri on iPhones. This is normally free on other music distribution companies, but DistroKid charges for it.
– Distribution Network: 150+ digital outlets like Spotify, Apple Music, iTunes, Google Play, Amazon. They will also distribute to YouTube, Facebook Instagram and TikTok. For $7.95 a year, the Store Maximizer option will automatically deliver your releases to new online stores and streaming services as they become available.
– Publishing Admin Service: DistroKid does not currently have a publishing admin system in place, nor are they partnered with any admin publishing company. If you want to collect your publishing / songwriter royalties, you would need to sign up with a service like SongTrust, which is what DistroKid recommends. This is the same company that CD Baby partners with. They take a 15% commission as a fee for their service.
– Schedule Release: You can only schedule a release for a future date with the Musician Plus plan ($35.99) or Label plan ($79.99). You can't with the basic Musician plan ($19.99).
– Payouts: Money can take up to 2 weeks to be sent out once a withdrawal request has been made. Just make sure you verify your physical address and provide the requested information for taxes on their bank page.
– Sync Licensing Service: No
– Cover Song Licensing: Yes, Harry Fox Agency handles their cover song licensing. You need to make sure to select "Another artist wrote it (it's a cover song)" in the Songwriter section when uploading your new release. Even if you obtained the mechanical license to distribute the cover song elsewhere, you will still need to opt in this cover song service. DistroKid charges a fee of $12 per year, renewed annually, to manage each cover song for you. You can read more about it here.
– YouTube Monetization: It costs $4.95 a year and they take 20% of YouTube ad revenue from matches they detect.
– Payment Splitting: DistroKid can split earnings from any song or album and automatically send those earnings to your collaborators. A DistroKid account is required for any collaborators to receive any splits. Good thing is if they don't have one, Distrokid offers a 50% discount so it will only cost $10 dollars a year for them.
– Marketing Tools: For all releases, DistroKid creates a Hyperfollow page for you to use for pre-saves and pre-orders. It's basically a link that lists the different stores and outlets where your release is available. The cool thing is it helps you to get more Spotify followers, collects emails to build your list and provides additional analytics. Read more about how it works here.
– Physical Music Support: No
– Customer Service Response Time: DistroKid claims they respond to inquires within 1 or 2 business days but I feel like it's more like 3 to 4 days the few times I've had to reach out. Like with many companies, they want you to go through their Help Center or FAQ database first before you interact with a human because the answer to your problem is often there. When you submit a request for contact, you'll likely be going through their chatbot Dave first. You can also send them a tweet on Twitter if you have an issue. The one time I had to do this, they responded within 3 hours.
– Other Notes: Unlike TuneCore, you will get an email notification of your music each step of the process, and when your release is live on a particular platform.
DistroKid stores all the songs you've uploaded to them as backup in their vault and allows you to download them whenever you need.
Lastly, they support lyrics. Unlike the other music distributors, DistroKid allows you to upload lyrics with your release to be distributed to places like Apple Music. You can now get your lyrics on Instagram Stories easily through their platform through their partnership with Musixmatch. I show you how to do it manually in this Instagram for musicians blog.

Summary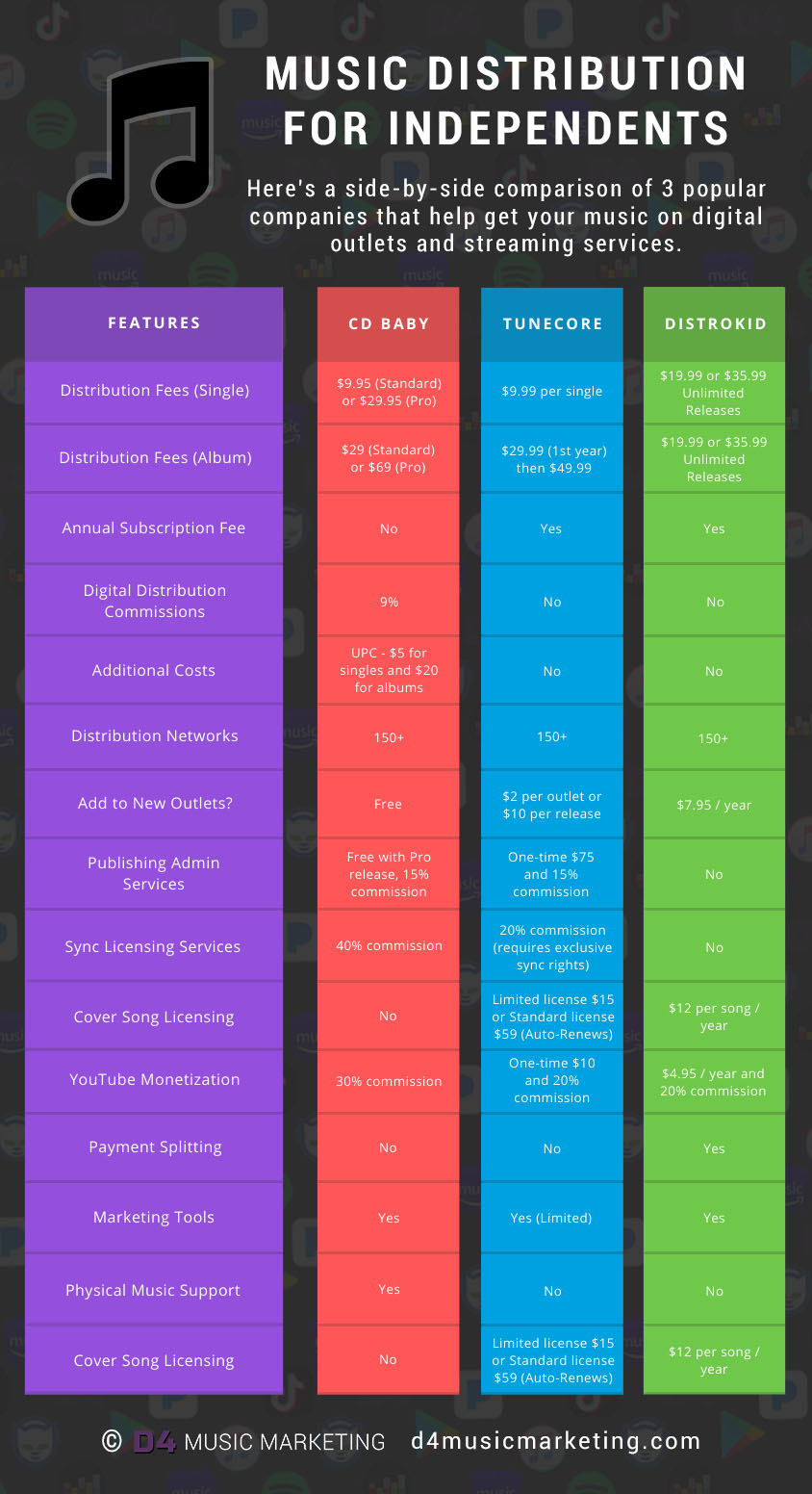 Affiliate Recommendation:
If you're a DIY musician who needs graphics for things like CD covers, merch designs, business cards and flyers, the best free app I highly recommend you try is
Canva
. They have a free plan that you can pretty much make anything you'll need without ever paying and it's easy to use. I actually created the chart part above using
Canva
.
Costs Comparison

Here's a breakdown of the total costs if you were to release one album and one single in one year. This will include any features to maximize royalties as songwriters and performers, like a publishing admin service and YouTube Monetization.
Notes:
– I will not factor cover songs or sync placements into this example.
– Since DistroKid doesn't offer publishing admin, I will include the costs of SongTrust, which has a $100 setup fee. The set up fee publishing admin with TuneCore is $75.
– I didn't include fees to add to new outlets on TuneCore or DistroKid because I don't think it's necessary. This penalizes CD Baby in this comparison because they offer it for free. Add $10 to TuneCore and $7.95 to DistroKid if that is something that you want to factor.
– DistroKid's and TuneCore's big value is in unlimited releases so any additional releases in this example is when you see the costs you are saving from their service.
CD Baby

Upfront Costs: $29.95 + $69 + $20 +$5 = $123.95
Recurring Costs (Annual): $0
Variable Costs:
– 9% of digital distribution
– 15% of publishing
– 40% of YouTube

TuneCore

Upfront Costs: $14.99 + $75.00 = $89.99
Recurring Costs (Annual): $14.99 = $14.99
Variable Costs:
– 15% of publishing
– 20% of YouTube
DistroKid

Upfront Costs: $39.99 + $4.95 + $100 = $144.94
Recurring Costs (Annual): $39.99 + $4.95 = $44.94
Variable Costs:
– 15% of publishing (sign up separately)
– 20% of YouTube
Which one is best for you?

If you don't plan to release music too often or you don't want to pay any recurring fees out of pocket, CD Baby may work best for you. It is pricier initially each time you upload your release, but their service is structured so you don't pay out of pocket for anything else after, such as an annual fee. They only get a small commission if you're bringing in revenue through your releases. You also may find peace of mind of just having all your music and royalty collections under one account.
As for TuneCore, their new unlimited release pricing structure makes things a lot more interesting with their competitive rates. For the very basic functions you would need (unlimited releases to all stores and scheduled release dates), it would cost you $39.99 a year with DistroKid but only $14.99 a year is with TuneCore.
For newer independent artists, I would completely avoid TuneCore's pay per release model. I feel this old pricing structure was specifically catered for bigger named artists who can bring way more revenue in from royalties to cover the high annual fees per release. Even though TuneCore doesn't take any commission from digital distribution revenue, releasing a lot of music on TuneCore puts a large recurring cost in the form of annual subscription fees that the average independent musician can't cover in royalties alone. From a cost standpoint, 9% of your digital distribution revenue (what CD Baby takes) needs to exceed the total annual fees for all your releases with TuneCore to make sense as a company to consider.
If you plan to release music consistently, as you should in my opinion, it would make sense for newer independent artists to go with either DistroKid or maybe give TuneCore a try.
DistroKid is currently the most popular music distribution option for independent artists and I would use and recommend them despite TuneCore being cheaper. Why? I've been a fan of DistroKid's simplicity and constant push to be innovative with their free bonuses and features (even if they're not all useful). Not to mention, most of my experience with music distribution has been with DistroKid since a majority of the artists I work with use it. So far, no negative experiences.
At face value, TuneCore seems to be the better value at nearly have the price of DistroKid for the same base functionality. Plus, TuneCore's free plan for social platform distribution only is a good risk free way for new artists to test out releases outside of free music platforms SoundCloud or AudioMack.
The one essential tool/feature that DistroKid offers for free as a part of their subscription that TuneCore charges $7.99 a month or $85.99 a year is the ability to generate a smart link for your releases. (Click here for an example!) Paying that much for TuneCore's Social Pro subscription comes with other perks like social media analytics and reporting, but in my opinion it's not worth the cost.
Of course, there are workarounds to creating smart links as I've discussed in a previous blog so you can save money that way too.
On the other hand, the only other music distribution company I currently use is ONErpm and I would not recommend them over any of the three I cover in this blog.
Since this unlimited pricing structure for is still new for TuneCore, we'll have to see how the market responds. At the moment, there's nothing that I've seen yet from TuneCore that would inspire me to move everything over from DistroKid to save $20 a year and go through the hassle of taking everything down and reuploading it.
My Personal Recommendation

Most people who read my blog are going to be emerging independent artists or musicians just starting out, so this is what my recommendation is based on. There are different paths and goals in music, but the business model I advocate for is Streaming / Accessibility Model. This works best if you can release new music on a consistent basis, like one single a month. It only makes sense that the music distribution company I recommend supports that business model.
Personally, what I would recommend for most independent musicians is DistroKid. More specifically, the Musician Plus plan $39.99 so you can schedule releases for a future date. To save money, I would not do Store Maximizer ($7.95 a year) and Shazam & iPhone Siri ($0.99 per song a year). I would hold off on YouTube Money ($4.95 a year) earlier on, but opt-in as soon as you can afford it.
If you are also a songwriter, you will still need to sign up for a publishing admin company like SongTrust (who DistroKid recommends) to collect publishing royalties. This puts an additional upfront cost to songwriters with DistroKid and can be more expensive initially compared to CD Baby.
As long as you release 3 to 4 singles or an album plus a single within the first year, you've already saved money using DistroKid in the long run. Releasing 4 singles a year with CD Baby would cost roughly $140. With DistroKid, it would be $144 the first year, but about $44 a year after that. If you don't anticipate releasing at least 1 single or album every year, then CD Baby may be more ideal.
Other Music Distribution Alternatives

CDBaby, TuneCore and DistroKid aren't the only music distribution companies out there. There are tons of them. Here are some others you may want to consider: