This page was last updated on 8/10/2022 with some minor changes to the Spotify submission form.
Looking for free exposure for your music? Getting on a Spotify editorial playlist could be a good way to get one of your songs out to a new audience. Editorial playlists are curated by Spotify's team.
In late 2018, Spotify has allowed artists the ability to submit a song to be considered in their editorial playlists. It's completely free! Although there are no guarantees you'll get added, there's no harm in trying.
If you prefer to watch a video, I created a full walk-through where I go through the process from the beginning of uploading a song to your distributor to being accepted onto a playlist.
You can watch that to see the process visually or just follow the directions below.

Getting Started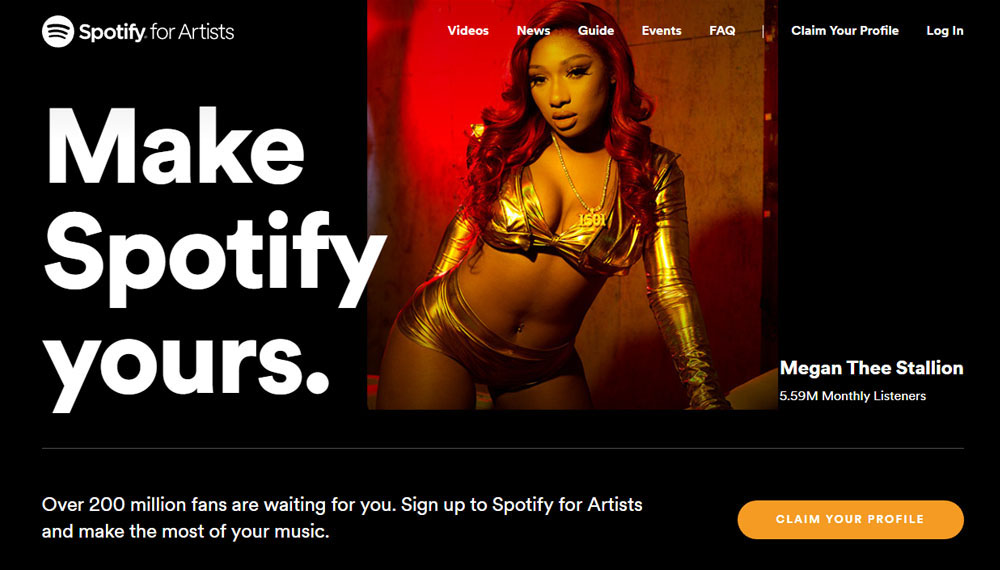 The first thing is you need a Spotify for Artist account and claim your artist profile.
If you've released music before on Spotify through a music aggregator / distributor (like DistroKid, CD Baby or TuneCore) but haven't claimed your artist profile yet, here's how:
https://artists.spotify.com/faq/promotion#how-do-i-claim-my-artist-profile-before-my-first-release-goes-live

Step 1: Upload Your Music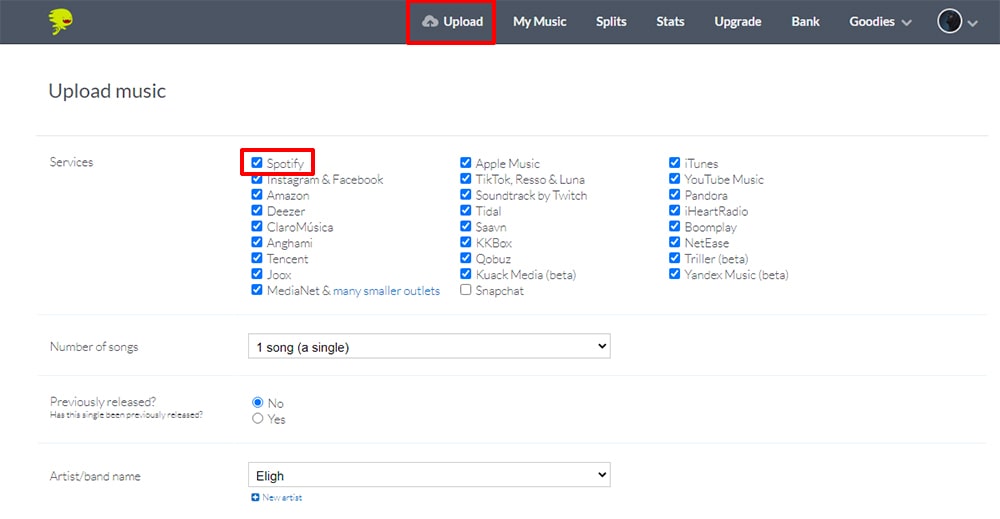 You need to upload your new song(s) to your music distributor (like CDBaby, TuneCore or DistroKid) and make sure Spotify is selected as an outlet.
DistroKid Users: You must have the Musician Plus or Label plan to schedule releases for a future date in order to submit to Spotify. If you have the basic Musician plan ($19.99/year), then you cannot submit your release for Spotify playlist consideration. The only way around is to upgrade your DistroKid plan or use another distributor.
For those who need a music distributor, I personally use and recommend DistroKid. Use my affiliate link to receive a 7% discount when you sign up. Read my full disclosure.
Once you've received an email or notification that Spotify has received your music in their system and is scheduled for release, then you can proceed to the next step.
You have to have something new that is unreleased. You can't submit a song that is already released and live.
You need to submit the song to be considered at least 7 days in advance of the release date. I would do at least 10 days because it can take several days for Spotify to get your new music into their system from the distributor. However, I would give yourself 2 – 4 weeks before the planned release date to upload your music to your distributor.

Step 2: Log into 'Spotify for Artist' account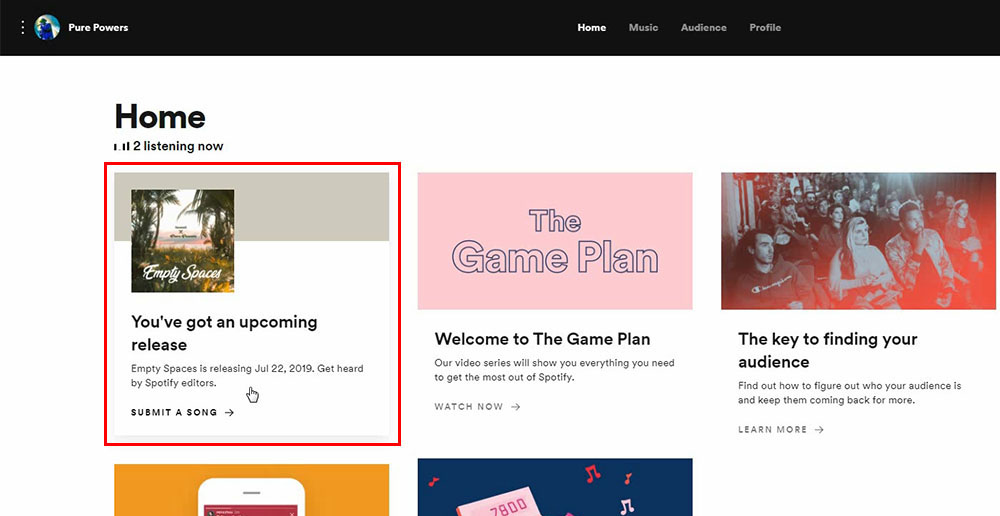 Log in to your Spotify for Artist account on Desktop. You can only do this on desktop and not the Spotify for Artist app.
From the Home screen, go to the 'Music' tab and select 'Upcoming'. Your songs should be listed here. It can take several days before it shows up. For one release, it took us about 2 days to get an email from Spotify that it was ready to go out on release day. On another release, it took about a week.

Step 3: Select a Song to Submit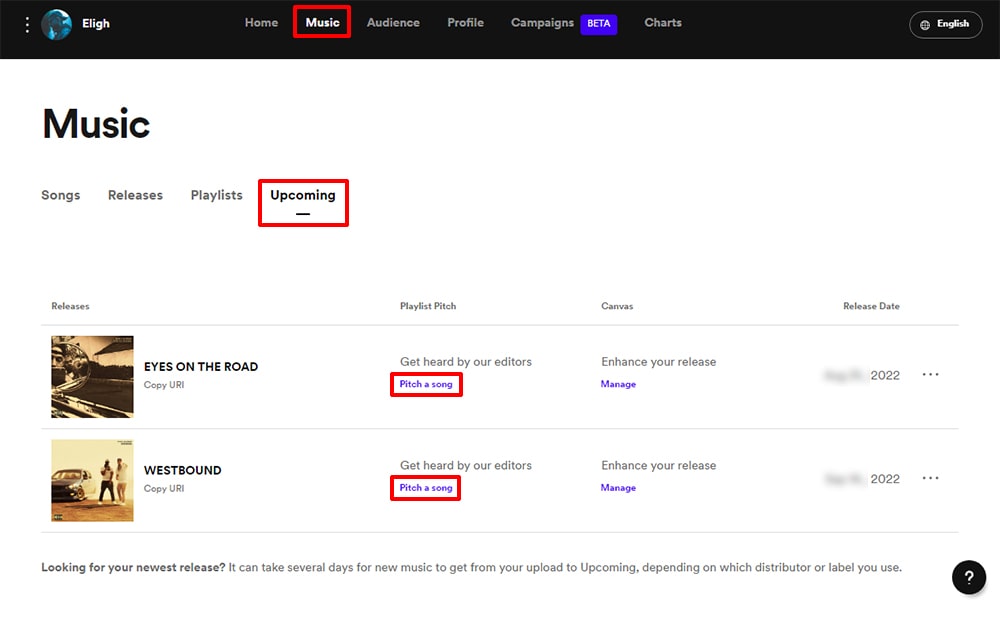 From the home screen or the 'Upcoming' tab in Music, choose a song and click 'Submit a Song.'
Couple Notes:
You are only allowed to select one song per artist profile to be considered in each release. So if you are releasing a 6 track EP, you can only choose 1 song.
If you have multiple releases scheduled, you have to wait one of the songs you submitted goes live first before you can submit the other song.
So if you want to maximize your chances, you'll want to release singles but make sure to schedule the releases far apart enough so you have enough time to submit. 2 weeks between scheduled releases should work.
You also have to be the main artist so you can't select a song you're featured in.
Spotify editors have the right to choose a different song from your release than the one you submit. Assuming you're releasing an EP or album, they may choose another song that they feel fits better creatively for a playlist.
Step 4: Fill Out Form

Fill out all the details as completely and accurately as you can. This increases your chances of being selected.
Location – Confirm where the artist is from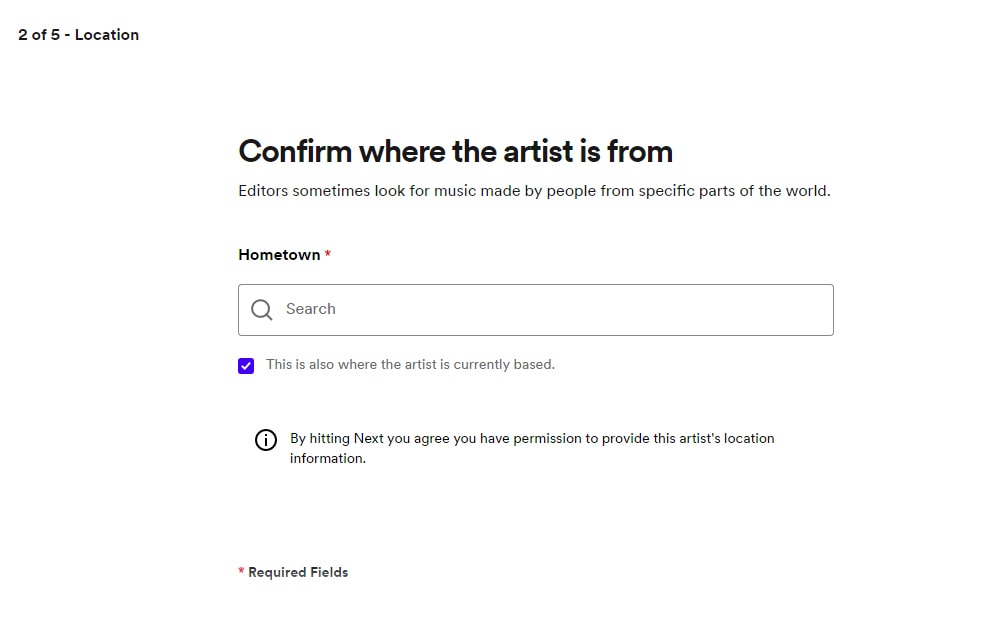 Add song details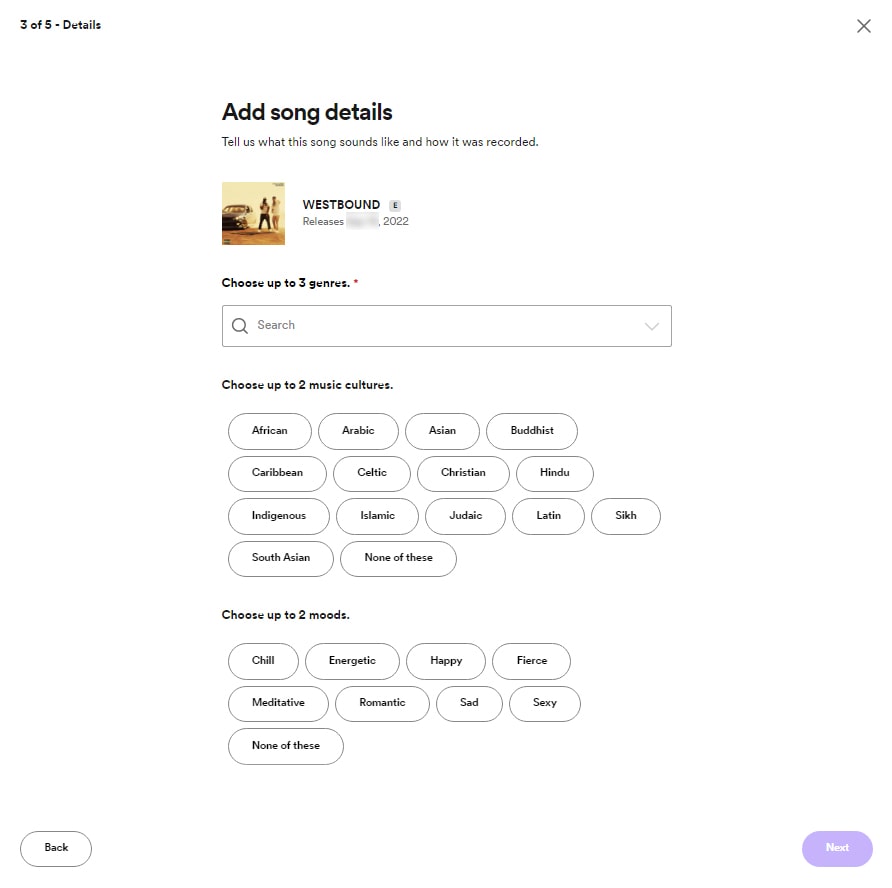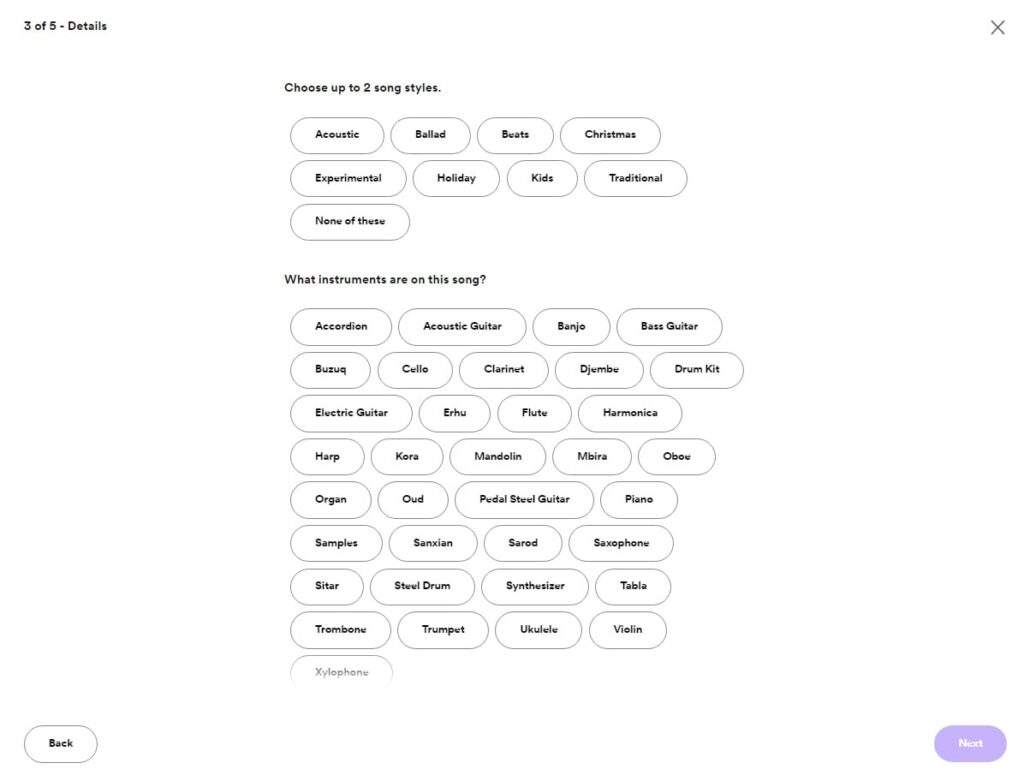 Add a description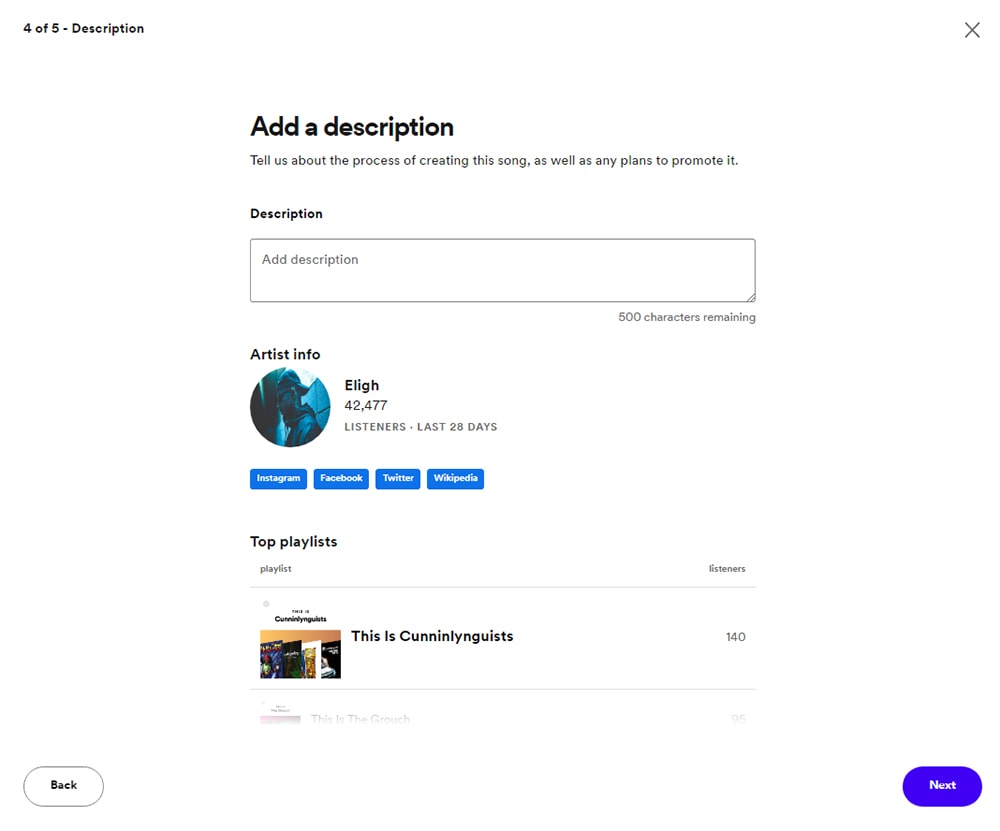 For your convenience, I included all of the questions so you can see them ahead of time and prepare. Keep in mind, the questions could change, but I'll do my best to make sure it's up to date.
Questions for Spotify Playlist Submission
1) Location – Confirm where the artist is from. What city do you most identify with? This could be your hometown, where you started making music, or where you feel the strongest cultural connection.
2) Choose up to 3 genres.
For the complete list of genres with their sub-genres, see the bottom of the blog.
3) Choose up to 2 music cultures.
– African, Arabic, Asian, Buddhist, Caribbean, Celtic, Christian, Hindu, Indigenous, Islamic, Judaic, Latin, Sikh, South Asian, None of these
4) Choose up to 2 moods.
– Chill, Energetic, Happy, Fierce, Meditative, Romantic, Sad, Sexy, None of These
5) Choose up to 2 song styles.
– Acoustic, Ballad, Beats, Christmas, Experimental, Holiday, Kids, Traditional, None of these
6) What instruments are on this song?
– Accordion, Acoustic Guitar, Banjo, Bass Guitar, Buzuq, Cello, Clarinet, Djembe, Drum Kit, Electric Guitar, Erhu, Flute, Harmonica, Harp, Kora, Mandolin, Mbira, Oboe, Organ, Oud, Pedal Steel Guitar, Piano, Samples, Sanxian, Sarod, Saxophone, Sitar, Steel Drum, Synthesizer, Tabla, Trombone, Trumpet, Ukulele, Violin, Xylophone
7) Is this a cover?
8) Is it a remix?
10) How was it recorded?
– Live or Studio
11) Is it an instrumental?
12) If the song is not an instrumental, what languages are the lyrics in?
13) Describe your song for us. The story behind the song, what inspired it, etc. Tell us about the process of creating this song, as well as any plans to promote it. 500 character limit
Step 5: Submit the Song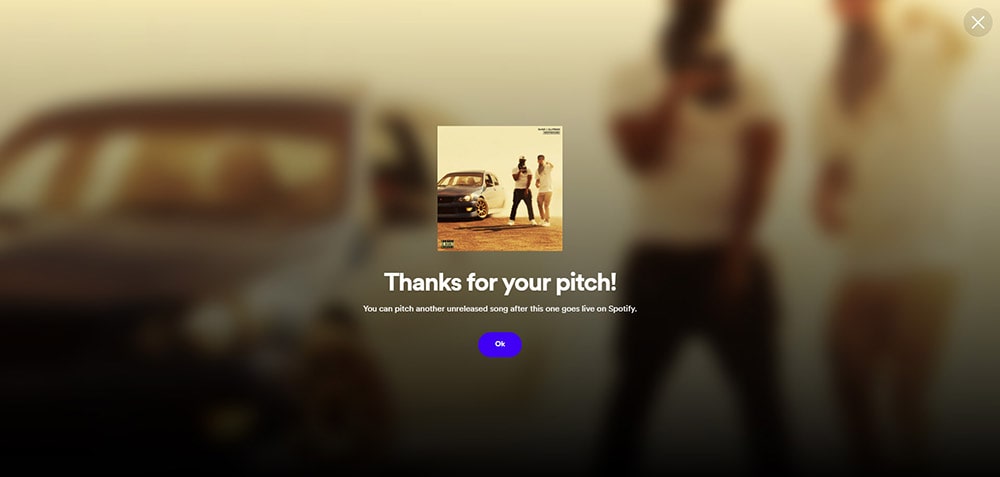 The last page will be a review of your responses. If everything looks good, hit 'submit.' You can always go back and make edits if you need. Not sure if it affects the process, so I wouldn't do it too much, just in case.
If you change your mind, you can delete your submission and select another song.
Can you improve your chances of getting selected?
Here is an unproven theory, but it would make a lot of sense. Try getting more people to pre-save your song before it is released. If you use DistroKid, incentivize fans to pre-save with your
HyperFollow page
. A save on Spotify is a very important song metric and the fact that you can pre-save should mean they value it as a signal. This is why you want to give yourself plenty of time before your release. Not only to submit your song but to also run a pre-save campaign to drive up the number of pre-saves to maximize your chances of getting selected.
If you have been added, you'll get an email letting you know you've been selected, the playlist your song is on and how many followers are on the playlist. An artist I work with got the email 5 days after the song was released, which was on a Monday. Spotify let us know it was added on Saturday morning. I imagine it will vary by artist.
If you didn't get added this time, don't give up. You can keep doing this for each new release.

You've Been Selected, What Next?


Congrats! The next thing you want to do is to maximize this opportunity. There's no set time that you'll be on the playlist, so make the most out of it while you are on it. According to Spotify, how long you stay on the playlist depends on how it resonates with listeners, meaning based on their data and analytics.
Once your song has been selected for an editorial playlist, you can't remove yourself from it or request a different playlist.
Here's what you should do:
Share the playlist and let people know you've been added to a Spotify Editorial Playlist.
Build on the momentum by letting people know to listen to the song, share it, save it and even add the song to their playlists. These are important signals that Spotify's algorithm monitors to determine how well a song is engaging with listeners on the playlist. Who knows, if it does well, they may add it to some other playlists.
Keep releasing music. Chances are you're going to get some new people who will like your song and possibly follow you on Spotify.
Conclusion

That is how you submit your song to be considered for a Spotify editorial playlist. As you can see, it's a fairly simple and straightforward process. If you want to see a video walk-through, you can watch this.
Lastly, it's important to keep expectations in check. Although it's great to be added, it's most likely not going to make you the next Lil Nas X or Post Malone. However, it will give you more exposure to people who would never have come across your music. Just make sure you're promoting your music in other ways as well.
I know a relatively new artist who had 3 of his singles added to Spotify's editorial playlists in a row. He now has over 60k listeners a month, with his top song receiving 149k streams because of this. For the average independent artist, getting 1,000 streams on a song is not easy. I'm sure there have been crazier stories of what being added to an editorial playlist could do to one's career, but it's still impressive.
Looking for more about Spotify?
How to Get More Spotify Followers (Tips for Musicians)
Spotify Playlist Guide: How To Improve Discoverability For Your Music
Amazon Music has also launched their own free playlist submission tool for their curated playlists. The process is very similar to Spotify.
Spotify Genres and Sub-genres
Up to date as of August 2020
African Regional Genres
Afrikaans, Afrobeat, Afropop, Bikutsi, Bongo Flava, Coupé Décalé, Digital Maskandi, Genge, Gengetone, Highlife, Kizomba, Kuduro, Mahraganat, M'balax, Maloya, N'dombolo, Raï, Rumba (Congolese), Shaaby, Sharqi, Soukouss
Ambient
Drone, lowercase
Asian & Middle Eastern Regional Genres
Anime, Bhangra, Bolero (Vietnamese), Bollywood, Carnatic Classical, Chutney, Dabke, Devotional, Enka, Filmi, Ghazal, Hindustani Classical, Indian Fusion, Indian Indie, J-Tracks, Mediterranean, Mizrahit, Mor Lum, OPM, Qawwali, Sharqi, Songs for Life, Thai Country
Audiobooks & Spoken Word
Audio Plays, Comedy, Fiction, Nonfiction, Poetry, Spoken Word
Blues
Blues Rock, Chicago Blues, Delta Blues, Folk Blues, Gospel Blues, Jazz Blues, Hill Country Blues
Classical
Baroque, Carnatic Classical, Choral, Classical, Contemporary, Crossover, Hindustani Classical, Medieval, Renaissance, Romantic, String Orchestra, Symphony Orchestra
Country
Alt-Country, Bluegrass, Country Pop, Country Rock, Outlaw Country, Southern Rock, Texas Country, Traditional Country
Dance/Electronic
Afro House, Afropop, Amapiano, Baltimore Club, Ballroom/Vogue, Bass, Bassline, Big Room, Breakbeat, Club Music, Dancehall, Dance Pop, Deep House, Disco House, Downtempo, Drum & Bass, Dubstep, EDM, Electro, Electro Shaabi, Footwork, Jersey Club, Juke, Jungle, Gqom, Hardcore/Raw, Hardstyle, House, IDM, K-Pop, Kwaito, Latin House, Melodic/Future Bass, Miami Jook, Minimal, Moombahton, New Orleans Bounce, Nu Disco, Philly Club, Progressive House, Psy-Trance, Reggaeton, Shamstep, Shuffle, Soul House, Synthwave/Retrowave, Tech House, Techno, Trance, Trap, Tropical House, UK Funky, UK Garage
European Regional Genres
Canzone Napoletana, Chanson Française, Coupé Décalé, Dansband, Disco Polo, Entekhno, Fado, Flamenco, Laiko, Maloya, Neomelodico Napoletano, Schlager, Mizrahit, Pop Française, Russian Chanson, Irish Traditional, Schweizer Mundart, Variété Urbaine
Folk
Alt-Country, Ambient Folk, Americana, Bluegrass, Blues Rock, Folk Pop, Folk Punk, Folk Rock, Honky Tonk Revival, Indie Folk, Maskandi, New Acoustic, Retro Rock, Rockabilly, Roots Rock, Singer-Songwriter, Traditional Folk
Hip Hop
Alternative Hip-Hop, Cloud Rap, Conscious Hip Hop, Digital Maskandi, Drill, Emo Rap, Freestyle, Genge, Grime, Motswako, Pop Rap, Pop Urbaine, Spoken Word, Southern Rap, Trap
Indie
Alt-Pop, Alternative, Alternative Hip Hop, Alternative R&B, Garage Rock, Indie Dance, Indie Folk, Indie Pop, Indie Punk, Indie Rock, Lofi Pop, Lofi Rock, Psychedelic
Inspirational
Contemporary Christian, Faith, Gospel, Hymns, Liturgical, Positive Country, Southern Gospel, Traditional Gospel, Worship
Jazz
Acid Jazz, Afro-Cuban Jazz, Bebop, Big Band, Contemporary Jazz, Cool Jazz, Free Jazz, Hard Bop, Jazz Blues, Jazz Fusion, Post Bop, Smooth Jazz
Latin American Genres
Arrocha, Axé, Bachata, Banda, Bolero (Latin), Bossa Nova, Brazilian Funk, Champeta, Corrido, Cuarteto, Cumbia, Dancehall, Dembow, Dub, Folclor Andino, Folclor Llanero, Folclor Pacifico, Forró, Mariachi, Merengue, Música Popular Brasileira, Norteño, Pagode, Pisadinha, Reggaeton, Roots Reggae, Salsa, Salsa Choke, Samba, Sertanejo, Sierreño, Soca, Sones, Tango, Tejano, Trap (Latin), Vallenato, Zouk
Metal
Alternative Metal, Black Metal, Death Metal, Deathcore, Djent, Folk Metal, Heavy Metal, Metalcore, Nu-Metal, Progressive Metal, Stoner Metal, Symphonic Metal, Thrash Metal
North American Regional Genres
Americana, Appalachian, Bluegrass, Cajun, Folklore Québécois, Native American Roots, Pow Wow, Zydeco
Pop
Afrikaans, Afrobeat, Afropop, Alt-Pop, Contemporary Pop, Country Pop, Dance Pop, Folk Pop, Highlife, K-Pop, Lofi Pop, Maskandi, Mediterranean, Pop Rap, Pop Rock, Pop R&B, Reggaeton, Singer-Songwriter
Punk
Celtic Punk, Emo, Hardcore, Horror Punk, Indie Punk, Pop Punk, Post-Punk, Psychobilly, Folk Punk, Ska, Skate Punk
R&B/Soul
Afro Soul, Alternative R&B, Electro R&B, Funk, Neo Soul, Pop R&B
Reggae
Dancehall, Dub, Roots Reggae, Soca
Rock
Alt-Pop, Alternative Rock, Blues Rock, Country Rock, Folk Rock, Garage Rock, Hard Rock, Indie Rock, Jam Band, Lofi Rock, Pop Rock, Psychedelic, Rockabilly, Roots Rock, Singer-Songwriter, Southern Rock, Stoner Rock
Sounds & Non-music
Nature Noise, Ambient Noise, Binaural Beats, ASMR