Looking for more Spotify followers? As of 2018, Spotify is the top music streaming subscription platform right now worldwide with over 207 million active users (96 million are paying subscribers). As Spotify continues to grow and offer new tools to help you succeed as an independent artist, it makes sense to devote time and effort to increase your number of followers on this platform.
One of the biggest benefits of having Spotify followers is that fans receive email notifications when you put new music on Spotify or announce new shows (if you use Songkick.com). Your songs also show up in their Release Radar playlist and possibly other algorithmic playlists from Spotify.
Important Note: Before jumping into doing these things, I think it's important to think about your fans funnels and where Spotify fits into your music marketing. For some artists, it may make more sense to build up your Instagram followers, YouTube subscribers or even SoundCloud numbers (assuming they stick around much longer). Yes, music streaming is the future and it is not going anywhere. But, I'm just putting this out there so you're not blindly investing in Spotify because it's the trend, but then later realizing it was a waste of time and money for your overall marketing strategy.

Claim Your Artist Profile on Spotify

Before doing anything else, the first step is to claim your artist profile on Spotify.
Learn more about what this is: https://artists.spotify.com/guide/spotify-for-artists
When I requested access to some of the artists I work with, it required me to verify through the artist's Twitter account so keep that in mind that you may need to have that on hand.
Taking this step is not necessary to get more followers, but it's still an important data resource that every artist should have access to. Tools that reveal more details about your audience, songs and playlists that your songs are on are very valuable so take advantage. Best of all, you get a blue checkmark on your profile that shows everyone you're official!
Despite accusations of unfair royalty practices and payouts, Spotify has said they are committed to bringing artists values in other ways through data and tools like this.
Also, some of the tips mentioned below require tools or functions only available for those who request access to their Spotify artist profiles.
After you have been granted access and control over your Spotify profile, download the Spotify for Artists app (iOs).
Check out some of the tips below on how you can increase your followers on Spotify.

Add a 'Follow' Button on your Website

If you log in to Spotify for Artists, click on 'Tools' to access the Follow button widget. Placing this code on your website will create a button that makes it easy for visitors to follow you on Spotify with a click of a button.
You can also embed a playlist to your website next to your follow button. Create a playlist with all of your music, your best songs or maybe the latest releases on top. This gives visitors a clue that you're on Spotify so they may be more likely to follow you. The only drawback with using Spotify as your website music player is they need a Spotify account to listen to. Ideally for your website, you want to use an audio player like Bandcamp or SoundCloud so visitors can easily listen to your music.
Ask on Social Media

One of the first things you should do is ask your fans on social media to follow you on Spotify. Just saying, "hey follow me on Spotify" may not be the best way so try to be a little creative. At the very least, you should explain why following you benefits them and helps you as well. The main benefit to them is that they can get notifications when you have new music on Spotify, so they can be the first in the know or not miss out on your new releases.
Lastly, don't forget to ask your friends and family too.

Send an Email to your Mailing List

Assuming you've been building an email list on an online platform like Mailchimp, send an email out to ask your fans to follow you on Spotify. Again, just asking may come off a bit boring so be creative. You can tie in an incentive like, "if I get x amount of followers, I will release a new song or video for you."

Ask at Your Live Show

At some part of your set, maybe in the middle or towards the end, let fans know that they can follow you on Spotify if they like what they're hearing. You can incentivize them with a discount of your merch if they show you that they followed you on Spotify.

Keep Creating Music

If you're constantly putting new music on Spotify, you can condition people to just follow you naturally to keep up with your releases. It gives more reason and benefit for fans to do so. After all, harping on fans to follow you on Spotify when you've only posted 5 songs for the past couple of years isn't the most convincing or worthy of their time.

Playlisting

Create playlists around a theme where your own songs can be included in. Promote this playlist on social media and even your Spotify profile. Obviously, don't fill it up with a bunch of your own songs, you want it to be a good mix that fits the theme. Share these playlists on social media and even tag some of the other artists you've included. The idea is to get others to like and share your playlists so it can give you some exposure to new audiences and ultimately some follows.
In addition to getting Spotify followers, you want listeners to save/like your song and add it to their playlists. These metrics help improve your chances of Spotify recommending your songs to new potential fans through algorithmic playlists (Discover Weekly and Release Radar), which can give you additional exposure. I wrote a guide about Spotify playlists where you can learn more.
You can also submit your song to Spotify to be considered on one of their Editorial playlists. This is a great way to get more exposure and potentially more Spotify followers for FREE!

Use Follow-gates
There are various tools out there that allow you to exchange a song download for a follow on Spotify. The value of a free download isn't what it used to be in the current music streaming climate, so it's really important to make the download enticing or special. If it's a really good song or remix that people want, make it exclusive so that the only way they can download it is by either following you on Spotify or giving their email address.
Here are some tools to look into that can help you:
If you use DistroKid to distribute your music, you can use their free tool Hyperfollow to get Spotify followers. For every new release that you upload to their service, DistroKid creates a HyperFollow page that contains links to various stores or digital outlets your music is going to be available. If someone clicks the Spotify button to pre-save or listen to your new release, they will automatically follow you.
For those in need of a new music distributor, I personally use and recommend DistroKid. Use my affiliate link to receive a 7% discount when you sign up. Read my full disclosure to learn more.
Use Spotify's Ad Platform (currently in beta)

Yes, Spotify has a self-serve ad platform that you can pay to get more exposure to your artist profile, playlist or album and hopefully get more followers from it. Their ad platform is still in beta as of this writing, but it looks like anyone with a Spotify for Artists account can use it. The minimum budget to push an ad used to be $250, but now it's down to $25. I'm still new to it, but it's relatively straightforward to use. I'll eventually cover how to use it in a future blog.
Learn more here: https://adstudio.spotify.com

Pay for Social Media Ads

This is a more advanced way of getting followers that requires a bit more work. You have to be really careful doing it this way because it does require you to have a budget and invest money into buying ads. Your best bet for results is to spend it on Facebook and Instagram ads.
In order to do this effectively, you have to plan and be strategic. I will write a more detailed blog on how artists can use social media ads in the future. But for this segment, I will do my best to explain and go over some guidelines so you're not pouring money down the drain with nothing to show for it.
I think the best way to approach buying social media ads for building your Spotify followers is to understand the three general types of audiences. You have cold, warm and hot.
Cold audiences are generally people who have never heard of you or your music.
Warm audiences are people who have heard or seen your name and maybe listened to a few songs.
Hot audiences are very familiar with who you are and are likely fans of your music. (I actually never hear anyone talking about "hot" audiences, but I'm just doing it to complete the scale of temperatures.)
Depending on the type of audience, you'll want to approach buying ads differently.
Targeting cold audiences right off the bat is probably not a very cost-effective way of getting Spotify followers. Normally, this would be done by just targeting people with interests in similar artists to yourself.
To be effective, you'll want to know what other artists your fans are listening to so you can target those artists with your ads. Having access to artist data on Spotify will actually give you some suggestions on what other artists your fans listen to. You can also click on an artist's Spotify profile and see related artists as well. The only problem is you can't target fans of less known artists with ads if the names don't show up in the interest box.
A better strategy then this would be to push ads to convert cold audiences into a warm one by pushing them to an offer like a free download, showing a music video or sending them to a Spotify playlist of your music. The main goal here is to increase brand awareness and drive traffic to your website so you can build a custom audience with a Facebook Pixel and then push ads to them about following you Spotify.
For those not familiar with the Facebook Pixel, it's a piece of code that you put on your website that tags your visitors and allows you to add them into an audience you create in Facebook Ad Manager. Then, you can target this specific group later to show ads. If you're not tech-savvy, it's a bit of a process to nail down but you can learn more about it here:
https://www.facebook.com/business/help/651294705016616
Now with warm audiences like website visitors, you should be more effective in asking them to follow you on Spotify with ads. If you don't get a lot of web traffic on your own, having an offer like free downloads to cold audiences is one way you can drive traffic to your website. You don't need to do any gating or requiring emails as long as you have the Facebook Pixel in place.
Lastly, a hot audience would be like your social media followers and fans. For this audience, you can get away with posting something on Facebook and boosting the post through Facebook's Ad Manager.
There's obviously more to consider when using social media ads to build your Spotify followers, like what marketing objective to use, how to organize the campaigns and what to say in the ad copy. I won't cover that in this blog, but this bit on targeting and audiences helps to get the ball rolling.

Experiment with Spotify Codes

Spotify Codes is a relatively new feature that makes it easier for people to find your music. It's basically like a QR code graphic that you can download and use so people can scan it in their Spotify app. It won't directly get you more Spotify followers, but it may help.
This is something I'm still experimenting with myself. It's not exactly a widely adopted feature yet, but I figure it has potential uses for marketing.
Print the code on a flyer, business card or somewhere on the physical release (maybe the back cover or inside liner notes).
Use in social media either as an actual post, a cover photo or Instagram Story. You can screenshot the Spotify Code and scan it later in the Spotify app.
Try scanning the two Spotify Codes below:
Here's what I designed for Zion I to promote his mixtape/playlist specifically for reaching new fans while on tour with Rebelution. He got them printed out on 3.5 x 2 business cards and it worked when it was scanned in Spotify.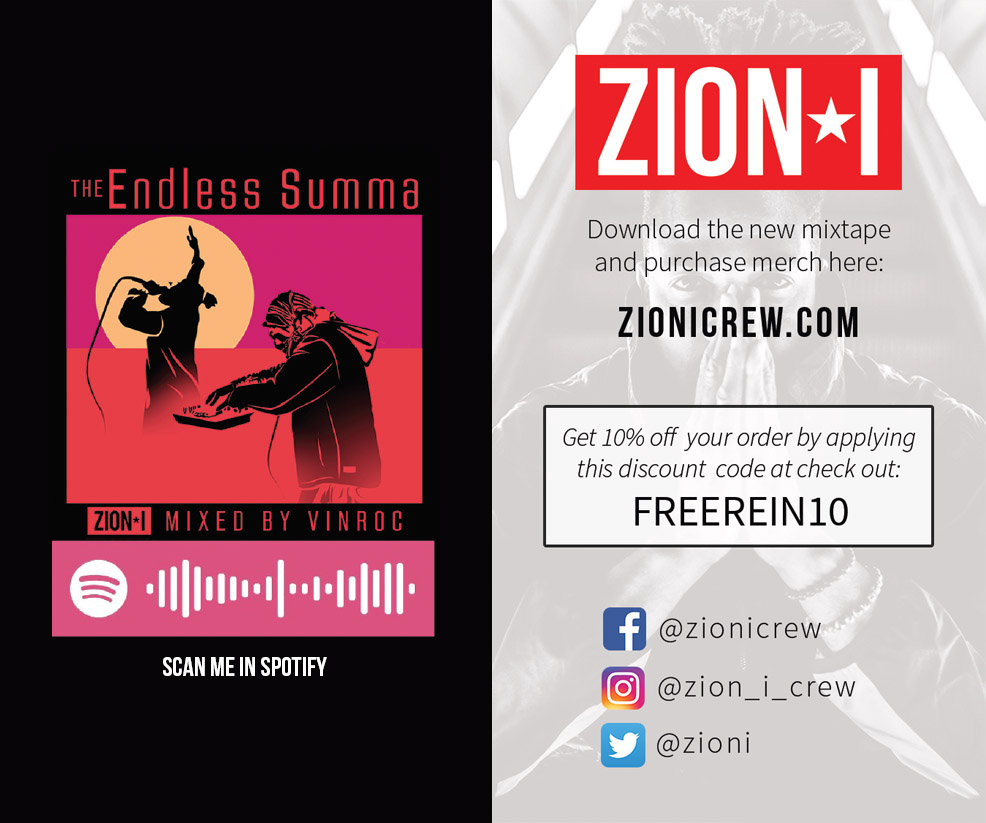 This is the artist Spotify code you would use to get people to your Spotify profile so they can follow you.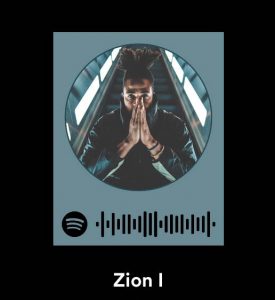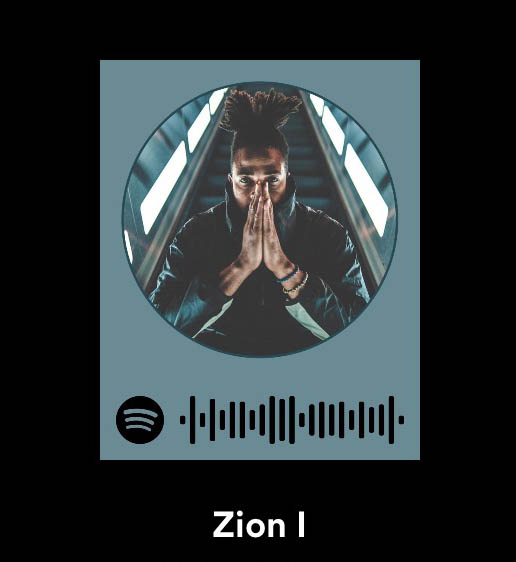 You can use Spotify codes to take people to specific albums, singles or playlists: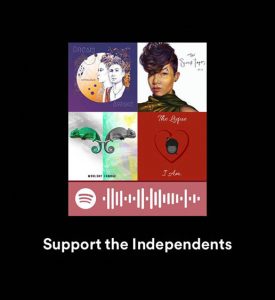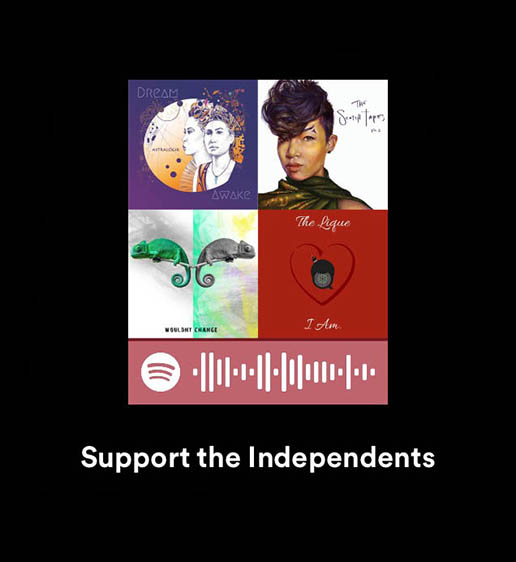 How to Scan a Spotify Code
The scanner is found in the 'Search' tab on the upper right-hand corner. Click on the camera icon to pull up the scanner.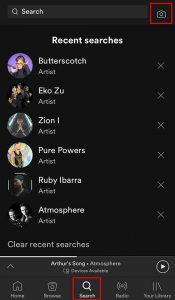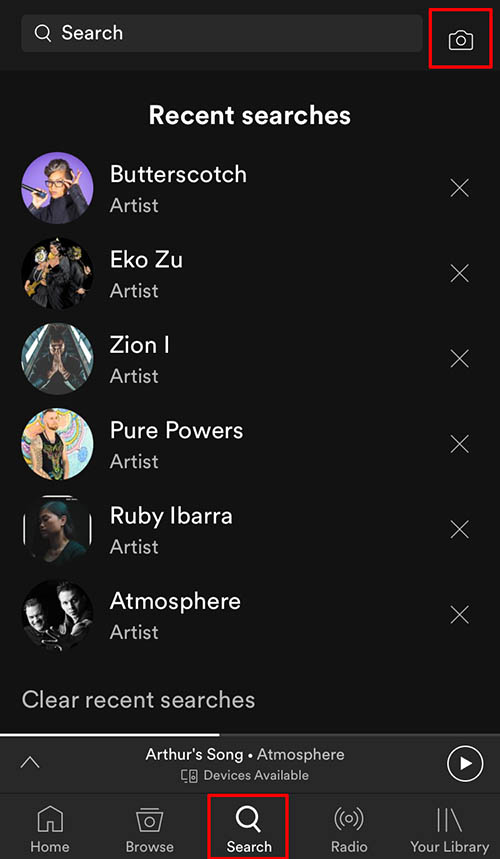 How to Create a Spotify Code
You can create a Spotify Code for your artist profile, album or playlist directly in the Spotify app. Click on the '…" in the upper right-hand corner.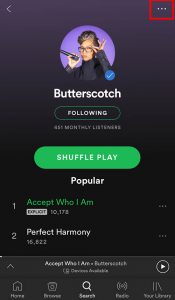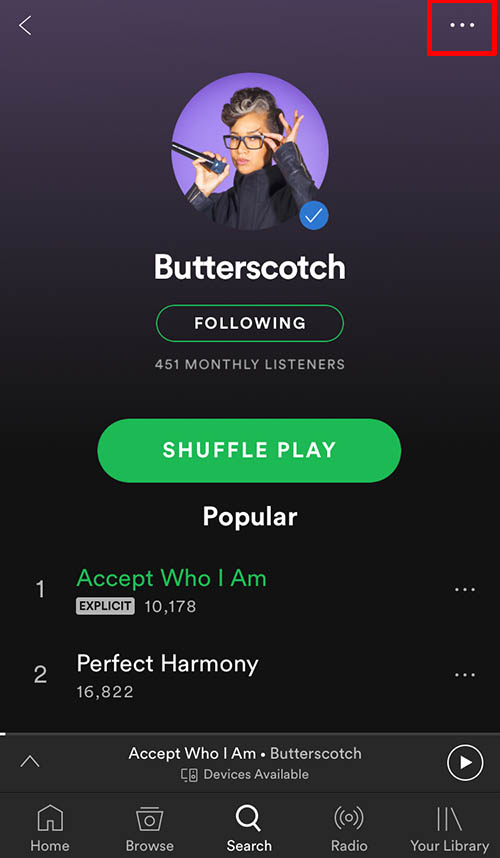 The next screen should show you the Spotify Code. Click on it and it will take you to another screen where you have the option to save the graphic to your phone.