Last Updated: 8/10/22
Following in the footsteps of Spotify, Amazon Music has launched their own submission tool for artists to pitch a new song release for consideration on one of their editorial playlists and stations.
This is a brand new offering so I have yet to submit a song for any artists yet, but I wanted to put this on your radar. In this blog, I will go through how it works and why Amazon Music should be taken more seriously.

Why Care About Amazon Music

Before we get into submitting, I think it's important to touch on where Amazon Music stands in the music landscape.
Although we commonly think of the Big 3 (Spotify, Apple Music, YouTube) as the most popular platforms for people to listen to music, Amazon Music has the subscriber base to be up there with them with roughly over 60 million subscribers.
Back in 2019, they were touted as the fastest growing streaming service over Spotify and Apple Music. Aside from being the largest online retailer in the world, how did Amazon Music grow so fast? Their line of smart speakers, the Echo and the Dot.

The Amazon Echo, and their voice assistant Alexa, launched in 2014 and was a first of its kind. In the market of smart speakers, Amazon has had a commanding hold as the number one device. As of June 2021, they currently control 69% of the U.S. market share. To put their dominance into perspective, their next biggest competitor, Google, only has 25%. So If you were to ask Alexa to play music, of course it was going to be streamed through Amazon Music.
Just to clarify: Google's YouTube Music is their music streaming service. YouTube is the most popular platform that people will find, discover and listen to music globally, but YouTube Music does not have the paid subscribers that the others have.
Amazon may not be the first platform you think of when you hear video and music streaming, but they are in the mix to compete. Don't forget they also own the most popular live streaming platform Twitch, which is their gateway to a much younger demographic. Despite being known primarily for hosting live video gaming content, Twitch continues to increase their viewership in the music category.
With all this said, we should never discount the reach and influence Amazon has in music and content distribution. As independent artists, it's important to take advantage of every avenue that makes sense, especially when it's free.

Who Uses Amazon Music

Before submitting your music, you should understand the demographic of people who actually use Amazon Music and why it makes sense to submit your releases for their playlists.
In general, newer technology, like streaming, is more likely to be adopted by the youth. As the leading platform, Spotify skews to a younger crowd because that's their target market.
The advantage that Amazon Music has is it reaches a wider age range but skews to middle-ages and older. "About 14% of subscribers to Amazon Music are aged 55 or older, compared with just 5% of Spotify's customers," said Steve Boom, the vice president of the Amazon Music Unlimited service. This is due to the success of their smart speakers and the convenience of having a music streaming platform easily accessible through these devices.
Do you know what streaming platform your fans use? If you've ever released music before in the past, you should know what streaming service/platform your audience prefers. Smart links are useful, but it would be good to know if a lot of your audience actually listens to your music on Amazon Music.

Get Access to Your Amazon Music for Artists Profile

Before you can submit your new release, you will need to claim your Amazon Music for Artists profile. It's their version of Spotify for Artists and Apple Music for Artists. As of this writing their artist portal isn't as polished as Spotify for Artists, but it will surely get better overtime.
If you've never released any music yet through a music distributor, you will need to do that first so that your Amazon Music artist profile is created. If you don't have a music distributor yet, I recommend you check out what I recommend as the best music distributor for independent artists.
Aside from submitting new releases, having access to your Amazon Music for Artists account will give you access to helpful tools and analytics including how many times your music was voice requested through Alexa.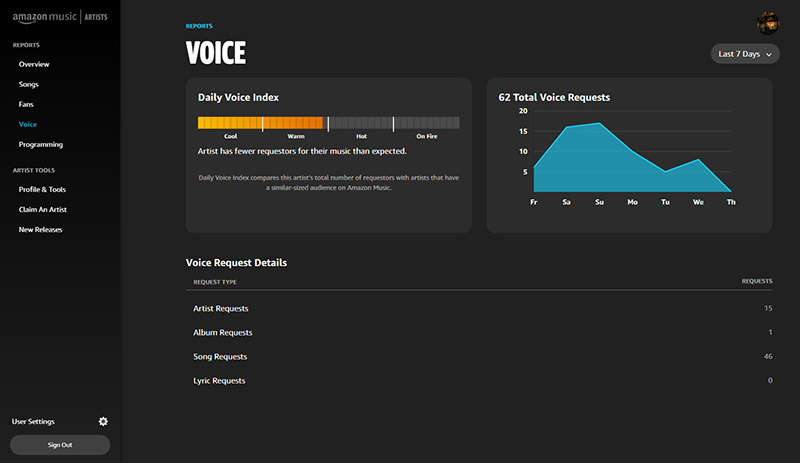 How to Claim Your Profile: Originally, you had to download their app (iOS / Android) to claim your Amazon Music for Artist page, but you can now also do it on desktop by going here:
https://artists.amazon.com/select
It'll ask you to log into your Amazon account. If you've ever purchased anything from Amazon, this is the account you would use. Otherwise, create a new Amazon account. You don't need to be subscribed to their Amazon Prime subscription service.
Once that is complete, you'll be taken to the 'Claim an Artist' page. Search your name and choose the correct artist profile from the list.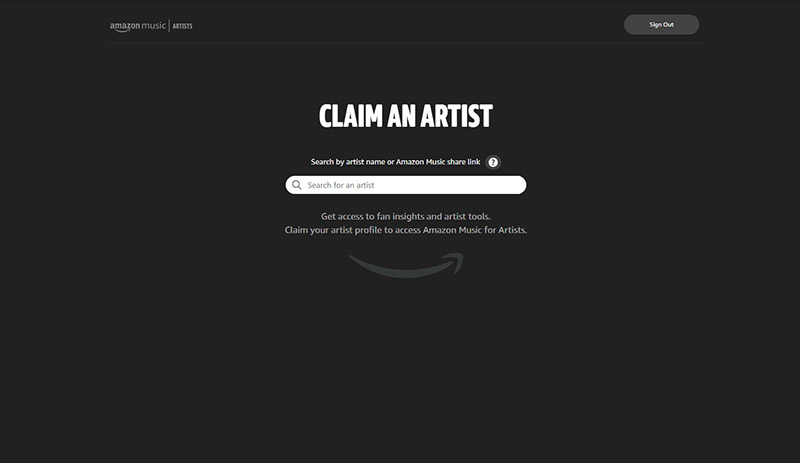 You'll be asked to verify that you are the artist or represent the artist:
Input the artist name and the role (artist, manager or label)
Link any of the artist social media accounts (Facebook, Instagram, Twitter)
Connect your music distributor account. The only available options are: CD Baby, DistroKid and TuneCore.
Add any additional information to show proof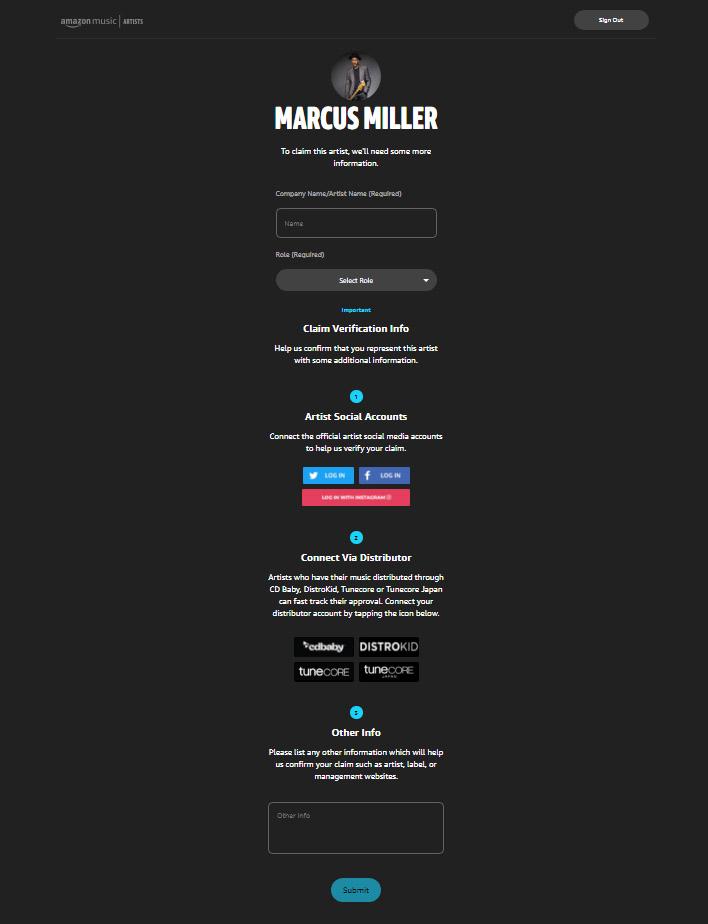 Verification can take minutes or even several days depending on the information you submit. I find that connecting at least one artist social media platform and one of the three music distributors used (assuming you used one of those) will get your claim request approved more quickly.
However, if you're a newer artist, it may take longer and require more proof. One thing you can try, if you're having trouble getting approved, is adding the email address associated with your Amazon account to your social media profiles and website where it can be publicly seen. Instagram and Facebook allows you to add an email address that's visible on your profiles/pages. You may even consider just temporarily adding your Amazon email address to your bio and point it out that both emails match up in the box where they ask you for more information.
If your claim is successful, you should get an email about it and you can move on to the next section below.

How to Submit Your Release to Amazon Music for Playlists

The process is going to be similar to submitting your song for Spotify editorial playlist consideration. One of the big differences is that you can actually submit a new song up to 14 days after it has been released. Spotify only accepts unreleased music for their playlist consideration.
First, upload your new song or release to your music distributor like you normally would.
Once you do that, your music distributor will send out your release, cover and metadata to the various stores/digital outlets. When Amazon Music receives it, it'll show up in your Amazon Music for Artists account.
Desktop: From the 'overview' page in your profile, just look under 'Artist Tools' and click on 'New Releases'. If you uploaded new music through your distributor, you should see it here.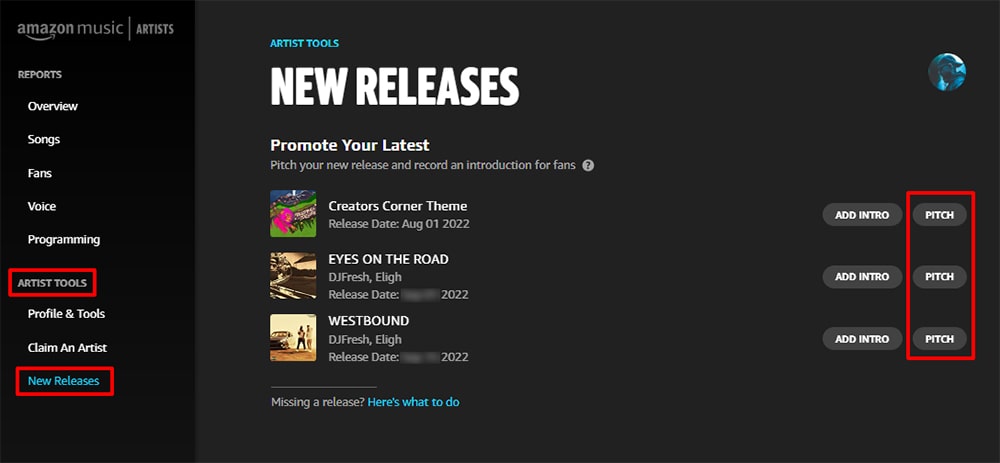 Mobile App: From the 'overview' tab, tap on the bottom right icon of the person which will take you to 'Profile & Tools'. Tap 'New Releases' up top to see new music you can pitch.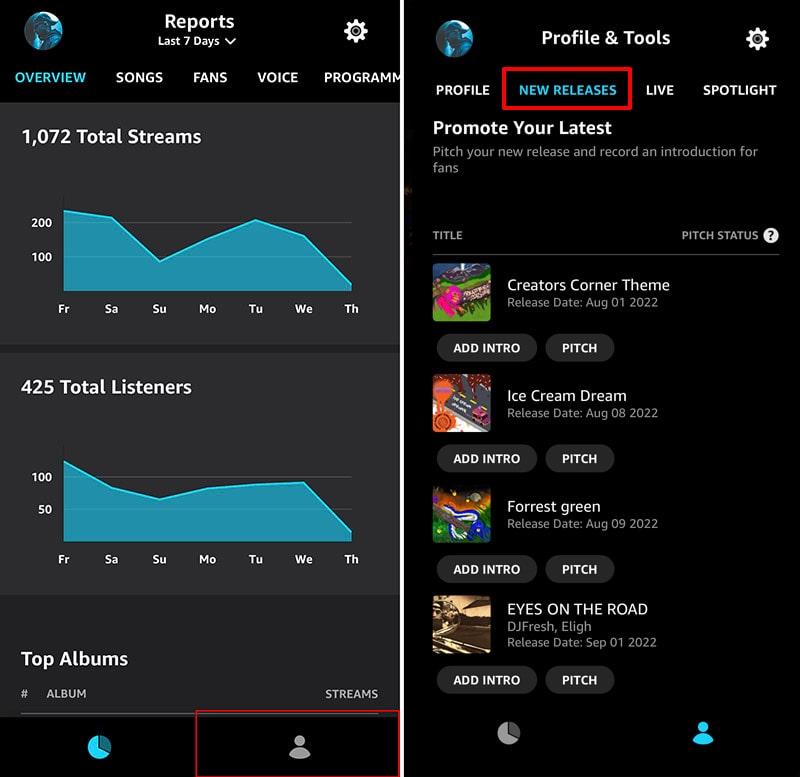 Unlike Spotify, you can pitch multiple songs as long as they are uploaded as separate releases and songs up to 14 days after its release date. This means you can pitch each of your songs uploaded as a single track, but you can only choose one song to pitch in a 10 song album uploaded for release.
There's also a new feature called 'Intros' that allows you to record or upload a short audio recording up to 15 seconds that is played before your new release. As the name implies, Intros allows you to introduce your new song or release to your fans in a personable way. You should see it next to the name of your release next to the 'pitch' button.
The process to pitch your song is quite short and straightforward. Here's a great infographic that Amazon Music provides that outlines the process for you: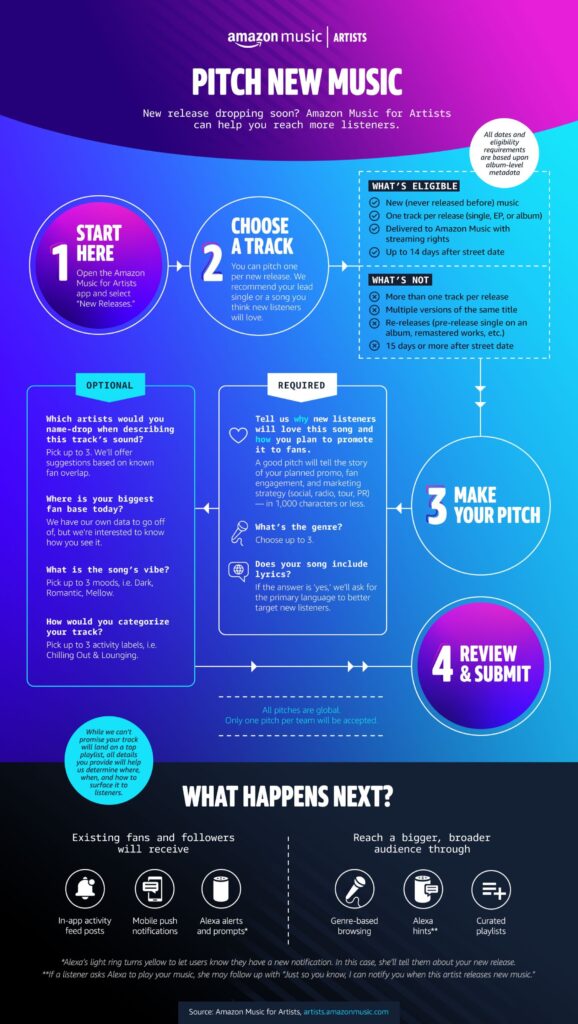 Amazon Music Submission Questions

Why are you pitching this song? This is where you get to sell your song to Amazon Music's curation team in 1,000 characters or less. You'll want to focus on what makes this song special. It can be the story behind the song, how it came about, etc.
What genres best describe it? Choose up to three.
What version of the song is this?
– Original
– Remix
– Live
– Cover
Does this song have lyrics? Yes or no.
Select the primary language of this song? Search and select the languages that apply.
What artists have a similar sound? Select up to 3 artists that share a similar sound to you and the song you're pitching. This is a question that the Spotify pitch tool does not ask you.
Where are most of your listeners today? Search and select the countries that apply. You should be able to get this data in your Amazon Music for Artists page, Spotify for Artist page, Facebook or Instagram Insights.
Song Mood? Select up to 3 that apply for your song.
– Angry
– Cool
– Dark
– Fast
– Happy Mood
– Heavy
– Intense
– Light
– Mellow
– Motivational
– Relaxing
– Romantic
– Sad
– Sexy
– Soft
– Upbeat
Song Category? Select up to 3 that apply for your song.
– Chilling Out & Lounging
– Happy & Upbeat
– Hard & Heavy
– Relaxed & Laid Back
– Work, Study & Reading
Review your answers then hit submit when you're done.

Conclusion

That is how you submit your new song release to Amazon Music for playlist consideration. If you've done this for Spotify, it's basically the same process with similar questions.
I highly recommend taking advantage of this free tool for every new release. There are no guarantees, but it's worth a shot.